Around this time 21 years ago, "Roseanne," the groundbreaking sitcom about the blue-collar Conner family, came to an end after a successful 10-year run. The notion that it'd be pulled out of retirement more than two decades later and become the success story of the 2017-18 television season would have likely elicited a Roseanne-like cackle from the cast back then.
Yet here we are. It's a recent weekday and original "Roseanne" cast member Sara Gilbert, the mastermind behind the show's return, is reflecting on the weeks that have passed since the sitcom's blockbuster second coming. And all she can muster is a wide-eyed look as she shakes her head in disbelief.
"It's one of those kind of fantasies you could never imagine," said Gilbert, who has juggled her reprisal of the wisecracking and moody daughter Darlene Conner with her duties as executive producer and co-host of CBS' daytime gabfest "The Talk."
When Gilbert had the idea just over a year ago to revive the comedy, she was certain it'd be an futile endeavor.
"I didn't think the cast would be game, I didn't know if I could only get some people and not others," Gilbert, 43, insisted.
But when her former co-star John Goodman appeared on "The Talk" and they revived their "Roseanne" characters for a comedy bit, the idea came up again — so she put in the asks.
It turns out the cast was game. And so were viewers.
The revival of "Roseanne" has established itself as a bright spot of mammoth proportions for ABC — and network television overall.
Boosted by interest in the reunion of the original cast, the premiere totaled more than 25 million viewers, prompting ABC to quickly renew the revival for a second season. The revival gears up for its May 22 season finale after pulling in a weekly average of around 19 million viewers, placing it neck-to-neck with CBS stalwart "The Big Bang Theory."
In the midst of "Roseanne"s victory lap is Gilbert.
"This all really started with her," says ABC Entertainment President Channing Dungey by phone. "We were hoping for big things, but the launch really caught us all by surprise. It blew doors off of any projections we put together."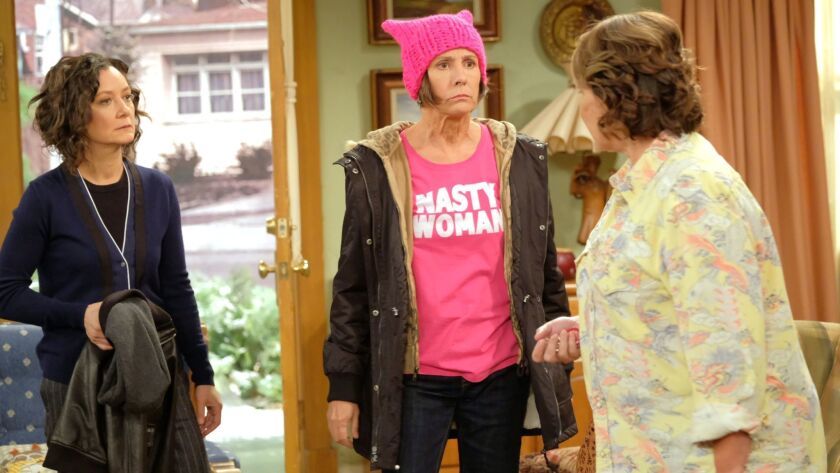 The show's triumph allowed star Roseanne Barr to return to the spotlight as a lightning rod of controversy. A flood of think pieces examined her support of President Trump and the show's point of view in the divisive cultural climate.
Seated at her publicist's offices, Gilbert carefully considers some of the blowback the show has received largely fueled by Barr's Twitter feed and outspokenness.
"It's such a political climate now that I always am nervous that people will hear one thing, see one thing and pre-judge the show, or decide not to watch the show," she said. "You can never control the way people interpret something or take something. . I think the show itself has a great message… I think we're at a time in our culture where when somebody doesn't like what one person has to say, they'll stop listening or not want to see an entire product that is related to a lot of points of view, and a lot of people."
She continues: "Of course, I don't love it if people aren't going to watch the show for those reasons, but I think for the most part, people seem to be watching. The ones that are can see that it's a show for everybody. It's not a show about one political party or it's not a show that's a platform for one set of ideas. It's really about a family that is divided over politics."
As the driving force behind the show's return, Gilbert is protective of its legacy. She was just entering her teen years when the show originally launched in 1988 and she remembers how it resonated as one of the few shows depicting a working-class family.
Gilbert won't go so far as saying the recent election sparked the idea to bring back "Roseanne," but she notes the timing of its return at "such a perfect time culturally."
I've just never felt like I was done with this character, or this family, and I never wanted to quite set it down.
Sara Gilbert
"I've just never felt like I was done with this character, or this family, and I never wanted to quite set it down," Gilbert said. "I know people do focus a lot on doing other work, but I think if you've got a character and a vehicle where you can make something great, that's so unusual."
Of course, Gilbert did go on to focus on other work post-"Roseanne." She notched recurring roles in "24," "ER" and "The Big Bang Theory," which features her former "Roseanne" co-star, Johnny Galecki.
In 2010, she launched "The Talk," where she has served as co-host for eight seasons. She worked around that schedule — along with a recurring role on the recently axed CBS comedy "Living Biblically" — to ensure she could take a hands-on approach for the revival.
"I have probably like a perfectionistic side, coupled with the fact that this is just an extremely important project to me, and something that I didn't want to let anybody down," Gilbert says. "My worst fear was that we were going to make something that tarnished the reputation of the original series. I guess I just felt like if I was involved, at least I'd know I was doing the best I could. I was trying to just be a part of every element that I could be a part of, without overstepping my place."
Executive producer and co-showrunner Bruce Helford, who also worked on the original series, said Gilbert was dedicated to making the new "Roseanne" brave and topical. "You don't tell Sara to go home. Her need to make this [show] great was always there and she was always there. She was part of everything."
In an earlier interview, Barr said Gilbert was pivotal in convincing her to return to "Roseanne": "I told her she would have to do all the support work, and she said she would."
Like the ever-present crocheted blanket that drapes the couch, the Conners are still struggling to make ends meet when viewers catch up with them. The family is contending with lack of job prospects and health insurance problems. Gilbert's Darlene, recently separated from David (Galecki) has moved back home with her two kids after getting let go from her job — eventually taking a waitressing job at a local casino because it comes with full benefits.
"I didn't really think about where [Darlene] would be now, until I started to think I wanted to do the show again," Gilbert said. "A character that you finish playing when you're 22 is just not going to be the same person 20 years later. There is a piece of it that you just have to say, 'OK, I hope this works. I hope it feels like there's continuity.'"
With work about to commence on the second season, Gilbert says she'd like for a little more closure with the Darlene-David relationship.
"I heard Roseanne say the other day that she wants some good things to happen for the family," Gilbert said with a laugh. "I'm always more of the dramatic force, so I'm always like, 'Let tragedy befall these people,' because I think that great comedy comes out of it, and great drama. I love playing that stuff. But I'm sure it'll be balanced."
The most-read Entertainment stories this hour »
'Roseanne'
Where: ABC
When: 8 p.m. Tuesday
Rating: TV-PG-DL (may be unsuitable for young children with advisories for suggestive dialogue and coarse language)
Twitter: @villarrealy
ALSO
'Roseanne' revival helps ABC stage a comeback in the ratings
'Roseanne' riles everyone up: Just like old times
Roseanne Barr on 'hater-ism' and her ABC do-over: A 'second chance to clean up bad habits'
With 'Roseanne' success, Roseanne Barr is back to raising eyebrows
---