When "Scandal" launched in the spring of 2012, there was little fanfare. Reviews for the political prime-time soap from "Grey's Anatomy" czar Shonda Rhimes were lukewarm and its ratings were nothing to boast about. Six years later, it's wrapping its run as a TV show credited with spearheading the era of must-tweet TV and lauded for its unapologetic portrayal of female empowerment, particularly with regard to its black female protagonist.
The ABC drama, which revolves around the life and work of a professional D.C. fixer named Olivia Pope (Kerry Washington), became a TV powerhouse with the help of social media word-of-mouth. But like a tweet that's run out of characters, "Scandal" has reached its capacity and will end its run later this spring.
The cast of the popular drama, who are in the middle of filming Episode 13 (of 18), gathered Wednesday on the show's soundstage in Hollywood as part of the Television Critics Assn. press tour to discuss saying goodbye.
"I personally feel that we're going out solid, strong," said Tony Goldwyn, who plays Fitz Grant. "The grieving process is part of the beauty of it in a way, because it's been such an extraordinary ride."
The cast offered scant details about how Pope and company will ride into the sunset — because they have no clue, they insist.
"We talk about it every day, like 'What do you think?' " said Darby Stanchfield, who plays Abby Whelan.
"'I don't know, what do you think?" costar George Newbern, who portrays Charlie, played along. "'Are we all gonna die? I don't know. Maybe we all die.'"
That would be … extreme. But as viewers of the nothing-is-too-extreme drama know, anything is possible.
With little to discuss about what viewers can expect with the final episodes, the cast of the popular drama looked to the future in other ways — reflecting on what the legacy of the show will be.
Here's a sampling of what they hope for: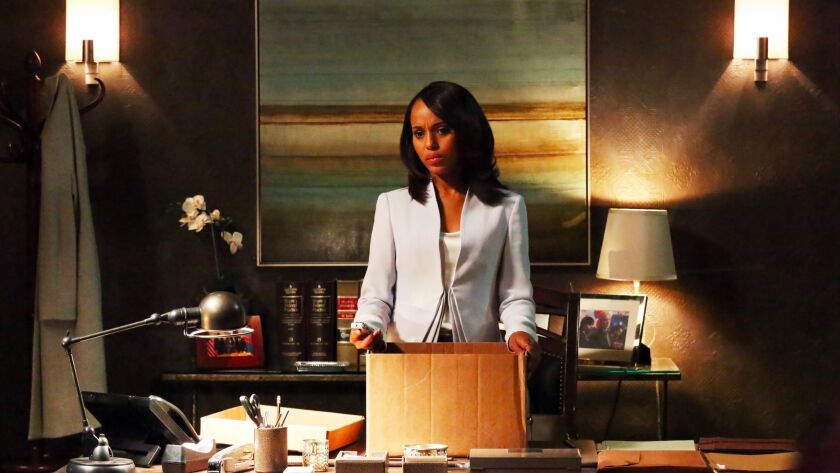 Kerry Washington, who plays Olivia Pope: "I will say two things. I think [it's] very true that Shonda and [casting director] Linda [Lowy] have really allowed for characters to have a lot of different races and ages and ethnicities. But I've been thinking about it a lot after Sterling K. Brown's speech at the Golden Globes — at the same time, Shonda was very specific from the beginning that Olivia Pope would be black because she was inspired by a real African American woman and she felt that her racial identity had real ramifications on the construction of her soul and she wanted those things to be connected.
And I think the fact that in my lifetime there had not been a black woman at the lead of a television show and now everywhere you look, every single network has women of color helming shows. I think that will be part of the legacy of the show."
Katie Lowes, who plays Quinn Perkins: "The three of our characters [referring to Quinn Perkins, Olivia Pope and Mellie Grant] have all risen to be women in power in their respective careers. And I think that will hopefully be one of the many things [the show] is remembered for in 20 years, that a lot of the story telling is surrounded and features very, very strong women in powerful positions."
Bellamy Young, who plays Mellie Grant: "Everybody has a seat at the table… I just think that [Shonda] — without being dogmatic about it — writes her heart and I never see a script that says, 'Berta, 30s, white.' You see that in so many other places, Shonda, it's not even a factor. She's writing soul, she's writing stories… So I love to think that we've gotten to be a part of a legacy of inclusion. I certainly have seen the change it's made on television. I'm just so grateful, so humble, so happy to be a part of that."
Scott Foley, who plays Jake Ballard: "I hope that [people] talk about the kind of stories we told — maybe not the stories we told, but the way we told them, the rate at which stories were burned through, especially in this landscape of television these days where you have all these streaming services. You have so many different platforms and 'Scandal' was able to navigate that successfully."
Joshua Malina, who plays David Rosen: "The intersection of technology and TV will also be part of the legacy, because I think our live-tweeting the show was part of the life's blood of our early success, and I think we'll get an asterisk in the record book for being one of the first to do it."
"Scandal" returns Jan. 18 at 9 p.m. on ABC, with its final episode set for April 19.
The most-read Entertainment stories this hour »
Twitter: @villarrealy
---