Review: 'Being Serena'  shows off Serena Williams' strengths but doesn't shy away from moments of weakness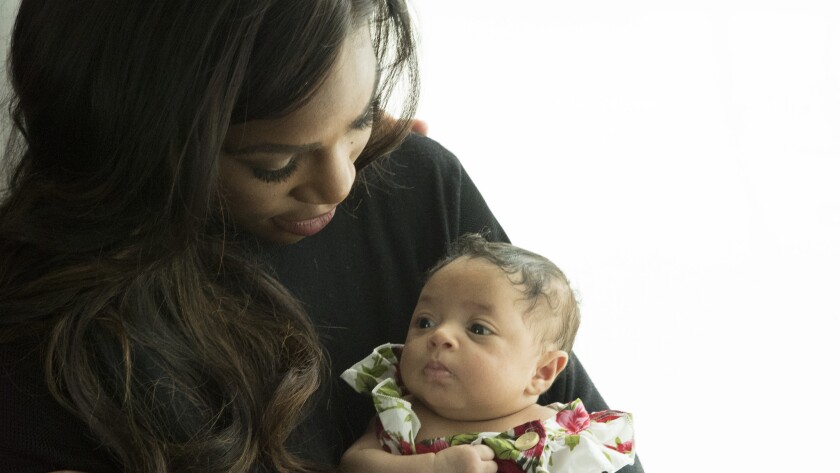 Television Critic
"Being Serena," the documentary series premiering Wednesday on HBO, begins with a secretly pregnant Serena Williams winning the 2017 Australian Open against her sister Venus Williams, and moves on to the birth of her daughter and beyond. (Just how beyond I can't say — only the first two of five episodes were available to review.)
It is not every child whose mother more or less commissions a glossy television documentary series upon his or her coming into the world — most of us must be content with a box of faded old snapshots or endless hours of unedited video — though to be precise, the focus is (reasonably) on the tennis star mother, whose name is in the title, and not the daughter, whose name is Alexis Olympia Ohanian Jr. (The father, Alexis Ohanian, is a co-founder of Reddit and a good-looking self-described nerd who seems like a thoroughly nice guy.)
Superficially, this is familiar territory — a celebrity turns her real life into television — though in most respects, it is something quite out of the ordinary, beginning, of course, with the subject, who does not need a TV series to validate her power. It's high-toned and visually sumptuous, and when it's sentimental, it is sentimental almost in spite of itself, with the result that it is often authentically moving.
And though the project originated with Williams and often has the approving, not to say, hagiographic flavor of the authorized biography, as vanity projects go, its subject does not seem to be very vain at all.
Williams is protean — warrior, queen, muscular glamour girl, nobody's idea of a mother, the very essence of motherhood. In scenes where she addresses the camera, she is made up to perfection, but she is also cool with looking like any other person on laundry day. She will let you into the room not only to watch her sonogram, but as she receives the C-section her baby's delivery eventually required.
For a woman whose public image is predicated upon physical vitality, she is surprisingly willing to be seen looking tired or weak. It is a long, slow trip to the car when she leaves the hospital with Olympia, after some life-threatening, post-partum health crises — "I think we should have another baby," she says as she settles into the passenger seat — and from the car to the house when they get home.
Williams is protean — warrior, queen, muscular glamour girl, nobody's idea of a mother, the very essence of motherhood.
Home is a big house in Palm Beach Gardens, Fla., which is likely not like yours, and which seems bigger (and quieter) for lacking any sign of a staff — except the doula, with whom Williams converses in French. (She makes sure to tell the viewer, in voiceover, "Where you come from is who you are, and I didn't come from this," and to take us on a brief detour back to Compton.) For all their earned advantages, they do mostly seem like any other young(ish) couple setting out on an adventure that nothing has equipped them for.
Mostly. Williams has mounted the 2017 Australian Open trophy in the baby's room because, she says, "She should know that having her in my body didn't stop me from succeeding, from winning." ("I like to think that it was unfair because it was two against one," Aunt Venus says of that meeting.) As for the new family member, Ohanian recounts that when a friend observed that their daughter might win Wimbledon in 15 or 20 years, Williams' reply was, "Not if I'm still on the tour."
When Williams speaks of "the fear that I can't be both the best mother and the best tennis player in the world," one considers that she might mean this literally — not just a good mother but better than any mother currently in competition. Thinking such an impossible thought means that she is, on a typically high level of expectation, doomed to failure.
Indeed, the first episode is titled "Fear." But Williams, as you might expect, is OK with fear. ("Without fear, without doubt, without discomfit in what we're doing, what is there for any of us to overcome?") And the second episode — in which she delivers her baby, self-diagnoses a pulmonary embolism, takes her first steps back onto a tennis court, is fitted for a wedding dress and prettily sings Alexis Olympia a snatch of "How Far I'll Go," from Disney's "Moana" — is titled "Strength."
I do not mind telling you that I spent much of that half-hour in tears, because I am strong that way.
Follow Robert Lloyd on Twitter @LATimesTVLloyd
ALSO
Serena Williams returns to the court and resumes her winning ways
Review: ESPN's 'Venus Vs.' highlights Venus Williams' fighting spirit
Serena Williams happy after taking first step of post-motherhood comeback
---
Inside the business of entertainment
The Wide Shot brings you news, analysis and insights on everything from streaming wars to production — and what it all means for the future.
You may occasionally receive promotional content from the Los Angeles Times.