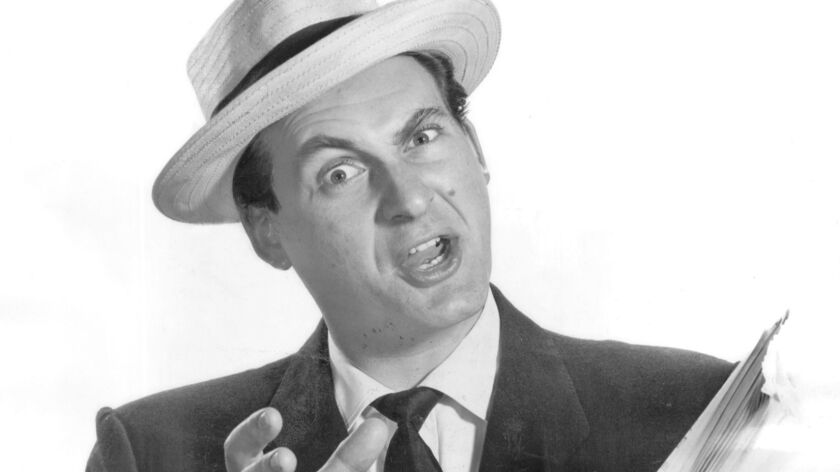 Television Critic
Mel Brooks was on the phone, remembering Sid Caesar, his friend and one-time employer.
"I begged him. I said, 'This TV, it's paper — time will take it away.' But the Marx Bros., they're still around. Hope and Crosby, the 'Road Pictures.' Let's make movies!' And that was 1951, maybe '52 at the most. I said to him, 'Sid, we've got to get out now.' And he said, 'Yeah, you're right, we're going to do it' — because he was an artist."
As it happened, Caesar, one of the great artists of the first decade of television, did not go to Hollywood then, because he was offered a lot of money to remain the star of NBC's hit "Your Show of Shows," for which Brooks was a writer. (And Caesar had been to Hollywood, in 1946, to make a Coast Guard comedy called "Tars and Spars," which is not the basis of his legacy.) As it also happened, television did not disappear, not even the television of the medium's infancy, much of it preserved — on film, funnily enough — as kinescopes.
A new selection of Caesar's TV work, from 1949 through the 1950s and beyond — including "The Sid Caesar, Imogene Coca, Carl Reiner, Howard Morris Special," a 1967 CBS reunion of the "Your Show of Shows" core cast — has been gathered into the new five-disc Shout Factory DVD set "Sid Caesar: The Works." (A supplemental DVD, "Sid Caesar: Extra Portion," collects more sketches.) Among the historical extras are Caesar's interview from "The Dick Cavett Show," a 1983 episode of Studs Terkel and Calvin Trillin's A&E show "Nightcap," in a segment featuring Caesar, Brooks and Reiner; and "Caesar's Writers," featuring Caesar, Brooks, Reiner, Larry Gelbart and Neil Simon, among others.
The work holds up.
Sid ... didn't want jokes. He wanted comedy based on human behavior, and that really thrilled me. It wasn't slipping on a banana peel.
Mel Brooks
"He saw everything," Reiner said in a separate phone call, earlier that same day. "He understood what made the world go. He never ceased surprising us." Reiner would go on to fold his experience on the show into "The Dick Van Dyke Show," partially set in the writers room of a series not unlike Caesar's (also the informal birthplace of Reiner and Brooks' "2,000 Year Old Man" interviews).
Tall, dark, handsome and famously strong — an oft-repeated story has an inebriated Caesar hanging Brooks out the window of a Chicago hotel when Brooks (in the version he told me) said he wanted air — Caesar was a performer whose expressive spectrum ran from broad to subtle. (Sometimes within seconds.) Though "Your Show of Shows" and its successor, "Caesar's Hour" (in which Nanette Fabray replaced Coca), were filmed in legitimate theaters, the camera worked in close. The comedy was intimate; there were no teleprompters to pull the actors out of the scene. Sketches ran long, compared to what we have become used to, sometimes the length of a contemporary sitcom episode. ("Our sketches were playlets," said Brooks. "We had a beginning, a middle and an end.")
You can see a new sort of comedy being born here, something on the cusp of slapstick and ahead sophistication, making generous use of pantomime and double talk — giving the impression of speaking a foreign language — but looking toward something more improvisational, emotional.
A mimed argument is set to Beethoven's Fifth Symphony. Sketches parody not just Hollywood movies but also foreign films and opera, catching the comic details of life in postwar middle-class urban and newly suburban America. See, for example, the "Pagliacci" parody "Gallipacci"; "Ubetu," a turn on Mizoguchi's "Ugetsu"; the Murnau-esque "The German General"; or the brilliantly choreographed "The Small Apartment" sketch, which presents a large dinnery party in a tiny space, as the advantages and disadvantages of city and country living are discussed.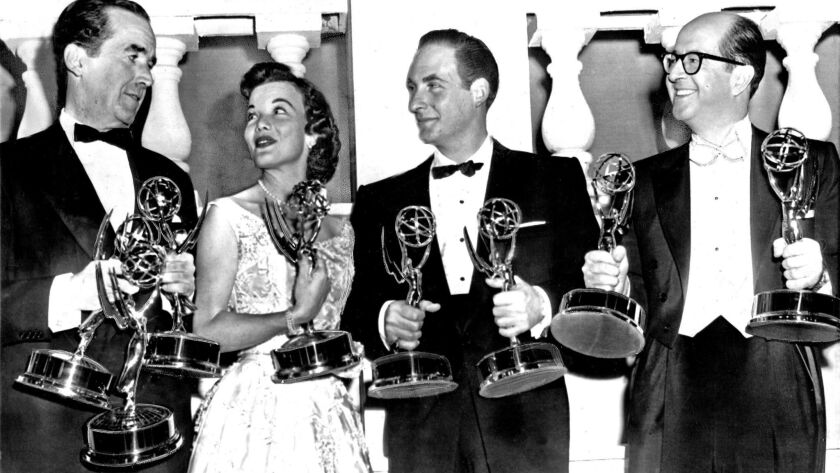 He saw everything. He understood what made the world go. He never ceased surprising us.
Carl Reiner
"What I loved about Sid was that he didn't tell jokes," Brooks said. "He didn't like jokes, he didn't want jokes. He wanted comedy based on human behavior, and that really thrilled me. It wasn't slipping on a banana peel. It was somebody fighting their way out of a situation, or dealing with a marital problem."
Time being what it is, the world has needed occasionally to be reminded of his greatness. In 1973, a collection of sketches titled "Ten From 'Your Show of Shows'" was released into theaters to reestablish its genius. (It is included in its entirety in "The Works.") Later audiences are more liable to know Caesar from "It's a Mad, Mad, Mad, Mad World," or Brooks' "Silent Movie," or "Grease," which cast him as an embodiment of period nostalgia as Coach Calhoun.
Brooks may have had a point about the durability of film; still, his greatest work was on the small screen, in an age where television was live and anything could happen, or not happen.
"Sid would go places not knowing where he was going," said Brooks, "and be perfectly confident that he would succeed in that."
Finding the rim shot
Caesar and Brooks met after World War II working at neighboring Borscht Belt resorts in the Catskill Mountains, each doubling as a musician and comic — Caesar was a saxophone player, Brooks, a drummer. Later, when Caesar's nightclub career was taking off, Brooks would help refine his act, and when Caesar went to television in 1949 as the star of NBC's short-lived "Admiral Broadway Revue," he paid Brooks $50 a week out of his own $250 salary to write for him, then brought him along to "Your Show of Shows."
I wondered whether the fact that they were both musicians had cemented their relationship or shaped their comedy. ("The Works" includes a segment in which Caesar solos respectably on "Sing Sing Sing" with Benny Goodman's band.)
"Absolutely," Brooks replied, "because we both had rhythm. We knew where the rim shots were, we knew where the high notes were. We loved the same music. We both loved Ravel, we both loved Schubert, and we both loved Count Basie. Often, we'd get a dozen records and we'd get some sandwiches and then maybe some booze, and we'd go to his place or mine and listen to records all night."
"He had the best sense memory of anybody," said Reiner. "I remember once he was looking for some kind of pantomime and we're saying, 'How about having trouble opening up a jar of pickles?' So he pantomimes picking up a jar of pickles and struggling and struggling and finally getting the cap off. And everybody said, 'It's OK, but it's not funny enough.' So all of a sudden we're all laughing, and Sid says, 'What are you all laughing about?' He had pantomimed having a jar of pickles in one hand and a cap in his other, and when we said it wouldn't work, he screwed the imaginary cap back on the imaginary jar and put it down on the table — and he didn't know he did that. That's how real it was to him."
With the exception of periodic guest roles, Caesar's television career all but ended with the 1960s, even as his fictional persona, Alan Brady, was embodied by Reiner for five years on "The Dick Van Dyke Show."
"New things started to happen," said Reiner. "Everything has a time and a place, and we ended up all going about our business, but all having learned. It was a college to me. No question about it."
He recalled a day when Caesar, who died in 2014 at age 91, was at the height of his success. The "Show of Shows" staff was out at a house Caesar had bought on Long Island, "And we're all swimming in the pool and he's on his back looking up at the sky, and he looks over and sees his three-hole putting course, he looks at the pool and he says, 'Eh? Isn't this better?' Than what? Like he'd never thought of it before — 'I should have done this earlier.' We fell over. 'Isn't this better?' Anyway, that's him."
ALSO:
Sid Caesar, an appreciation: Making light of civility's fragility
Mel Brooks, Carl Reiner and Judd Apatow kick off #Comedyfest
Sid Caesar dies at 91; comedy giant of the small screen
'Lunch' with Sid Caesar and friends
Follow Robert Lloyd on Twitter @LATimesTVLloyd
---