Sid and Marty Krofft reboot 'Sigmund and the Sea Monsters,' 'Electra Woman & Dyna Girl' and others for a new generation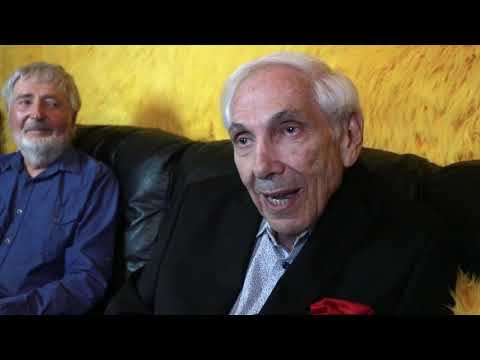 Brothers Sid and Marty Krofft, creators of family television shows "H.R. Pufnstuf" and "Land of the Lost," dicuss their latest creation, "Mutt & Stuff."
On the brightly colored Van Nuys set of "Mutt & Stuff," a kids show about a 7-foot-tall animatronic dog named Stuff at a canine school, creators Sid and Marty Krofft roam the room checking shots.
Occasionally, they'll sit and regale crew members with stories about their long career in show business. This time, they recount an encounter with Walt Disney. He advised them, no matter what, to never give up ownership of their creations. And they never did.
Those creations — including beloved shows like "H.R. Pufnstuf," "Sigmund and the Sea Monsters," "The Bugaloos," "Electra Woman & Dyna Girl," "Wonderbug" and the "Donny & Marie" variety show — made Sid, 86, and Marty, 79, some of the most prolific producers of the '70s.
Starting in 1969 with "Pufnstuf," the duo made kids shows "the Krofft way," usually meaning on a tight budget using costumed performers with oversized heads, animatronics and a sometimes "trippy" — according to Sid — camera style.
Though less trippy now, the duo continues to create, even as the media through which their creations are consumed keeps changing.
"Electra Woman & Dyna Girl" launched online on Fullscreen. A pilot for a new version of "Sigmund and the Sea Monsters" is currently streaming on Amazon. It is featured as part of their kids block of shows, on which they allow fans to vote. In turn, those votes help determine the fate of the show and whether it will be picked up as a series. (That decision is currently being made. The Krofft brothers are hopeful.)
They are also in talks with a major cable network to revive another of their past hits, "The Bugaloos," and are in the development stages of a revamped "H.R. Pufnstuf" and a new ("and better" says Marty) reinvention of "Land of the Lost."
The producers have also crafted new material, partnering with Nickelodeon on the dog-centric "Mutt & Stuff," co-created with "Yo Gabba Gabba!" executive producer Bradley Zweig and starring Calvin Millan and his dad, the "Dog Whisperer" himself, Cesar.
"Sid and Marty are legends to generations of TV fans because they make shows that are imaginative, inventive and filled with loads of heart," says Cyma Zarghami, president of Viacom Kids and Family Group, Nickelodeon's parent company.
Back on the set of "Mutt & Stuff," there are both new and old touches. High-tech cameras, sound systems and lighting equipment mingle with colorful props and backdrops. When it comes to the characters onscreen, it's a full-blown Krofft throwback. Stuff, a huge orange dog played by Meegan Godfrey, still uses animatronics to make the mouth move. Even more costumes and animatronics crowd the area as H.R. Pufnstuf visits the set with Sigmund the Sea Monster.
Sigmund and Stuff are voiced by David Massey, who moves the characters' mouths with a remote control as Marty, Sid and Massey (as Stuff) are interviewed on set.
With their adult daughters on set doting on their dads during a photo shoot ("Sit up straight, Dad!"), puppies from the show running around and David Arquette — who appears as the villainous Captain Barnabas in the new "Sigmund and the Sea Monsters" — hanging around, it's a cozy, low-pressure room.
The Krofft brothers' reputation for creating shows with heart led contemporary big names like Oscar-winning composer Alan Menken and "Downton Abbey" creator Julian Fellowes to collaborate with them on remakes of "Lidsville" and "H.R. Pufnstuf" respectively. Those projects didn't make it off the ground, but the brothers made a definite impression.
"What attracted me to 'Lidsville' was the possibility of writing a score that would be an homage to '60s psychedelia," says Menken via email about the series that chronicled a boy's adventure in a world of hat people. "Sid and Marty's work was so identified with a certain kind of freedom and imagination that was set loose in the mid- to late '60s."
Menken marveled at their "stylistic stamp." To him, their productions evoked a certain time that was exemplified by musical acts like the Beatles, the Who, the Moody Blues, the Doors and Jefferson Airplane.
Although "Lidsvillle" stalled at DreamWorks, Menken remains hopeful. "The dream of doing this project remains strong for me."
In addition to members of the creative community, executives are also interested in working with the brothers. Greg Siegel, a development executive at Legendary Digital Media, wasn't familiar with their classic shows ("And Marty makes it a constant point to needle me on that," he says.). But once he met them, he knew he had the perfect collaborators for the return of "Electra Woman & Dyna Girl."
"Marty is sharp and tuned in to what audiences want, and is, in a good way, aggressive and sticks to his guns," says Siegel. He quickly learned how influential the pair is while in Vancouver for the "Electra Woman" shoot.
"I'd be out to dinner or we'd be on sets and people would come up to Marty and say how their programs affected them — or even changed their lives."
It's all about the story. Having a good script with a great heart and knowing how to pull it off."
— Sid Krofft
"It's all about the story. Having a good script with a great heart and knowing how to pull it off," says Sid about the siblings' longevity in the business.
"Well, really, it's not. The biggest thing is getting a green light is what it is," says Marty, disagreeing with his brother, as they often, affectionately, do. They agree to agree on this point.
Sid is the idea man, the creative brother who often waxes nostalgic about their creations and the need for good storytelling. Marty is the business brother, shrewd, but really no less creative in making sure that their shared vision come true — and within budget.
"We couldn't really afford to do a lot of what we wanted in the beginning. We had to paint the backgrounds and the floors on the shows, for crying out loud," Marty says.
"But they were so good," says Sid.
Get our L.A. Goes Out newsletter, with the week's best events, to help you explore and experience our city.
You may occasionally receive promotional content from the Los Angeles Times.