Commentary: Trump turns news conference into a post-election spectacle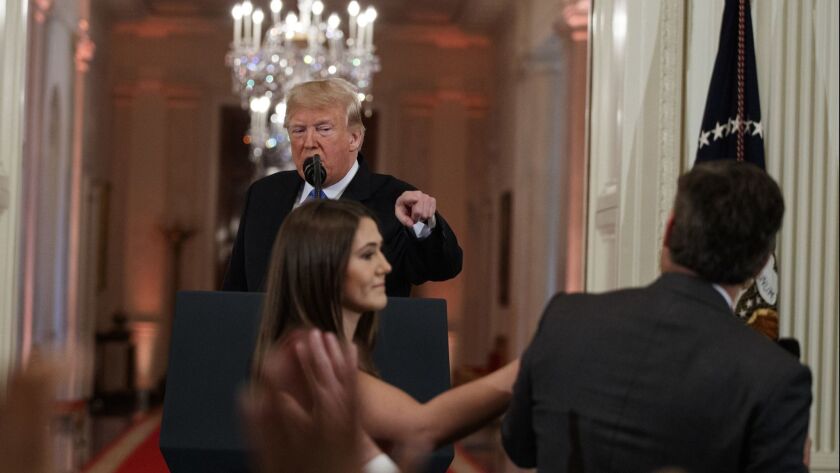 Television Critic
"Stop interrupting. I didn't call on you. Sit down. Quiet."
President Trump barked commands at a packed room of reporters during a post-election news conference Wednesday that was so contentious and bizarre it rivaled "Saturday Night Live's" best White House parodies.
He made claims of a "tremendous victory" on Tuesday and "drawing the biggest crowds ever" on the midterm campaign trail, though Democrats took back the House and won key statehouses. He called for bipartisanship, but with the Tony Soprano-like caveat that he'd take a "warlike posture" if the Democratic House uses its subpoena power to launch investigations into his administration. He appeared miffed that the press did not respond with the same sort of enthusiasm and support he'd received earlier from Sean Hannity and Rush Limbaugh.
FULL COVERAGE: 2018 midterm election results »
The election may have changed the conversation for a week or two, but American political life continues to devolve into TV spectacle and Trump's news conference/brawl showed how far we've sunk. Trump interrupted, mocked or entirely shut down journalists who asked about voter suppression, his fulfillment of promised tax cuts or why he considered the fall of the House to a party he's accused of taking a "wrecking ball" to the country "close to a complete victory" for the Republicans.
And it just got worse. Trump called CNN's chief White House correspondent Jim Acosta a "rude, terrible person," accused African American PBS Newshour correspondent Yamiche Alcindor of asking a "racist question" when she inquired what he meant by labeling himself a nationalist, and ordered American Urban Radio Networks White House correspondent April Ryan to "sit down!" when she stood to ask a question as other reporters had before and after her.
The night before, however, it was late-night TV hosts who had the floor and the president who was on the ropes in monologue after monologue about the election.
"The Late Show With Stephen Colbert," which like many late-night shows is usually taped earlier in the evening, aired live Tuesday so Colbert could weigh in on the midterm results in real time.
"We may collapse from all the pressure, but if we do at least we'll all crumble together," he said to the audience after a musical number that likened the state of the union to a leaky, imploding submarine with fire extinguishers that shot flames rather than flame-retardants.
Colbert tackled the divisive nature of 2018's congressional and gubernatorial campaigns and Trump's xenophobic rallies in a litany of jokes that made light of a dark time in American culture and politics.
And he wasn't alone. As CNN, MSNBC and Fox News announced each new projection as it flipped on their electoral smart board maps, late-night's army of politically minded hosts tackled the subtext in real time.
"The Daily Show With Trevor Noah" dubbed its live broadcast "Democalypse 2018: Let's Try This Again, America." The Comedy Central dispensed with veiled terms like "racially charged," which had been used by careful news anchors and pundits in the roll-up coverage to Nov. 6, and referred to the midterms as "the day where voters were going to decide if America was racist … or openly racist."
Republican Ron DeSantis was the people's choice for governor in Florida over Tallahassee Mayor Andrew Gillum, though DeSantis used derogatory language like "don't monkey this [election] up" when referring to his African American opponent, accepted contributions from a wealthy donor who tweeted a racial epithet about former President Obama, and spoke at several events organized by groups with extremist views on race and Islam.
Along with Trump's demonizing of migrant caravans, black sports figures and Middle Easterners, DeSantis' strategy showed that the hateful ideals of segregation-era America were not just alive and well, but being used to successfully motivate voters. Hasan Minhaj, the former "Daily Show" correspondent who now has his own Netflix show, addressed the brown scare as Colbert's guest Tuesday. Be careful of them, said the son of migrants, about the caravan of migrants. They might be kids now, but they could grow up to be comics with their own show.
RELATED: Trump turned the midterm election into a big show for network news »
On "Late Night With Seth Meyers," the show's host was fired up as he tackled another aspect of 2018 midterm bigotry: Jim Crow-era tactics.
Commenting on power outages in the hotly contested Georgia governor's race, where voter-suppression tactics plagued the election, Meyers said: "I knew Brian Kemp would try to strip black people of the power to vote but I didn't know he would literally take away their power to vote." Kemp is currently ahead of Stacey Abrams, who would be the country's first black female governor, though votes were still being counted as of press time.
In the high-profile races of Georgia, Florida and Texas, Democrats hoped to upend opponents that ran on fear-mongering platforms with diverse candidates such as Beto O'Rourke but failed to dazzle with blue wave upsets in those traditionally red states. Conversely, Republicans were swept out of the House by Democrats in at least two dozen races where an unprecedented number of women and minorities flipped congressional House seats.
Rashida Tlaib and Ilhan Omar of Michigan and Minnesota, respectively, became the first Muslim women ever elected to Congress. Texas also elected its first two Latinas to Congress while Colorado elected the nation's first openly gay governor.
Jimmy Kimmel opened his live show while votes were still being counted in many districts across the nation, and especially in the West. "America is in the doctor's office waiting for our STD results to come back," he joked. And in addressing the nation's frayed nerves, Meyers called one of the only nonpartisan races of the evening: "'Late Night' can now project that bourbon has defeated Xanax."
Both substances — and perhaps a little laughter — could have come in handy for Wednesday's news conference, where the president and the press were again at the center of an absurd on-screen drama in which politics, ego and national tensions collided. It's doubtful late-night TV could duplicate such a fiasco in all its bloviated glory, but they'll certainly be mining it for inspiration — and the laughs we all need after another Trump-era election cycle.
---
UPDATES:
3:30 p.m.: This article was updated with additional details, including President Trump's news conference.
This article was originally published at 9:50 a.m.
---
The complete guide to home viewing
Get Screen Gab for everything about the TV shows and streaming movies everyone's talking about.
You may occasionally receive promotional content from the Los Angeles Times.