Appreciation: 'SpongeBob' creator Stephen Hillenburg, from Bikini Bottom to the world
Television Critic
What makes a cartoon a legend? Stephen Hillenburg created one, and nearly 20 years after greeting the public, "SpongeBob SquarePants" is still going strong, from here to Brazil, from Italy to India to Israel, from Poland to Pakistan, just about everywhere. Indeed, the new SpongeBob Christmas special, "SpaceBob MerryPants," premiered the night before Hillenburg died on Monday, at 57, from complications of amyotrophic lateral sclerosis (ALS).
The show has produced the socks and sneakers, the lunch boxes and backpacks, the mugs and notebooks, the plush and plastic figures that are the lot of any successful kids' show. But SpongeBob grew beyond the usual.
Only last week, wearing a Santa hat, SpongeBob made his latest appearance as a balloon in the Macy's Thanksgiving Day Parade. In September, the Tony-nominated "SpongeBob SquarePants: The Musical" ended a nine-month run on Broadway, with songs written by Yolanda Adams, the Flaming Lips, Cyndi Lauper, Panic! At the Disco, They Might Be Giants, Sara Bareilles and David Bowie (who also provided the voice of Lord Royal Highness, the emperor of Atlantis, in the 2007 special "Atlantis SquarePantis"). A national tour of the musical begins next year.
He can (literally) fall to pieces, but he is never pathetic. However dark the night of his soul, the sun always comes up again.
There is a SpongeBob roller coaster. A Malaysian fungus, Spongiforma squarepantsii, has been named for him. And for $2,416 a night (excluding holiday pricing) you can stay in a pineapple, something like the one SpongeBob lives in, at the Nickelodeon Hotels & Resorts, Punta Cana, in the Dominican Republic. (It is not underwater. Yet.)
Born in Oklahoma, Hillenburg grew up a Californian, raised in Anaheim, snorkeling and diving in the Pacific Ocean. "SpongeBob" is the product, almost too perfectly, of his twin interests in art and marine biology, his minor and major at Humboldt State University. (Like SpongeBob, he also worked as a fry cook.) The series' near roots are in an informational comic about tide pools, "The Intertidal Zone," that Hillenburg produced while teaching public education classes after college at the Orange County Marine Institute (renamed the Ocean Institute) in Dana Point. (Early hero Jacques Cousteau is paid homage in the series' "French narrator.")
He planned to return to school to study art, but animation caught his fancy and he enrolled in CalArts, where he studied under Disney and UPA animator Jules Engel, the Experimental Animation program's founder, to whom the first SpongeBob movie is dedicated. Hillenburg's career in animation was long, but not broad. He worked on just a few series, "Rocko's Modern Life," for which he was hired on the strength of his CalArts thesis film, "Wormholes"; "Rugrats"; and "SpongeBob," which he created after "Rocko" ended, taking with him some of the that show's talent (including Tom Kenny, who would play SpongeBob).
What makes the series special? What has kept it alive in a field choked with competition?
'SpongeBob' is the product, almost too perfectly, of Hillenburg's twin interests in art and marine biology.
Like all the best cartoons, it is made for children and not made for children (which is not to say "made not for children"). It is at once smart-alecky and sincere. That SpongeBob is ruled by his emotions doesn't make him a figure of fun; it's in the resulting chaos that the comedy lives. Like Pee-wee Herman (Hillenburg acknowledged the debt), he's a boy, and he's a man. He lives on his own and holds a job and wears a tie — but his square pants are also short pants, and his practical experience of the world, limited. Indeed, he was originally going to be called SpongeBoy, until it turned out the name was trademarked for a mop.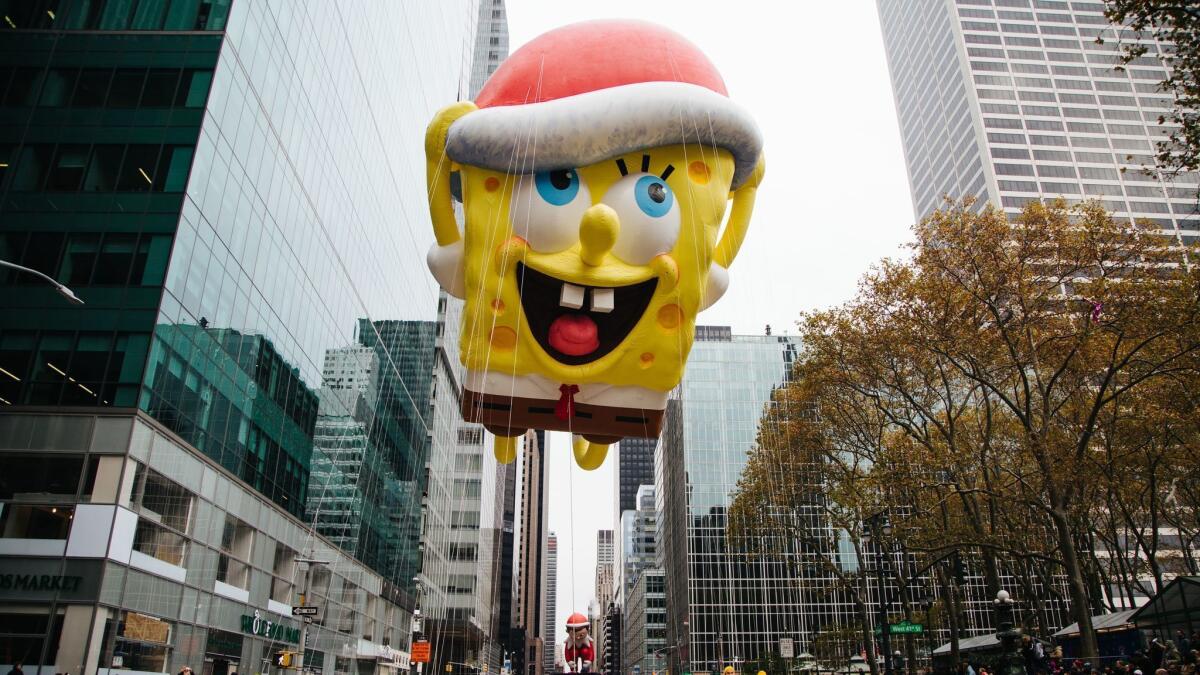 There is the fresh look of the show — the Polynesian patterns and aloha shirt palette. The mainstream has had an on-again, off-again romance with Tiki culture over the years, but it had not made its way, in any sustained way, into a cartoon series. And there are sudden visual shifts, with inserted painterly or photographic effects — sometimes even a bit of live action dropped in. Characters can turn grotesque — with bloodshot eyes and elaborate skin folds that recall the work of comics artist Basil Wolverton, or Rat Fink creator Ed Roth — before snapping back again. (The show takes some malicious delight in portraying the ravages of age: "I'm so old," one passing character says, "I've got hairs growing out of the wrinkles on my liver spots.") At its best, it's just a step away from getting deep, or dark.
It's a small town comedy, like "The Andy Griffith Show" or "Northern Exposure" or certain films by Preston Sturges, "fantastic but believable," in its creator's words. With a firm sense of place, its compact cast of characters remain true to their essences, interacting in ways that range from friendship to grudging tolerance: Squidward the octopus (Rodger Bumpass), a dyspeptic aesthete who functions as a Mr. Wilson to SpongeBob's inadvertently menacing Dennis but also works with him at the Krusty Krab, run by the penny-pinching but mostly sympathetic Mr. Krabs (Clancy Brown); Patrick the starfish (Bill Fagerbakke), SpongeBob's amiably dim friend and neighbor; Sandy Cheeks (Carolyn Lawrence), a squirrel in diving gear who has decided to live at the bottom of the sea, and does science and karate. Many recurring characters fill out the world of Bikini Bottom — a kid's rude joke of a name.
Above all, there is its hero. "When you set out to do a show about a sponge," Hillenburg said once, "you can't anticipate this kind of craze. We just try to make ourselves laugh, then ask if it's appropriate for children." But it's the unlikely choice that makes the deepest impression.
There is a spark of madness within SpongeBob that makes him hilarious and relatable; he is sweet but prone to mania and liable to go too far in support of a good cause. His love of his job, and for the krabby patties he fries at the Krusty Krab, borders on lunacy. At the same time, you can feel for him — as when his catlike pet snail, Gary, runs away from home after SpongeBob, trying to break a paddle-ball record, forgets to feed him. He can (literally) fall to pieces, but he is never pathetic. However dark the night of his soul, the sun always comes up again.
The show's premise, Hillenburg said, "is that innocence prevails — which I don't think it always does in real life."
After directing "The SpongeBob SquarePants Movie," which he had considered the series finale — Nickelodeon, which has earned many billions of dollars from the franchise, had other ideas — Hillenburg resigned as showrunner in 2004. "It reached to a point," he said, "where I felt I'd contributed a lot and said what I wanted to say." But he returned to co-write the story of the second theatrical feature, the 2015 "Sponge Out of Water" and there was talk of him returning to take a more active hand in the series, where he always at least held the title of executive producer. (Whether the show was as good, or any good, without him is a longstanding subject of debate among fans.) He was involved, too, with "SpongeBob Comics," which began publishing monthly in 2011.
One reads that Hillenburg was fond of surfing, snorkeling, scuba diving and playing music; and also, as the lack of a record substantiates, that he was a private person. He may have had other things to think about besides a next cartoon. (There was a hand-drawn short, "Hollywood Blvd, USA," that he took to festivals and screenings, but little else.) But, after all, does it matter how many swings you take when your first hit sails right out of the park and continues to circle the world?
ALSO:
Stephen Hillenburg, creator of 'SpongeBob SquarePants,' dies at 57
In memory of 'SpongeBob' creator Stephen Hillenburg, an appreciation of the most underrated characters
Can Ethan Slater squeeze out a Tony Award from the 'SpongeBob' musical?
'SpongeBob' ventures ashore with mixed results
Review: 'It's a SpongeBob Christmas!' adds an extra dimension
Follow Robert Lloyd on Twitter @LATimesTVLloyd
Get our L.A. Goes Out newsletter, with the week's best events, to help you explore and experience our city.
You may occasionally receive promotional content from the Los Angeles Times.