Review: 'The Divide' on WE tv smartly smudges race, class stereotypes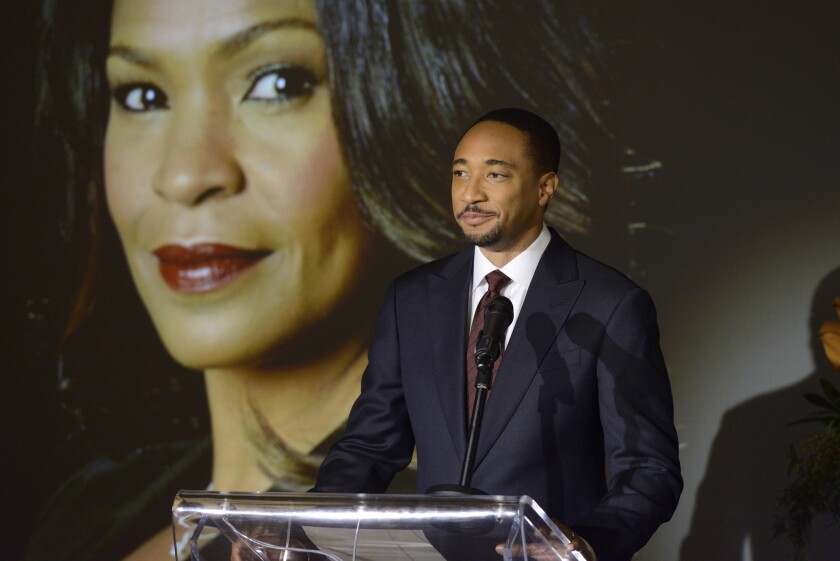 In what is becoming something of a monthly ritual, yet another niche network is venturing in from the old film/documentary/reality fringe with a character-driven drama that executives hope will do what "Mad Men" did for AMC.
At least with "The Divide," which premieres Wednesday night on WE tv, there is no pretense. WE, which stands for Women's Entertainment, is owned by AMC Networks and it produced "The Divide."
Indeed, cocreators Richard LaGravenese and Tony Goldwyn originally pitched the multithemed modern legal drama to AMC, where the show's female protagonist apparently made it a good candidate for a much-needed broadening of the WE brand, thus far embodied by the reality series including "Bridezillas" and "Braxton Family Values."
Whether "Women's Entertainment" is a legitimate genre necessitating its own network (No! she screamed, before the crowd fell upon her) is open for debate, but it is unfair to ask "The Divide" to host it. However it got made, and wherever it airs and why, "The Divide" does deal with issues that transcend gender and promises to be a very good show.
Law student by day, bartender by night, Christine Rosa (Marin Ireland) works for the Innocence Initiative, a nonprofit group dedicated to saving the wrongfully imprisoned. She is investigating a case involving the brutal killing of a black family who lived in a prestigious and mostly white neighborhood.
The conviction of the two white men — Jared (Chris Bauer), now on death row, and Terry (Joe Anderson), his much younger partner — made the career of Dist. Atty. Adam Page (Damon Gupton). Not surprisingly, Adam sees the last-minute intervention by Christine and her Initiative boss Clark (Paul Schneider) as an attempt to derail his rising career and responds with "Scandal"-like alacrity (Goldwyn is, of course, "Scandal's" commander in chief).
Fortunately, at another level, things are a bit more complicated. Race plays a big role in the case, and the show (Adam is black, Christine and Clark white), but so does class. The two are bravely not synonymous. And though the story may seem familiar, the creators' willingness to smudge out traditional demographic stereotypes is not.
Christine is scrappy and poor with a personal stake in fighting a justice system weighted in favor of the wealthy. She vibrates with a fury that both fuels and exhausts her. As the pilot winds around the facets of the case (all is not what it seems!) which foreshadow the show's themes, Christine, as a character, requires us to take nothing on faith.
In a subtly stellar performance, Ireland shows us her charm and her defects. She pushes and pulls, tells the truth and lies with the sort of passion too often confused with sincerity, but none with a crusader's long-winded self-righteousness. The wins are no more fun for Christine than the losses because both illuminate a system that routinely chews up those who do not live in the nice neighborhoods.
Mercifully, and astonishingly, "The Divide" is not a complete downer — Christine has a fine and feisty relationship with a cop played by "Ripper Street's" Adam Rothenberg, and Gupton's Adam and his wife, Billie (Nia Long), are raising a family along with attempting to run the city. More important, the main characters all seem bent on justice, although their definitions of that term have been formed by their own lives.
Corruption may wind up playing its part in "The Divide." But Goldwyn and LaGravenese seem more interested in examining the small decisions, the omissions made for expediency, the assumptions not challenged, than any grand, soap operatic conspiracy.
Is it the new "Mad Men"? No. But you know what? That mythical creature does not exist. "The Divide" is a tense and thoughtful drama, with what promise to be complex characters and at least one breakout performance.
Even in this day of niche networks, live-streams and clogged DVR queues, that's quite enough.
Twitter: @marymacTV
------------------------------
'The Divide'
Where: WE
When: 9 p.m. Wednesday
Rating: TV-14-DLSV (may be unsuitable for children under the age of 14 with advisories for suggestive dialogue, coarse language, sex and violence)
---
Inside the business of entertainment
The Wide Shot brings you news, analysis and insights on everything from streaming wars to production — and what it all means for the future.
You may occasionally receive promotional content from the Los Angeles Times.