'The Walking Dead' marches on into its ninth season with a new direction — and a major character exit
Only a few minutes into the second episode of the new season of "The Walking Dead," Rick Grimes succinctly makes a revelatory comment that could been seen as a glimpse into the direction of of AMC's mega-hit zombie drama.
Sitting in a darkened room, Grimes, played by Andrew Lincoln, says in his signature southern drawl, "It wasn't that long ago we were fighting just to stay alive. But it's not like that anymore. We're building. We're growing."
After living through a deadly outbreak, Grimes and his ragtag crew of survivors have struggled to stay alive among flesh-eating zombies and sadistic psychopaths bent on inflicting physical and psychological torture. After battling Negan (Jeffrey Dean Morgan), the sadistic leader of the rampaging Saviors for the last two seasons, Grimes ultimately decided to spare Negan's life, at the dying request of his teenage son, Carl (Chandler Riggs).
Starting its ninth season Sunday, the AMC series begins with a major time jump — a year and a half after Negan's defeat. Grimes and his troupe, the Saviors and other clans of survivors are attempting to coexist.
At a recent promotional roundtable event, Angela Kang, who is taking over showrunner duties from Scott Gimple, and several cast members described this season's changes — explaining how it's more focused on community building and creating a world similar to the one survivors had before the dead walked the earth, even as the world around them becomes more decayed.
"In the comic book, there is this time jump that we're paying homage to at the beginning of the season," Kang said. "The style of the way that everybody trying to rebuild civilization. It feels a little medieval, it feels a little western. Those are some of the visual inspirations that we took."
And after an action-heavy couple of seasons, Kang promised more horror touches and more zombies, saying she was inspired by the series' pilot, which premiered nearly eight years ago.
"It feels like a new show," said Norman Reedus, who plays Daryl Dixon, the resourceful and stoic hunter. "Like a really honest, heartfelt western that's scary."
There was good reason to make changes in the long-running series.
The seventh season opened with the graphic deaths of two beloved characters — Abraham Ford (Michael Cudlitz) and Glenn Rhee (Steven Yeun) — both savagely bludgeoned by Negan with "Lucille," a baseball bat wrapped in barbed wire. When Grimes' son Carl, widely considered "untouchable," euthanized himself after being bitten by a zombie in Season 8, many viewers were both outraged and exhausted.
Although the show is known for killing off popular characters and exploring what could be the harsh realities of a zombie apocalypse, a lot of fans blamed Gimple, saying the show had become "misery porn".
The series has also seen a steady ratings decline the last two seasons. The Season 7 finale pulled 11.3 million viewers, down nearly 3 million from the Season 6 finale. And the Season 8 finale was the lowest rated since season 1, with a 3.4 rating among adults under 50 and 7.9 million viewers.
But the show still remains one of the most successful series on TV, and Gimple was promoted to chief content officer, overseeing the entire "Walking Dead" universe, including "Fear the Walking Dead" and other potential brand expansions.
"The flagship, it started with this one man looking for his family. He found them and plus a group... and then they found that the world is much bigger than they imagined," Kang said. "As our groups discover more of the world around them...it does allow for some interesting storytelling opportunities."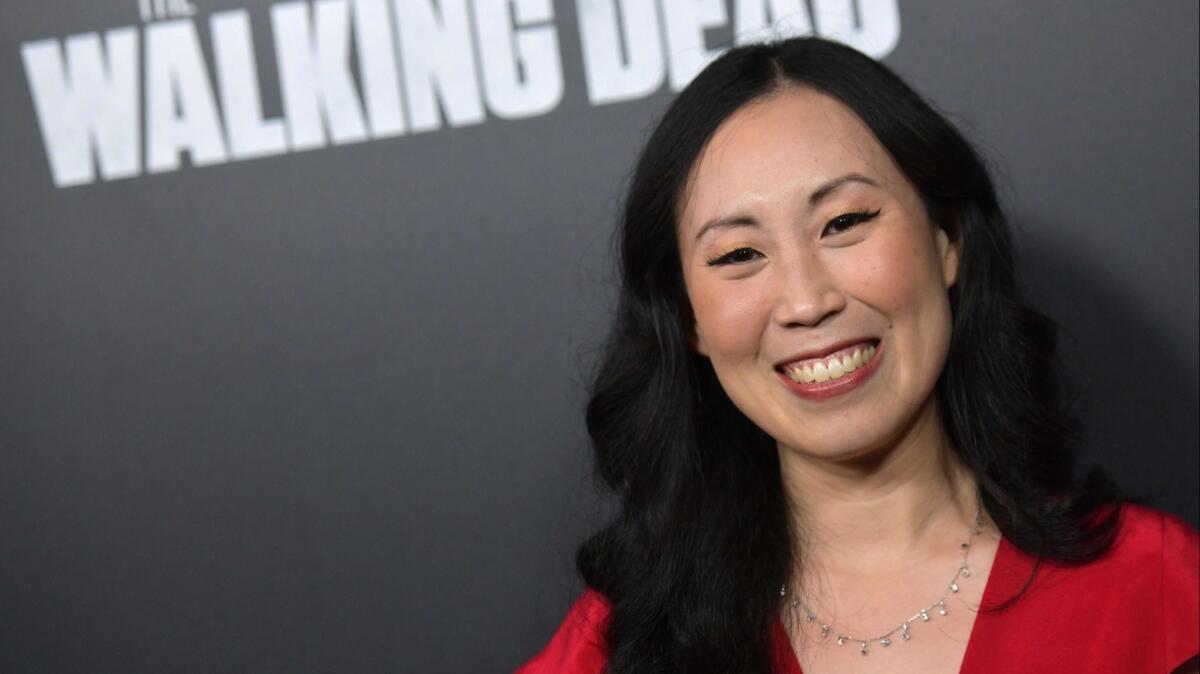 Other monumental changes this season include the departure of Lincoln, the show's lead since the first season. Lauren Cohan who plays the widowed Maggie Greene, is also taking on a diminished presence after landing a starring role in ABC's upcoming "Whiskey Cavalier." While Kang revealed that Cohan would exit during the first half of the season, she was more tight-lipped about how Lincoln's departure would play out.
Said Kang, "What form that takes, I kind of don't want to spoil that for the audience. Hopefully it's a storyline that kind of gives a sense of completion for the show."
Longtime cast members Reedus, Melissa McBride, who plays Carol Peletier, and Danai Gurira, who plays the katana-wielding Michonne, reflected on Lincoln's impact on the series.
"In a world like this, where there's zombies and samurai swords...it could so easily become a corny show," Reedus said. "Andy took it from the very beginning as something that was super serious...so that we don't fly off into this B-movie sort of thing."
"I'm going to deeply miss them being there," McBride said. "You still feel him there, Andy in particular. He's been there from the beginning. He's like the top down leader."
"We are family. So of course when people leave, it's hard," Gurira said. "It's like the end of something in some senses. But we still remain family, which is the beauty of the blessing that has been this experience for us all."
But defeating Negan and the pursuit of peace has another perk for the cast — more dialogue and character development. From Michonne's arc as a detached killer to a maternal warrior, to Carol's arc as a victim of domestic abuse to a strong leader and fighter, this season intends to meditate on character growth and deepening relationships, particularly among the women.
Kang says viewers can expect to see more interactions between Michonne, Carol and Maggie.
"That's a lot of what we got to do, which we haven't really been able to do as much when you're in the middle of war and mayhem and a lot of darkness, a lot of pain, and a lot of loss," Gurira said.
After joining "The Walking Dead" as a story editor and writer in Season 2, Kang has become the series' fourth showrunner and first woman to command the position.
"I think a lot about just the impact of this being a big global show and being me as a woman of color," Kang said. "For me as a child, I didn't have somebody who looked like me or came from my background who was doing a job like this. That's sort of exciting that I know there are people that will take inspiration from that and hopefully they'll feel like there are ways their voices can be heard in the creative realm."
For Gurira, the series has always depicted strong female portrayals, but it was particularly exciting to have a woman at the helm this season.
"It's something that you don't see as often, and when you do see it, there's something very special about it," she said. "Angela is exceptional and she's excellent."
McBride said she could feel an immediate shift when Kang took the reins.
"The cinematic feel to it, the use of the props, the use of the landscapes, the animals, the visuals are different," McBride said. "There's more breathing room and still the story gets told. It feels nice."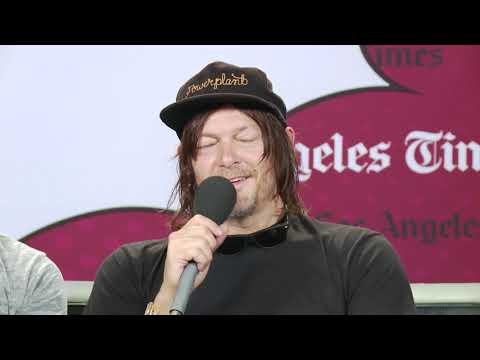 Norman Reedus and Jeffrey Dean Morgan talk about the series transformation under new showrunner Angela Kang.
Get our L.A. Goes Out newsletter, with the week's best events, to help you explore and experience our city.
You may occasionally receive promotional content from the Los Angeles Times.