How late night's rapid-response strategy to Trump's State of the Union speech became a cultural event
Television Critic
It was hard to tell who was more miserable during President Trump's first State of the Union address Tuesday: House Minority Leader Nancy Pelosi, who appeared to bite her tongue during all 80 minutes of the speech; the Congressional Black Caucus, who clearly hadn't forgotten that Trump recently referring to their ancestral home as a "shithole," or First Lady Melania Trump, whose husband may have fraternized with a porn star before allegedly paying her off with hush money.
But it was also hard to discern who most enjoyed the speech — the right side of the chamber or left-of-center late-night hosts.
The first lady wore a white pantsuit "in tribute to the president she voted for," host Jimmy Kimmel said in his opening monologue, part of a State of the Union recap deluge that spanned from Jordan Klepper's Comedy Central show "The Opposition" to Samantha Bee's "Full Frontal" Twitter account.
Instant analysis of State of the Union speeches has historically been a playground for news pundits. And while those opinionated experts are still plugging away ad nauseam on cable news panels and in guest blog posts, late night has turned the absurdity of Washington — and the anger of the public toward the White House — into rip-up-the-script ratings.
"The Late Show With Stephen Colbert" and "The Daily Show With Trevor Noah" broadcast live for the occasion, responding within an hour of Trump walking off the floor (the shows aired later on the West Coast).
"We are live and barely conscious following a 90-minute speech," said Colbert following the third-longest State of the Union address in history (at 80 minutes) behind President Clinton's 1995 and 2000 record-breaking speeches.
Like Clinton 20 years ago (that's six months in Fox News years), Trump delivered his speech under a cloud of suspicion that includes a federal investigation into potential obstruction of justice and accusations of an extramarital affair.
And like Clinton, Trump is the best thing that's happened to late night since President Nixon: Russia, an alleged affair with porn star Stormy Daniels, two dozen accusations of sexual misconduct, a seeming admission of sexual assault on tape and the lowest approval ratings of any president in U.S. history. Not to mention the hair. It'll never be this good/bad again.
If Trump's bar was substantially lower than that of his predecessors going into Tuesday night (Pelosi said it would be a success if Trump simply refrained from burping), it was at an all-time high for late-night entertainers. They are competing across a crowded, competitive late-night field where pointed political satire has trounced middle-of-the-road, Jay Leno-eqsue fare. It's driven the discourse and rancor to levels unimaginable in Carson's day (Johnny, not Ben), let alone David Letterman's.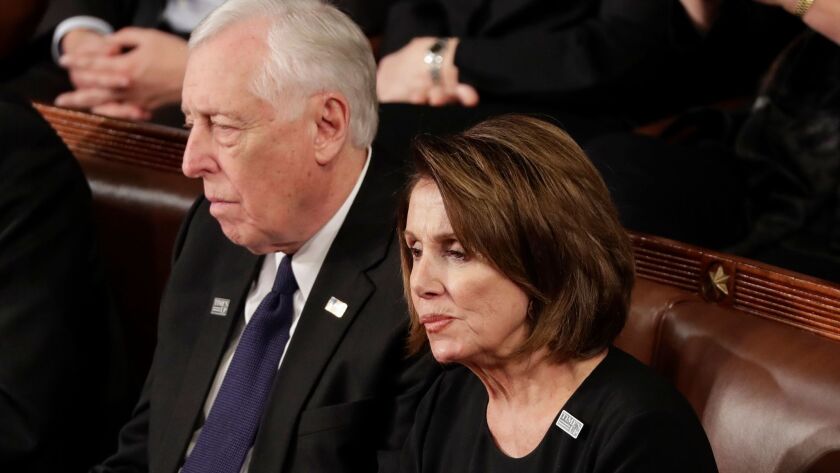 In an ad for Colbert's "Real State of the Union," the razor-sharp host said, "Tune in to find out if we still have a union, or states."
The live show aired shortly after the speech, assuming a call-and-response format; Colbert played clips from Trump's address, then jumped in with his own commentary.
"We have endured floods and fires and storms," said Trump, to which Colbert added … "And Stormys. Don't forget her. She was one of the most expensive disasters for you, personally."
Then there was Trump on unity: "We all share the same home, the same heart, the same destiny, and the same great American flag…"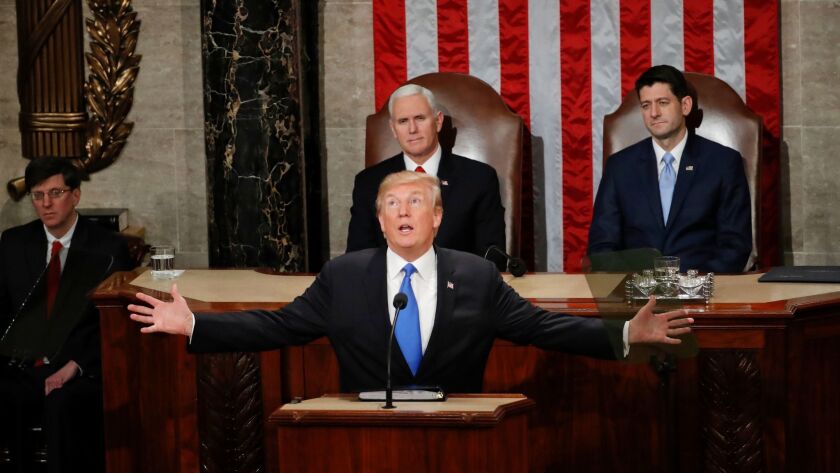 And Colbert's response: "Really? Because down in Charlottesville, I saw your supporters carrying two other flags."
Trump on healthcare: "One of my biggest priorities is to reduce the price of prescription drugs."
Colbert: "Oh good, drugs would have really helped me get through this speech."
And finally, Trump on foreign relations: "We face rogue regimes, like China and Russia …"
Colbert [imitating Trump's voice, again]: "And we will stop them any way we can, except implementing the Russia sanctions you guys voted for. Hi, Vlad!"
Colbert was joined by the anchors of the "Pod Save America" podcast and then "Two Dope Queens" — Jessica Williams ("The Daily Show" and "The Incredible Jessica James") and Phoebe Robinson — also podcasters who are now headed to HBO.
Dope Queen Williams mentioned the Congressional Black Caucus' collective vibe during the address, and spoke for many when she said, " 'Black Panther' comes out in two weeks. We don't have time for this."
Kimmel wasn't as successful in his attempt to play off Tuesday night's speech. He snared a major newsmaker in booking Stormy Daniels, the adult film star who the Wall Street Journal reported was paid $130,000 by Trump's lawyer, Michael Cohen, to stay quiet about an alleged affair she had with Trump in 2006.
Although the magazine In Touch published a 2011 interview with Daniels in which she confirmed the Trump affair, hours before she appeared on "Jimmy Kimmel Live," a statement with what appeared to be her signature was released denying the affair and stating that she would no longer discuss the matter.
What could Kimmel do? He asked, she dodged. It was awkward. "Is any of that true?" he asked. "Define true," she responded.
Why stay there when there was plenty more to choose from?
Trevor Noah, like Colbert, responded in real time to the State of the Union. "This wasn't a night for facts," said the "Daily Show" host. "If you came here for facts, you came for the wrong thing. Tonight was all about celebrating President Trump."
He riffed about who was and wasn't in the room — in the "wasn't" category were a dozen Democrats who boycotted the speech. In the "was there" was a "special appearance by Dr. Ben Carson, who was there watching from the Sunken Place."
Even advertisers cashed in on the discontent. Airbnb ran advertisements on cable networks satirizing the president's "shithole" comments about places like Haiti and Africa.
"We heard there's been some expletive-filled interest in these beautiful destinations," it said before showing lovely footage of the people and landscapes in those locales. The ad's tagline: "Let's open doors, not build walls."
TBS' Conan O'Brien also addressed the sentiments in Tuesday's State of the Union, in which Trump referred to immigrants as murderous and unskilled, yet still industrious and driven enough to take American jobs. This in a speech that, early on, gave lip service to healing divisions across America:
"Trump said he now supports a plan for young immigrants to become citizens," said O'Brien. "When asked why, Trump said, 'Because I may have to look for a new wife soon.' "
But if it's ratings Trump was courting, he may have to import those too. His speech tied for the least-watched SOTU in nearly a quarter of a century, right next to Bill Clinton's.
To read this article in Spanish, click here
ALSO by LORRAINE ALI
'Citizen Rose' keeps the #MeToo conversation, and Rose McGowan's career, alive
Stunt or bold statement? SAG Awards switch it up with all-female presenters and host Kristen Bell
Hip-hop gamechanger Common: rap's unofficial ambassador
The Grammys' complicated relationship with the #MeToo and Time's Up movements
---
From the Emmys to the Oscars.
Get our revamped Envelope newsletter, sent twice a week, for exclusive awards season coverage, behind-the-scenes insights and columnist Glenn Whipp's commentary.
You may occasionally receive promotional content from the Los Angeles Times.