"Trust:" The Getty family gets their own FX series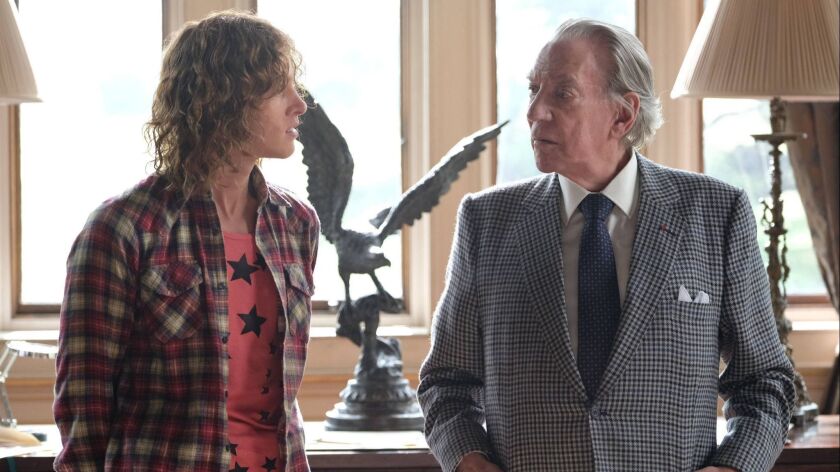 Television Critic
"All The Money In The World" wasn't enough. Now television, like film, tackles the infamous 1973 kidnapping of John Paul Getty III with FX's "Trust."
The 10-part series, which premieres March 25, builds a family drama around the headline-grabbing abduction of oil tycoon J. Paul Getty's grandson. The teen disappeared from his home in Rome and was held for six months while the senior Getty, one of the world's richest men, refused to pay the ransom money.
Producer Danny Boyle ("Slumdog Millionaire," "Trainspotting") delivers a highly stylized and lively drama that supersedes other competent famous-crime series ( "The Assassination of Gianni Versace," "Law & Order True Crime: The Menendez Brothers") thanks to his knack for smart, irreverent and vivid storytelling.
Boyle directs the first three hourlong episodes of "Trust," all of which offer time-hopping narratives using the family's dysfunction as a launch pad for the events that precipitated the kidnapping.
The premium cast elevates "Trust" from a good TV series to an absorbing, cinematic venture. Donald Sutherland ("Ordinary People") plays the cold, penny-pinching oil tycoon Getty who wields his wealth and power over the family with a cruel indifference.
He plays one son against the another, denies them access to his fortune and has his English mansion equipped with a pay phone so he won't have to pay for their calls. He also keeps a concubine of women in the numerous bedrooms, though in this pre-Viagra era, the elderly Getty finds there's some things money can't buy. The lengths he goes to get his libido back are depicted here in brilliantly disturbing detail.
Two-time Oscar winner Hilary Swank ("Boys Don't Cry," "Million Dollar Baby") is Paul III's mother, Gail Getty. She was married to Paul II, a drug addict whom she's divorced from by the time their son is kidnapped. Broke because her ex rarely sends her support, she's also in above her head with the rebellious Paul Jr. Has she failed as a mom? Yes, and her connection to the Gettys has been more an anchor than a buoy.
Brendan Fraser ("Crash") is the former CIA agent J. Fletcher Chace, whom Getty hires to go to Italy and broker a deal with the kidnappers. The strapping Texan concludes that the high school dropout and drug addict, who left home and was living as a broke artist in Rome, has orchestrated the whole ordeal for financial gain. The series' early episodes hint that perhaps he's half right.
Paul III is played by relative newcomer Harris Dickinson. The British actor is convincing as the free-spirited American teen who thinks love will pay for everything, including his cocaine habit. Paul III is often shown running barefoot and shirtless through the streets of Rome before he becomes a victim of the kidnapping he may have arranged.
Dickinson can play it a bit too earnest and idealistic as the young Getty, and it's annoying, but that may be the whole point. When Italian thugs slap him around, it's not entirely unwarranted. The young Getty's defiant cluelessness gets across how utterly sheltered and privileged these elites were and why there wasn't much sympathy for his ensuing ordeal.
Stunning locations inside the English mansion and all over Rome and Southern Italy — winding staircases, ancient fountains, fields of bright yellow sunflowers — populate the series. But because this is Boyle's production, we're also treated to the gritty and terrifying in vivid detail — a dirty bohemian drug den where Paul III resides, the dank hideaway where he's held that has a bucket for a toilet (not as bad as the "Trainspotting" bathroom scene but stomach-turning all the same) and his terrifying ride crammed atop a dead body in the kidnapper's tiny European car trunk.
Boyle busts up any potential monotony with his trademark use of split screen imagery, frenetic pacing, humorous undertones and multiple pop culture references (i.e. an expertly chosen, era-appropriate soundtrack). The characters here even break the fourth wall to chat with the viewer. Chace explains why 1973 isn't a landmark year, like 1945 when the war ended or 1969 when Buzz Aldrin waltzed across the surface of the moon. The sixties is done, disco hasn't arrived yet, and we've learned from Vietnam that America's advanced military is no match for rebel forces with outdated weaponry.
"What can you say about 1973? It's a mousey-haired, in-between girlfriend of a year," says the swaggering Chace.
Tragedies of the rich and famous are everywhere, from network primetime to 24-7 news coverage of the White House. So why take time out for another one? Because "Trust" turns the media circus into a high-flying performance.
'Trust'
Where: FX
When: 10 p.m. Sunday
Rating: TV-MA-LSV (may be unsuitable for children under the age of 17 with advisories for coarse language, sexual content and violence)
---
The complete guide to home viewing
Get Screen Gab for weekly recommendations, analysis, interviews and irreverent discussion of the TV and streaming movies everyone's talking about.
You may occasionally receive promotional content from the Los Angeles Times.