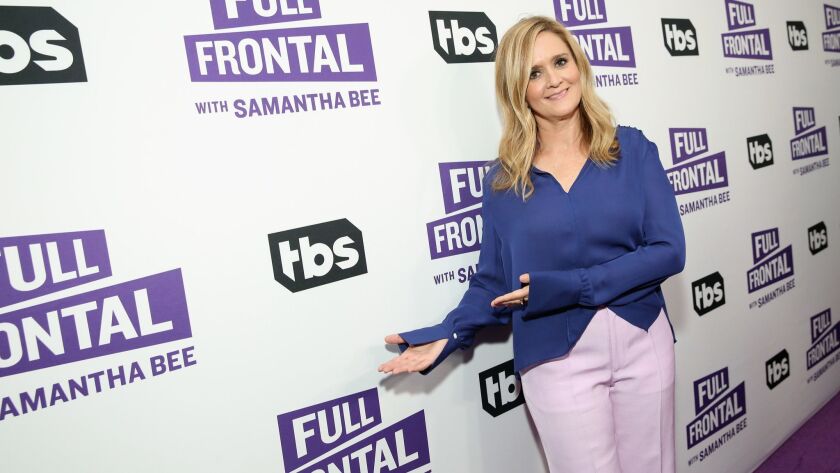 Former basketball great Steve Nash scored on former basketball great Shaquille O'Neal while Conan O'Brien, whose late-night talk show is shrinking, talked about expanding his projects. "Full Frontal" host Samantha Bee teased a mobile game, called "This Is Not a Game: The Game."
Those were some of the highlights of Turner Networks' presentation to advertisers at the television upfronts in New York on Wednesday.
"If you've ever been curious about what it might be like to advertise with a woman, now is your chance to experiment," Bee playfully pitched the crowd at Madison Square Garden before the screen behind her changed to a photo of the late-night host wearing an elaborately colored sweater. "Jell-O, you guys are looking for a new spokesperson, right?"
Timed to launch with the upcoming midterm elections in November, Bee's "This Is Not a Game: The Game" will offer trivia and other things designed to increase voter participation. Despite those lofty goals, Bee assured the crowd the project was "the biggest, dumbest, most ambitious thing we've ever arm-barred [Turner chief] Kevin Reilly into agreeing with."
With multiple networks under its umbrella, Turner touted an ambitious approach on multiple fronts. Reilly introduced a number of upcoming TNT projects including a TV adaptation "Snowpiercer," a French graphic novel that became a 2013 sci-fi film by South Korean director Bong Joon-ho.
The series will be directed by Scott Derrickson ("Doctor Strange") and star Jennifer Connelly ("A Beautiful Mind") and Daveed Diggs ("Hamilton").
"That reboot of 'The Polar Express' looks scary," Bee quipped during her segment after the trailer was screened.
Also in progress is a planned slate of sci-fi series in collaboration with director Ridley Scott under the banner "Ridley Scott Presents"; an upcoming suspense collection, which will include the thriller series "Tell Me Your Secrets," written by Harriet Miller ("Call the Midwife"); and a limited series with the working title "One Day She'll Darken" that will feature Chris Pine ("Wonder Woman") and be directed by "Wonder Woman's" Patty Jenkins for the first two episodes.
Turner also underscored its committment to comedy during the presentation, with all 12 series on the TBS roster being renewed for the new season, including "Search Party," "Angie Tribeca," "The Detour" and "The Last O.G.," whose costar Tiffany Haddish also appeared.
"I never thought I would be able to work with white people when I was a little girl," a smiling Haddish told the crowd. "But look at me now, I'm standing in front of a convention of white people — I made it!"
"The Last O.G." star Tracy Morgan was on hand as well to promote his show, which was presented as the top new comedy on cable. Like his Netflix special from the previous year, Morgan spoke candidly about his recovery from a 2014 auto accident that left him in a coma.
"It changed my life. It changed my brother's life too because he works at Walmart," he said, referencing the truck that struck his car and the subsequent lawsuit. "When I settled with Walmart they started taking it out of his check."
Proving the network wasn't entirely standing pat, TBS also previewed two more new comedies. "This Is Heaven" will feature a stringy-haired Steve Buscemi as God and Daniel Radcliffe as one of his angels. Filmmaker/activist Michael Moore will head a rebooted "TV Nation," a documentary series that aired for two seasons on NBC and Fox in the '90s and won an Emmy in 1995.
O'Brien, whose show was recently announced will be reformatted into a half-hour, was also celebrated to mark his 25th year on late night. Introduced by Reilly as "an omni-channel superstar," the host spoke of his excitement over plans to expand his production reach into podcasts, an upcoming national comedy tour and "a restaurant chain," O'Brien quipped.
"I really look forward to seeing most of you in this room next year when I walk most of this [stuff] back," O'Brien said with a laugh.
After a video presentation that touted CNN's emphasis of "Facts First," Anderson Cooper and Chris Cuomo appeared as the network previewed some of its new programming, including "Decades of Movies," a documentary series from Tom Hanks and Gary Goetzman that will play off CNN's run of decade-by-decade nostalgia shows through the lens of the big screen.
Still in the midst of the NBA Playoffs, Turner Sports also announced plans for the network to branch into soccer with the European tournement of the UEFA Champions League, which will be presented in collaboration with the sports and pop culture site Bleacher Report.
The coverage will begin in August with host Kate Abdo, who was joined by former NBA star (and soccer enthusiast) Steve Nash, a presentation that eventually resulted in the awkward sight of Nash trying to kick a ball into a net behind his fellow former NBA star Shaquille O'Neal.
As can happen at the Garden, a few balls bounced into the crowd before Abdo led everyone from the stage. No one said the upfronts were easy.
See the most-read stories in Entertainment this hour »
Follow me over here @chrisbarton.
---