'Westworld's' stars on how season 2 speaks to the #MeToo movement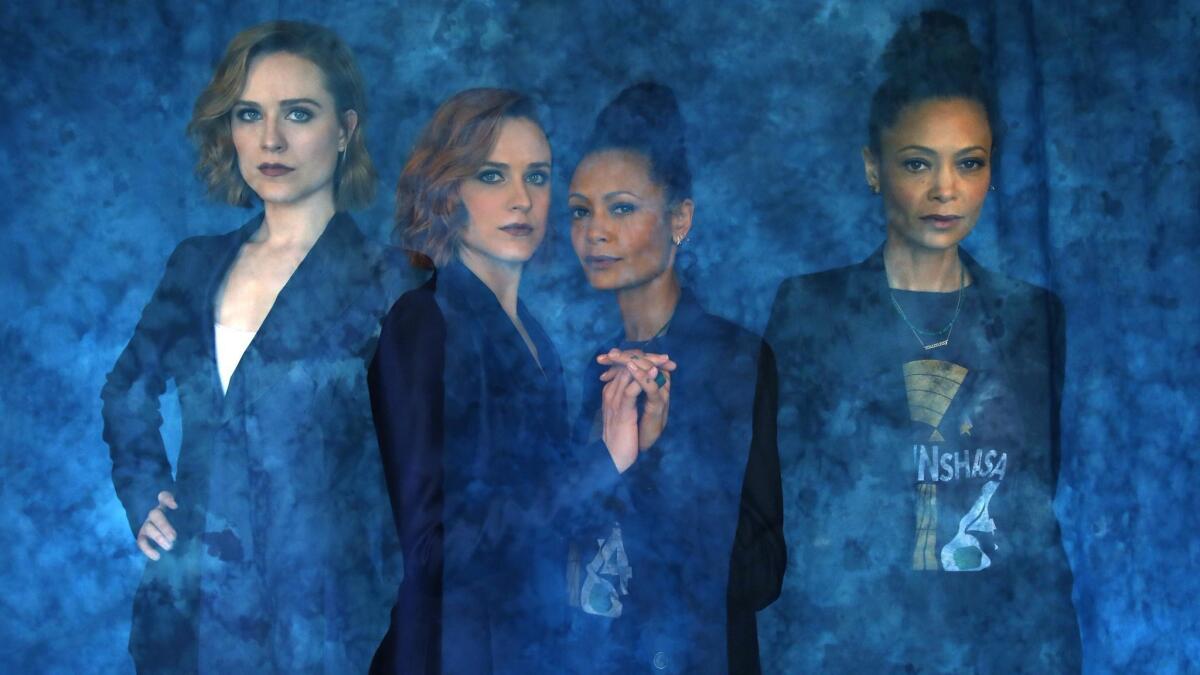 A surprising thing happened in the year and a half since the first season of "Westworld" confounded and attracted viewers with its knotted story of a futuristic android uprising at a patriarchal Western theme park.
At the center of the revolt on different fronts were "hosts" Dolores (Evan Rachel Wood) and Maeve (Thandie Newton) — both of whom suffered horrific abuse and menace in carrying out their duties catering to the park's wealthy, pleasure-seeking male patrons. With the arrival of the second season April 22, the show's vision of a dark, cynical tomorrow has moved past its source material's roots of sci-fi entertainment to resemble a troubling reflection of what's happening in the country's political and cultural divides, as well as its #MeToo moment.
"It's even more relevant now. Absolutely," says Wood, dressed in a bright blue suit during a recent junket at a Beverly Hills hotel. In the first season, Dolores, a rancher's daughter who is one of the longest-serving "hosts" in the park, has the simple optimism of her programming shattered and winds up as a leader in a robot revolution.
"It certainly adds extra weight to season two, because season two is very much about the revolution and about the oppressed coming to take their power back," says Wood. "I think it could be a metaphor for any kind of oppressed group of people or minority."
Her costar, however, is less convinced. In a separate interview, Newton, who plays the world-weary brothel madam Maeve, pauses upon being asked about the show's topicality in a changing world. She finally says, "The role was the role regardless."
But Newton also sees a metaphor in the show's conceit: "We're talking about what happens in Westworld stays in Westworld, and you can go and you can [sleep with] whoever you want, you can shoot whoever you want, you can rape whoever you want. That's happening right now in the world."
"I know without a doubt that we are not using rape as wallpaper, like some shows do, okay?" she says, her voice quickening. "I'm not being specific about which because it would not be good for my career, but do we have a responsibility? Well, it turns out we don't because nobody really applies that sense of responsibility. But I think [creators Jonathan Nolan and Lisa Joy] do."
The husband-and-wife creators are following up on the same objective this season that they had from the start, riffing on science fiction and western touchstones that flavored its source material (both the Michael Crichton novel and its 1973 film adaptation) while not being beholden to it.
In the first season, the dotted line connection to the film was drawn from its most recognizable figure — Yul Brynner's gunslinging cowboy in black — but the show's penchant for upending expectations was vividly illustrated with the character shifting from a murderous robot to a murderous human, portrayed by Ed Harris.
And instead of being about a glitch that leads to violence akin to "Jurassic Park," "Westworld" is more about the chaotic first steps of a new species.
"This is where our story was always going," Nolan says when asked if the current climate had any impact on their writing. "It's a Western, but it's also told from the perspective of, in video game terms, the nonplayer characters. You're dealing with the characters who have been marginalized within the world of the park itself. It's about Maeve, and it's about Dolores."
Of course, one of the most talked about — and controversial — ways "Westworld" told that story involved overlapping timelines, one with Harris' Man in Black seeking an answer to the world's puzzle while tormenting Dolores (he rapes her in the pilot episode), and the other with his younger self (Jimmi Simpson), who was in love with Dolores.
The series blurred the line easily from scene to scene, a disorienting choice that was anchored by the never-aging Dolores. The conceit was finally revealed in the season finale, frustrating some viewers who had thought there was only a single narrative.
Shuffling timelines is a familiar move for Nolan, who was in college when he wrote the amnesia-shaded short story that inspired his brother Christopher's breakthrough film, "Memento." But like that movie, the choice in "Westworld" was more than a structural gambit.
"It was rooted in the lens from which our protagonists saw their world," says Joy, seated on a sofa next to Nolan. "They did not understand when they were, you know? They didn't even understand that they didn't understand when they were.
"We didn't plot it out like, 'And then we'll be like "Gotcha!"' It came from a place of naturalism and trying to build empathy for these characters."
Of course, now that the black hat is out of the bag, Nolan and Joy don't get to use the effect again, right?
Nolan shifts in his seat with a sly smile. "Do you?"
Both are cagey about the new season, allowing that a new park — the Kurosawa-inspired Shogun World, which was teased in the last season finale — will emerge (a recently launched website "Delos Destinations" showed four more still-hidden worlds that are part of the park's corporate family) and that viewers will see the world outside the parks as well. "
The series places such a premium on secrecy that the cast often found itself in the dark during production. Wood remembers working on scenes for episodes she hadn't yet read without knowing what happened leading up to them, a challenge she called "a crazy acting exercise."
"I'm starting to think they're doing to us what they talk about doing to the guests in 'Westworld,'" she says with a grin. "Where they strip you down to your primal self and create a sense of urgency so that you're your most honest."
Though Nolan describes a season two led by a self-aware Dolores as "playing cards up" as far as what the audience understands, he still holds them close to the vest.
In April, he had a little fun when he teased on Reddit that he would release some spoilers of the new season, claiming it would help manage fan theories that revealed too much last season. The subsequent video begins with a dazed Bernard (Jeffrey Wright), who runs Westworld's programming division, waking up on a beach and ends with Wood gamely singing Rick Astley's "Never Gonna Give You Up" backed on piano by prostitute and fellow host Clementine (Angela Sarafyan).
"Westworld" may be set in the future, but its taste for trolling is very 2018.
But working under such ambiguity proved difficult for Newton. While Dolores kick-started the revolt last season by killing Dr. Robert Ford (Anthony Hopkins), the park's creator, Maeve initiates a bloody scheme to escape the park. But on her way out, she changes her mind and returns. .
It was a twist that disappointed Newton but, she says, also keeps delivering rewards.
"I had to have no ideas for my character [during production], which was really hard," she says. "And almost a betrayal because it's like, this is mine. I made her. I stripped naked in order to present her as she truly is and needs to be. And my nudity is profoundly disturbing because of the way it's been exploited in the past, both in film and in my life, right? So it was a big deal and something I did wholeheartedly because it made sense, and I felt that it had enormous value."
She says, "It was kind of like, you know those dreams that you have where you're trying to get somewhere, and you can't run, you're in slo-mo? Your legs can't move?
"That was what season two was like."
'Westworld'
Where: HBO
When: 9 p.m. Sunday
Rating: TV-MA (may be unsuitable for children under the age of 17)
Follow me over here @chrisbarton.
ALSO:
Overrated/Underrated: 'The Simpsons' fails fans with Apu, and what's left of Fleetwood Mac
Bill Hader breaks out of the 'SNL' mold with HBO's 'Barry,' the story of a hit man with a dream
'Deception' masters the art of combining magic and the FBI. Or does it?
Get our L.A. Goes Out newsletter, with the week's best events, to help you explore and experience our city.
You may occasionally receive promotional content from the Los Angeles Times.