'Dancing With the Stars' results recap: Voters said knock him out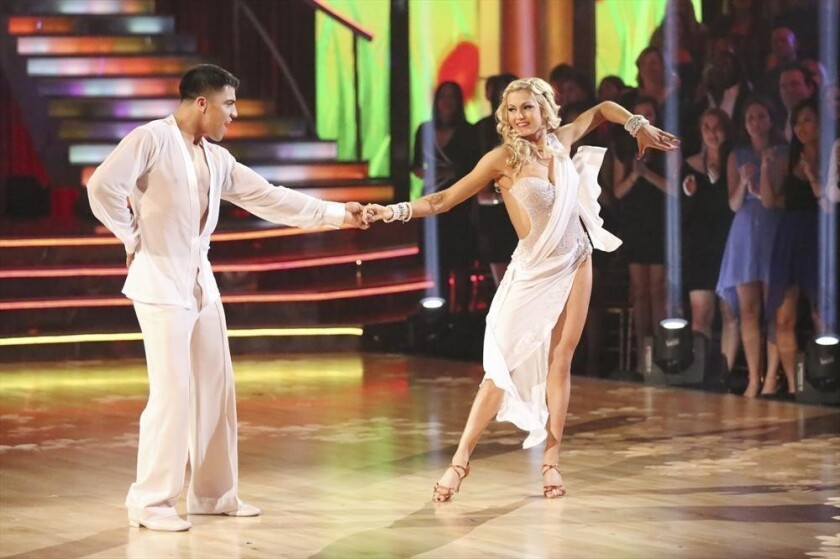 "I've danced my shoes off." Despite being praised for his charm and fighting spirit, boxer Victor Ortiz and his pro partner Lindsay Arnold were the latest couple ejected from the sparkly enclave known as the glitterverse of "Dancing With the Stars."
That the former welterweight champ fought his last dancing battle on Tuesday night came to the surprise of absolutely no one. Victor and Lindsay had been plagued with low scores and a bad case of the bottom twos throughout this competition, whether it was due to the boxer's misinterpretation of the fox trot or being so heartbroken so as to not be able to muster up emotion for a rumba. But the boxing champ regrets nothing of his experience on the show. "I had a blast. I made great friends," Victor said. "It was a heck of an experience." Upside: All his new dancing pals get ringside seats to his next match!
Samba-challenged Sean Lowe and Peta Murgatroyd were also forced to sweat it out under the red heat lamps in the bottom two (the Bachelor: I took off my shirt for this?!), while Andy "I didn't even think we messed up" Dick and Sharna Burgess were also deemed in jeopardy.
PHOTOS: 'Dancing with The Stars' Season 16 cast
The performance hour got a rousing kickoff with U.K. artist Olly Murs singing his hit single "Troublemaker." And Olly fit right into the "DWTS" glitterverse, treating the ballroom like it was his own fun party and leading his band in a rousing show replete with a pounding beat and a catchy refrain. He looked like he was having just as much fun as the pros and Troupe on the dance floor (choreographed by Emma Slater). And he posed alongside the women at the end! Good sports like that should get a free pass to the glitterverse always.
We did, however, get a surprise early on in the broadcast: No, not that Stevie Wonder was considering joining "DWTS" in a future season, only to go back on his decision and decide to go for "Splash" instead. Lower-scored Team Paso got the encore dance! Never again will I underestimate the power of the shirtless males in this ballroom competition. And was it just me, or did the guys seem more into it this time? Perhaps they felt like they needed to make good on the power of democracy. The people have voted for them, so they needed to deliver! Of course, Zendaya and Val Chmerkovskiy blew everyone else out of the water. And whether it's her or a testament to the power of partner Jacoby Jones, but Karina Smirnoff is apparently very spinny, as she kept on going on the floor long after the other ladies had stopped. "Ole!" Tom exulted.
Stars! Singing karaoke badly! They're just like us! In honor of Stevie Wonder Night, the remaining stars and pros all donned cheesy photo booth karaoke wear and sang out their own version of "Signed, Sealed, Delivered." Apparently Lindsay and Aly Raisman are friends, Peta has a penchant for hard hats, and Bruno Tonioli takes himself way too seriously ("ooh yes baby, yeah"). My favorite line, however, goes to Sharna, who immediately prefaced hers and Andy's performance with "I apologize for everything you're about to hear."
PHOTOS: Celebrity portraits by The Times
There was a nice segment tribute to what Tom called "the best crew in live TV" that allowed viewers at home to see that the choreography behind the scenes can be just as tricky as any samba roll. As Sean said, "we're just a small part of the machine." And it was quite impressive to see crews swapping out whole floors and bringing in huge set pieces to build during commercial breaks, only to break them down again and set up another one for the next routine. "The crew really are the unsung stars of 'Dancing With the Stars,'" Tom said.
Hashtag aficionado and sometime Black Eyed Pea will.i.am came back to the ballroom to promote his latest solo CD "#willpower" alongside a bunch of lookalikes in hats, wraparound glasses and Hammer pants. will.i.am rapped "#thatpower" while Justin Bieber (a.k.a. "Obi-Wan Bieber") was autotuned and broadcast on screen. And while the routine seemed a bit robotic, the crowd applauded it like it was the second coming.
The Macy's Stars of Dance made better use of the dance floor. Choreographed by AJ Jones, each performer not only danced, but made great formations aligning their bodies on the stage. I particularly liked how they moved around like train cars on subway-map-looking lines projected on the floor.
Hats (and shirts) off to you, Henry, for choreographing a scorching routine to get us sufficiently excited for next week's Latin Night. Peta and Sharna started off the dance in leopard print and feather shoulders and were soon joined by a sweaty Gleb Savchenko and Henry Byalikov and other Troupe guys. And then they brought a fire twirler! It was so primal. So shirtless. So caliente.
In the meantime, in the famous words of adorable Ingo progeny, front row MVP and burgeoning Hollywood player Peanut(!) Rademacher: "I'll see you at the after-party."
ALSO:
'Dancing With the Stars' recap: To the Wonder
'Dancing With the Stars' results recap: But seriously…
'Dancing With the Stars' recap: Step by step and side by side
Real places, fake characters: TV's bars and eateries
PHOTOS: 'The Ellen DeGeneres Show' through the years
PHOTOS: Violence in TV shows
---
Inside the business of entertainment
The Wide Shot brings you news, analysis and insights on everything from streaming wars to production — and what it all means for the future.
You may occasionally receive promotional content from the Los Angeles Times.