George R.R. Martin signs TV deal with HBO; fans demand more books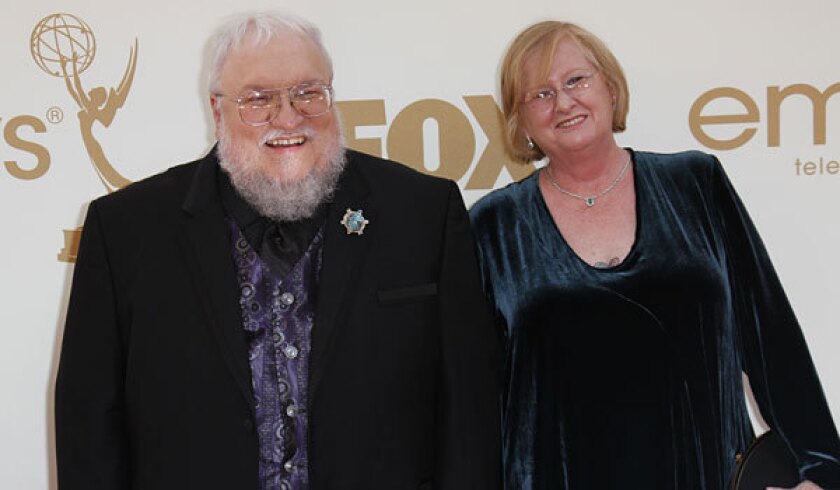 George R.R. Martin is much in-demand in Hollywood these days, as the HBO series based on his books, "Game of Thrones," is the rare combination of a critical and commercial hit that can also move a lot of merchandising. Because of that magic touch, HBO announced on Tuesday that it had signed the science fiction and fantasy author to a two-year overall deal to develop new shows for the pay cable channel.
One would think Martin's legions of fans would be cheering in the streets at the news that one of their favorite creators was being given more opportunities to bring his vision to TV. Surprisingly, it's not entirely the case.
While there are assorted cheers here and there, almost resoundingly the reaction has been along the lines of this: "Finish the books, George. Just finish the books."
"Game of Thrones" is adapted from Martin's seven-novel "A Song of Ice and Fire" series of novels, of which five have been published. While the first three books were published within roughly a year of each other, the writing process of the last two books has been much slower. It took five years for the fourth book to be published and nearly six years for the fifth book.
The slow writing time coupled with Martin's advancing age (he's 64) has led many of his most passionate fans to worry that the author won't be able to finish the series on his own. Their worries aren't entirely unfounded; Robert Jordan, the bestselling fantasy author of the "Wheel of Time" series, died in 2007, leaving fans clamoring for conclusion of the multi-volume series. Jordan's publisher, Tor, brought in fantasy author Brandon Sanderson to finish the series, which finally concluded with the publication of "A Memory of Light" in January.
In comments sections, on message boards and on Facebook and Twitter, the fans have been sharing the news and their own anxieties.
"I completely support #georgerrmartinand all his artistic endeavors and OH MY GOD WHERE IS THE NEXT BOOK?" wrote CNET Managing Editor Jen Guevin.
"George R.R. Martin STOP MAKING NEW STUFF AND JUST FINISH WHAT YOU'VE STARTED!!" wrote New York area game designer Eric Chung.
The deal will have Martin continuing to co-executive produce the "Game of Thrones" TV show in addition to the ability to develop and produce new series for the channel.
Martin continues to write the sixth and penultimate book in the series, "The Winds of Winter." Though he posted a new sample chapter on his website in January, there's still no announcement of when the book is expected to be published.
Martin isn't a newcomer to Hollywood. He spent years as a TV writer in the 1980s, writing for the "Twilight Zone" reboot as well as "Beauty and the Beast." It was the failure of a proposed series he created in the early '90s, "Doorways," which pushed him back to writing fiction and the creation of the "Song of Ice and Fire" series in the first place. He has stated that he wanted to write a series as big as his imagination and not be hampered by the limitations of a television budget.
Many fans have expressed a desire for Martin to adapt his "Wild Cards" series of collaboratively written novels about superheroes to the screen. The series of books, begun in 1987, is a shared universe created by a collective of science fiction and fantasy writers and edited by Martin and Melinda Snodgrass.
ALSO:
'Game of Thrones': HBO fantasy series gets its own beer
'Game of Thrones': New photos offer sneak peak at Season 3
'Game of Thrones' video: Iceland provides 'otherworldly' location
GRAPHIC: Faces to watch in 2013
VIDEO: Winter TV preview
PHOTOS: Best TV of 2012
---
Inside the business of entertainment
The Wide Shot brings you news, analysis and insights on everything from streaming wars to production — and what it all means for the future.
You may occasionally receive promotional content from the Los Angeles Times.