'Out There' review: Ryan Quincy's coming-of-age cartoon charms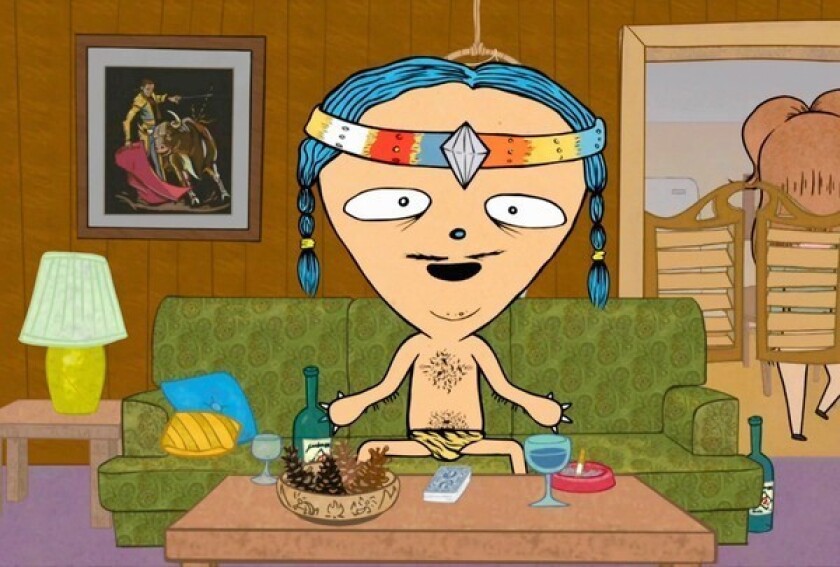 "Out There," which premieres Friday on IFC, is a rather lovely coming-of-age cartoon series from Ryan Quincy, who spent 14 years on "South Park." It is nothing like that.
Coming-of-age stories tend to be told by the misfits and weirdos and refuseniks of Normal Life, and this is no different. Our heroes are Chad (voiced by Quincy himself, whose slightly flat, unaffected delivery works well for this) and his strange new pal Chris (Justin Roiland), "the kind of friend who would shove you into the abyss and then jump right in after you."
Invisible to their peers except as occasional targets of mockery, they spend their days "off to the side, riding a wave of obscurity, observing the tableaux of teenage bliss." But as eager as they are to leave their Midwestern small town, Quincy's images make a case for their staying: Much loving interest has been taken in the rendering of trees and fields, streams and ponds, silos and barns and the starry night sky. (Quincy grew up in Nebraska in the 1980s, and his series is set sometime around then and there.) There is much more love than hate in this memory piece.
The art has a hand-drawn, hand-painted, homely quality — the sort of purposely inexpert look you see in a show like "Bob's Burgers," with which it shares an animation studio, Bento Box. Chad's family is rendered differently from the rest of the characters, as if they were descended from Jo-Jo the Dog-Faced Boy, with hairy heads and triangular puppy noses. It's a visual metaphor, not a condition.
After a relatively overstated first episode (relative to what follows, that is, not to cartoons as a whole), it settles down into a gentler, more delicate, behind-the-beat groove. The narration has something of the humble-epic flavor of "The Adventures of Pete & Pete": "Grump smelled like peanut butter, and his story was full of holes, but we had to see this through," Chad says of a trip to see a supposed risqué photo shoot out in a pumpkin patch.
Its cast of characters are familiar from a host of similar fictions, live-action, animated and literary: a shy, relatable central character; a loose-cannon best friend, at once liberator and troublemaker; a bothersome sibling (Kate Micucci as little brother Jay); an apparently distant yet obtainable love interest (Linda Cardellini as Sharla); a troop of bullies; and parents who don't quite understand. John DiMaggio and Megan Mullally are Chad's, with Pamela Adlon as Chris' mother and Fred Armisen as her Latin American, pig-tailed, headband-wearing boyfriend, Terry.
"The first time Chris met Terry he was wearing a woman's watch and had his sweater tucked into his pants," Chad narrates. "He spoke of confused holy concepts as he did his card tricks and sipped his rotgut blueberry wine."
Guest voices through the 10-episode season comprise a roster of indie all-stars, including Jason Schwartzman, Sarah Silverman, Selma Blair, Jemaine Clement, Nick Offerman and Ellen Page. (Note the network.)
PHOTOS: Behind the scenes of 'Downton Abbey'
VIDEO: Winter TV preview
PHOTOS: Violence in TV shows
---
Inside the business of entertainment
The Wide Shot brings you news, analysis and insights on everything from streaming wars to production — and what it all means for the future.
You may occasionally receive promotional content from the Los Angeles Times.