On-air ringmaster Rich Eisen is NFL Network's franchise player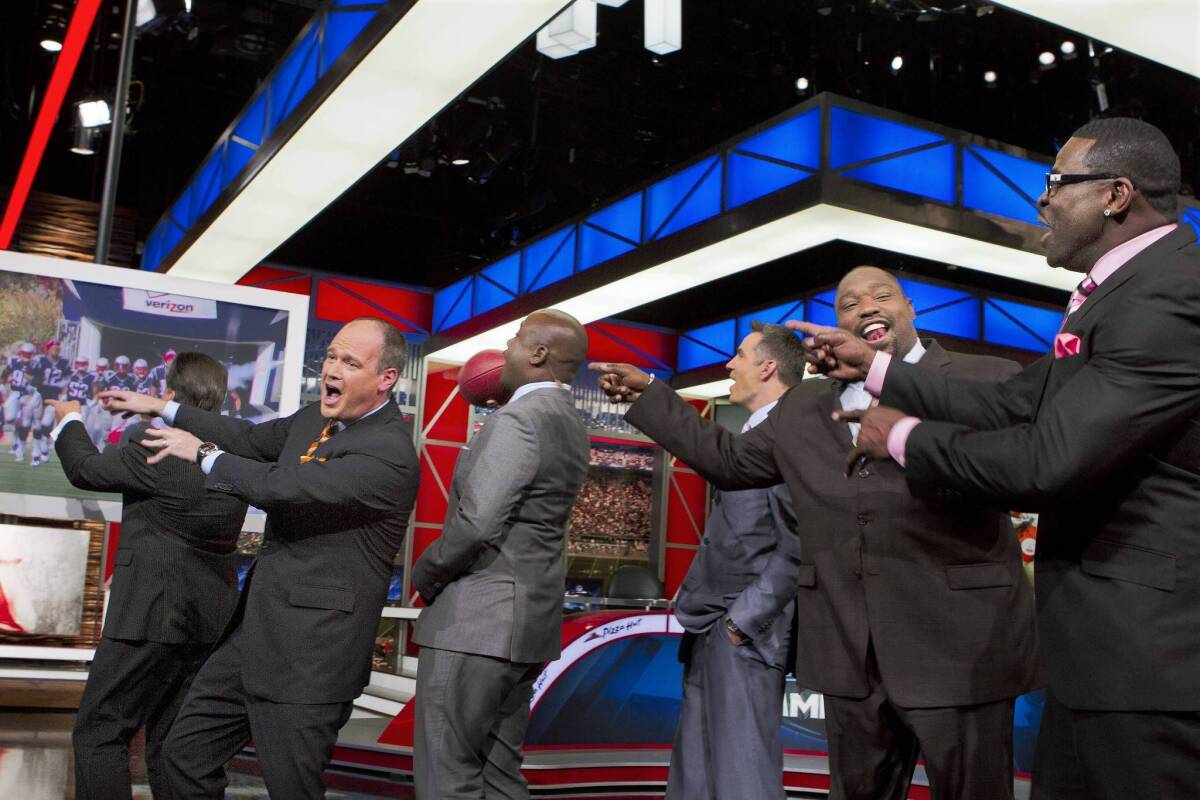 GLENDALE, Ariz. — Even the face of the NFL Network occasionally gets stopped at the line of scrimmage.
Sportscaster Rich Eisen is trying to get across the field at the University of Phoenix Stadium, where he's supposed to host his network's coverage of the Arizona Cardinals vs. the Seattle Seahawks.
On the field are current and former NFL stars, including Hall of Famer Warren Moon, who treat Eisen like royalty. But the security guard who stands between Eisen and the stage at the other end of the stadium apparently doesn't recognize the man NFL Network President Steve Bornstein simply calls "the franchise." The guard wants to see his field pass.
ON LOCATION: Where the cameras roll
"For the wrong TV personality, this could put them in the fetal position," cracks Eisen, while looking futilely for his badge before realizing he left it back on the set and has to be escorted there by the guard to prove he does indeed belong.
This is as close as the 44-year-old Eisen comes to a miscue these days in a career that has been as smooth and crisp as a Peyton Manning pass. Not only is he the frontman for the Culver City-based network that has turned into a cash cow for the NFL, his just-right combination of quick wit, everyman appearance and encyclopedic knowledge of the game has won him the respect of coaches and players, and made him a fan favorite.
"I'm like the fly on the wall," Eisen says while sitting on the Seahawks bench after offering a history lesson on all the great moments that happened on the field, including David Tyree's legendary catch that set up the New York Giants' stunning upset of the New England Patriots in Super Bowl XLII in 2008. "It's my job to take the fans sitting at home on their couch and put them in my shoes."
If this all seems to come naturally to Eisen, it's probably because he's been preparing to wear those shoes his whole life. Born in Brooklyn and raised in Staten Island (his New York accent comes out "in fits of road rage on the 405," he says), Eisen loved sports but knew the microphone was his ticket into the stadium.
PHOTOS: Highest-paid media executives of 2012
"I realized early on in my life that I couldn't hit the curve or throw the 50-yard post pattern, so talking about it would be my way in," he says.
Indeed, videos of Eisen on YouTube throwing a football and attempting a free throw confirm this. His annual 40-yard dash in a suit during the NFL combine where college players are scouted has become must-laugh TV.
After graduating from the University of Michigan, where he was sports editor for the Michigan Daily, he landed his first journalism job at his hometown paper, the Staten Island Advance. But Eisen soon realized the police beat (typical turf for a rookie reporter) wasn't going to provide a quick path to the press box.
"I once went from one precinct to another listening to the police codes and an ambulance blew by," he recalls. "I followed it and I remember thinking to myself there's no other way to parse what I'm doing except ambulance chasing."
Eisen decided to go back to school to get a master's degree and after a brief stint at a local station in Redding, landed at ESPN at the age of 26. That's where his real education began at the hands of "SportsCenter" legends Keith Olbermann and Dan Patrick.
PHOTOS: Behind the scenes of movies and TV
Having done some work as a stand-up comic in the 1980s — his go-to bit was an impersonation of Howard Cosell reading letters to Penthouse Forum — Eisen initially treated ESPN like a night in the Catskills.
"I made everything a joke," Eisen says. "I over-performed."
His shtick caught the eyes of Olbermann and Patrick, but for the wrong reasons.
"We were worried he might get in over his head before he realized he was underwater," Olbermann says.
Olbermann remembers that when Eisen would ask for an assessment of his work, he'd reply, "Half."
Meaning do half as many bits. Then, after Eisen complied and asked for another evaluation, Olbermann would respond, "Now cut it by half again."
PHOTOS: Cable versus broadcast ratings
"He told me to do one highlight straight, then do an entire segment straight, then do an entire show straight and then try seven of those in a row and I'd be closer," Eisen says.
"I think he struggled a little bit with finding out who he was," Patrick says. "We were calling him 'Olbermann lite.' Both of us had an intervention with him and told him, 'Be yourself.'"
Eventually the lessons from Olbermann and Patrick's tutelage sunk in. Eisen let his natural wit and breezy style do the heavy lifting.
"People are tuning in for one reason and one reason only: to find out what's happened. That's what took me a very long time at 'SportsCenter' to figure out," Eisen says. "If you can tell them in an entertaining way, they will choose you over other options, but if you're trying too hard to be entertaining first before telling them what's happened they'll tune you out."
At the NFL Network, where he is on air close to 10 hours a week, Eisen often plays the role of ringmaster with analysts Deion Sanders, Michael Irvin and Steve Mariucci, all of whom have loud personas and could easily overwhelm a less-savvy host. He's not afraid to jump in the fray, yet knows when it's best to sit back and enjoy the fireworks.
He's also a pop-culture aficionado and loves dropping lines from "Raising Arizona," "Midnight Run" and other favorite movies into his broadcasts. Earlier this season, he dressed up as Walter White's alter ego Heisenberg (dubbed "Eisenberg") in a salute to the final episode of "Breaking Bad." He even chose to attend the University of Michigan in large part because he liked how the school was portrayed in the movie "The Big Chill."
PHOTOS: Celebrities by The Times
Eisen commands the set in a style Patrick says is akin to a late-night host. That's a comparison Eisen likes since having his own desk, couch and maybe even a live band is on his bucket list.
"That's a dream," Eisen says. Over the last few years, he's gotten a little taste of that life with his podcast, which has attracted A-list guests including Matt Damon, Alec Baldwin and Larry David. Eisen started the podcast a few years ago and even though it's a one-man show where he must book his own guests, it allows him to scratch the performer itch that remains from his stand-up days.
"Coming up with a construct where celebrities can pitch their music, television, movies and books with the umbrella of the NFL being the launching-off point for conversation I thought was a no-brainer," he says. After all, Eisen adds, football is at the forefront of American pop culture.
And, as he tells Hollywood publicists for celebrities who might not be experts in the sport, "I'm not going to ask your client to break down Cleveland's 4-3 defense."
Off camera, Eisen and wife Suzy Shuster, a former ESPN producer and Fox on-air personality have three children, a home in Beverly Hills and a sitcom in development for TBS with writer Ron Shelton ("Bull Durham," "White Men Can't Jump") based on Shuster's days as a sideline reporter. He's also working on getting his time in the 40-yard dash under six seconds so he can retire that bit and "stroll off into the sunset on top of my game."
---
Get our L.A. Goes Out newsletter, with the week's best events, to help you explore and experience our city.
You may occasionally receive promotional content from the Los Angeles Times.