Success of 'Gravity' is a reminder of our favorite space films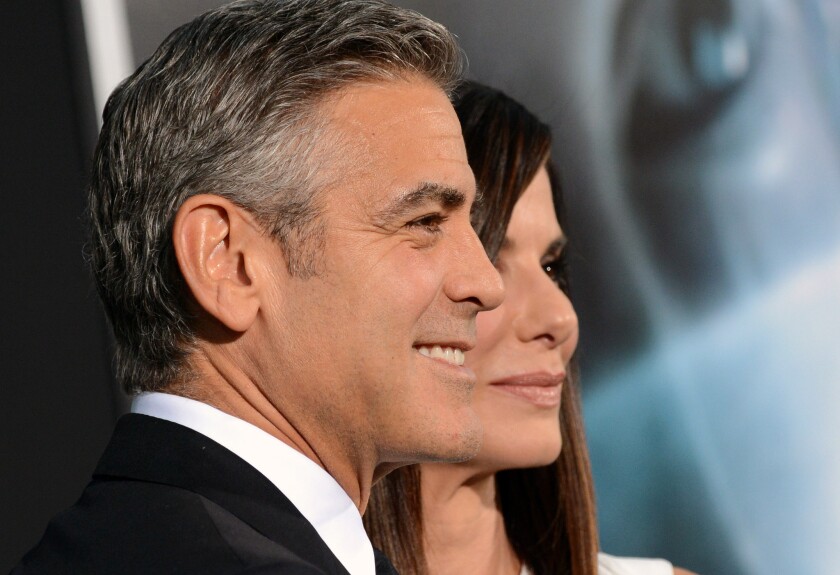 "Gravity" made history this weekend as it defied industry expectations and shot to No. 1 at the box office, posting the highest October opening ever ($55.6 million).
Much has been made of the film, both critically and by audiences, for its revolutionary use of technology. Making stars Sandra Bullock and George Clooney appear to float weightlessly through space after a shuttle disaster required director Alfonso Cuaron and his team to invent techniques to complete the task.
Their work, and Cuaron's eerie vision for the film, prompted James Cameron to proclaim "Gravity" the "best space film ever done."
That's high praise considering the caliber of space films over the years -- and the devotion they've stirred in fans. Space might not be the final cinematic frontier, but it certainly is an audience favorite.
PHOTOS: Sandra Bullock: Career in pictures
Here's a look at some of the most loved space films of all time:
"Star Wars" "The Empire Strikes Back" "Return of the Jedi": George Lucas' original three-part series, the first of which was released in 1977, forever changed the way the world thought about space films. The technology looks downright quaint now, but at the time images of the Death Star floating through a star-filled universe, filled audiences with awe. Characters including Luke Skywalker, Princess Leia, Han Solo, Yoda and Darth Vader have since become cultural touchstones of the highest order.
"2001: A Space Odyssey": Futuristic, psychedelic and deeply unsettling, Stanley Kubrick's 1968 film, "2001: A Space Odyssey," changed the way mid-20th century America looked at the prospect of the 21st century. With its dark vision of a future marked by technology run wild and the way that technology affects human evolution and our relationships with one another -- and the universe -- the movie remains among the most vaunted space films ever. (The battle between Dr. David Bowman and Discovery One's spaceship computer, Hal, was arguably the apotheosis of the genre at the time it was made.)
REVIEW: 'Gravity' has powerful pull thanks to Sandra Bullock, 3-D
"Alien" and "Aliens": These iconic sequels gave us nightmares of the stomach-churning variety. If you don't know why, you've never watched an H.R. Giger-styled creature burst out of someone's guts. The first was released in 1979 and was directed by Ridley Scott. The second debuted in 1986 and was directed by James Cameron. Both starred Sigourney Weaver as one of cinema's toughest female protagonists, Lt. Ellen Ripley, as she wages war with a particularly menacing alien life form.

"Spaceballs": We break from drama and fear to tip our hat to this Mel Brooks-directed spoof on "Star Wars" and space films in general. The movie, released in 1986, stars John Candy, Rick Moranis, Brooks and Bill Pullman and stands as proof of the popularity of the space film genre. Spoofs don't get made until there is a large body of work requiring it. "Spaceballs" met with mixed critical and audience reception but has gone on to become a cult classic. May the Schwartz be with you!

"The Right Stuff": Adapted from Tom Wolfe's best-selling book of the same name, this 1983 film chronicled the lives of the original U.S. "Mercury Seven." These astronauts were known for pioneering space travel and were test pilots in the truest sense of the word. The film stars Ed Harris, Dennis Quaid, Scott Glenn, Sam Shepard, Fred Ward and Barbara Hershey.
PHOTOS: NASA's space shuttles in film
"Le Voyage Dans La Lune": Possibly the earliest space film ever made, "Le Voyage Dans La Lune" ("A Trip to the Moon") is a silent 1902 French film directed by Georges Méliès. Pure science fiction at the time of its production, the 17-minute film contains one of space cinema's most iconic images -- that of a crude bullet-shaped rocket hitting the Man in the Moon in the eye. The film is featured prominently in Martin Scorcese's 2011 film "Hugo."
"Apollo 13": Ron Howard's 1995 historical docudrama about the 1970 Apollo lunar mission, which went terribly awry, was hugely popular with moviegoers. It grossed more than $355 million worldwide during its theatrical release and was nominated for a best picture Oscar (it lost to "Braveheart"). It starred Tom Hanks, Kevin Bacon, Bill Paxton, Gary Sinise and Ed Harris.
"Barbarella": Jane Fonda might not be happy about her turn as the eponymous space hero who sets off on a colorful (and semi-nude) journey to retrieve Dr. Durand Durand (Milo O'Shea) from the Tau Ceti region of space, but psychedelic cinefiles love it. The 1968 cult classic was directed by Fonda's then-husband, Roger Vadim, and has since inspired generations of sexy space-conscious fashion choices both on screen and off.
"Starship Troopers": War wages fast and furious in space during this 1997 Paul Verhoeven classic. Filled with dark humor and cutting satire, "Starship Troopers" finds a futuristic military unit battling a particularly venomous alien life form called "Arachnids." It stars Casper van Dien, Denise Richards and Neil Patrick Harris.

"Star Trek" (2009): The J.J. Abrams reboot of the classic TV series starring all of its original and beloved characters including Spock, Capt. Kirk and Montgomery "Scotty" Scott had critics and die-hard fans raving, proving that some love affairs never die.

"Dune": David Lynch is so very David Lynch with this 1984 cult classic starring Kyle MacLachlan. The film, based on the Frank Herbert novel of the same name, takes place on a bizarre desert planet where a battle is raging between the Fremen and the evil House Harkonnen. Strange blue eyes, giant sand worms and a boil-encrusted (and unforgettable) character named Baron Vladimir Harkonnen (Kenneth McMillan) make this a film difficult to forget (despite its dismal critical reception).
"Event Horizon": A critical and box-office flop, the 1997 Paul W.S. Anderson horror, sci-fi film starring Laurence Fishburne and Sam Neil is, nonetheless, beloved by genre fans, some of whom claim it is one of the spookiest space films ever made. Remember: What goes into a black hole is not always what comes out.
"Total Recall": Arnold Schwarzenegger is at his best as construction worker Douglas Quaid in this 1990 Paul Verhoeven-directed thriller. Set in 2084, the film is loosely based on a story by pioneering sci-fi writer Philip K. Dick, and the story weaves in and out of themes, including memory theft, futuristic framing and virtual vacations on Mars.
ALSO:
Space drama 'Gravity' to rocket to No. 1 at the box office
The year in horror: Low-budget horror hits box-office highs
No. 1 'Gravity' posts biggest October debut ever with $55.6 million
---
The complete guide to home viewing
Get Screen Gab for weekly recommendations, analysis, interviews and irreverent discussion of the TV and streaming movies everyone's talking about.
You may occasionally receive promotional content from the Los Angeles Times.