2013 TV upfronts: Restart the clock! '24' is coming back
Kiefer Sutherland and Siyabulela Ramba prepare for a scene during filming of
"24: Redemption,"
in Cape Town, South Africa. The two-hour special, which aired Nov. 23, 2008, on Fox, will kick off Season 7 for the hit series, but this photograph is one of 48 taken by cast and crew that was on display at the
Paley Center for Media
in Beverly Hills.
(Kelsey McNeal / Fox)
Director Jon Cassar, center, director of photography Rodney Charters, right, and camera operator Guy Skinner set up a shot during the filming of "24: Redemption." The photo is one of hundreds taken by cast and crew during the on-location shoot, and they were culled to the 48 on display in the exhibit, which ran through Jan. 11, 2009.
(Kelsey McNeal / Fox)
In this photo taken with an infrared camera by producer Michael Klick, agent Jack Bauer (Kiefer Sutherland) is on the run during the filming of
"24: Redemption."
The South Africa location actually is standing in for a fictional foreign country in the throes of a violent military coup.
(Michael Klick / Fox)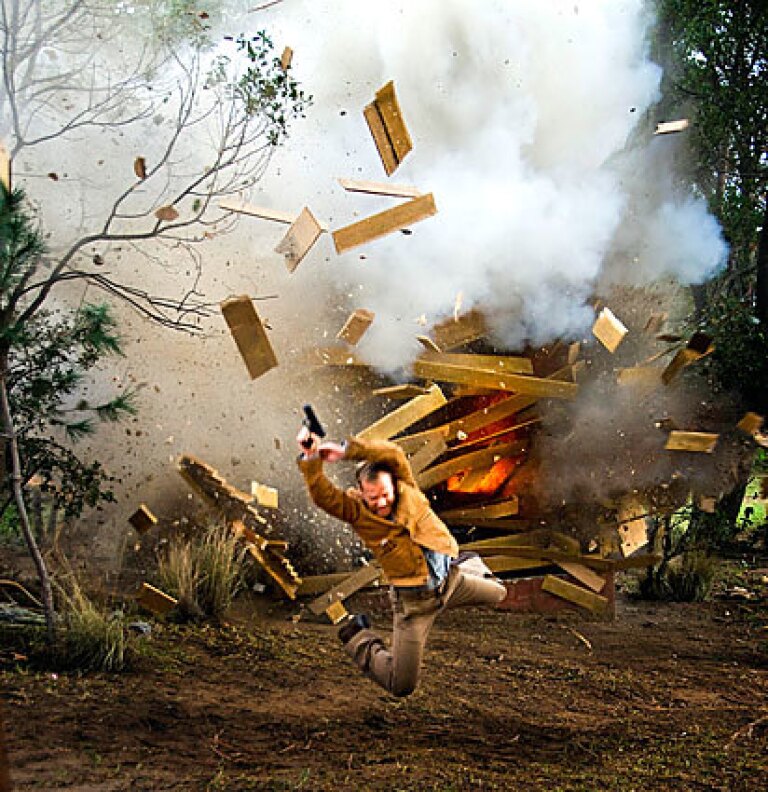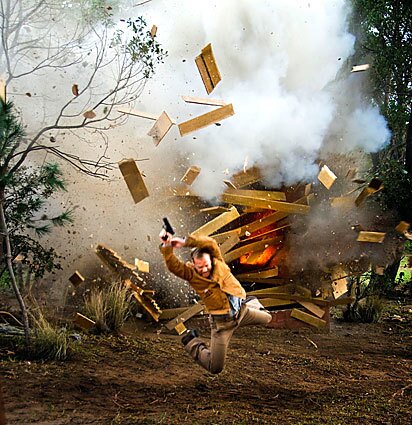 Life is rarely boring for agent Jack Bauer (Kiefer Sutherland, who does most of his own stunts), and the excitement followed him abroad for
"24: Redemption."
The photo was selected from about 35 that were taken of the scene by various cast and crew.
(Michael Klick / Fox)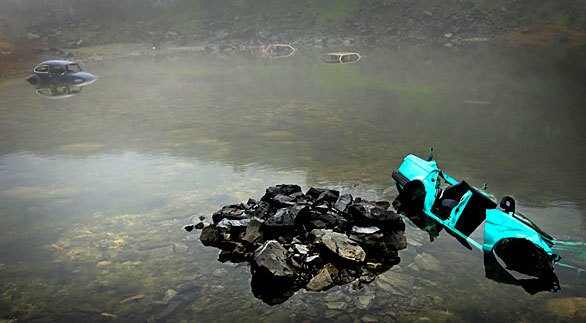 These cars submerged in a rain-filled lake at the bottom of an abandoned quarry were supposed to be used as set dressing, but unfortunately the location was obscured by fog and rain on both days that producers tried to film there.
(Michael Klick / Fox)
For the South Africa shoot, the cast and crew of
"24: Redemption"
brought their own cameras and a hobbyist's enthusiasm for capturing anything and anyone who might wander into view, in this case series star Kiefer Sutherland.
(Kelsey McNeal / Fox)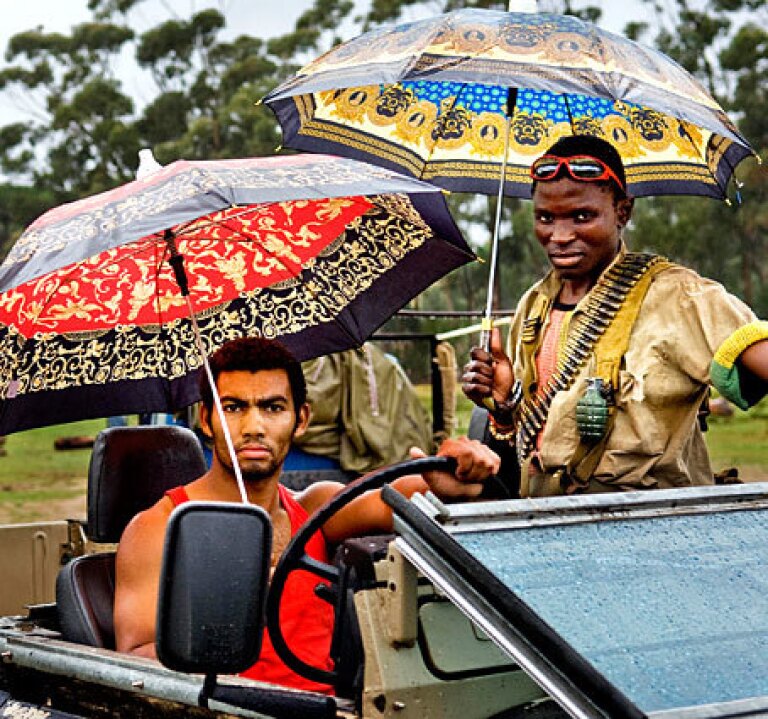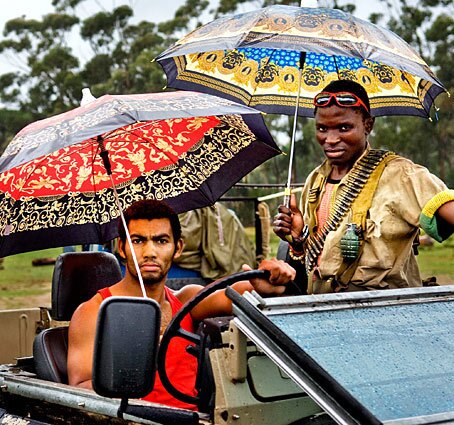 On the first day of a 15-day shooting schedule, two local South African stuntmen wait patiently in the rain for the next take. Persistent rain and incredible winds dogged the production for much of the cast and crew's time there.
(Michael Klick / Fox)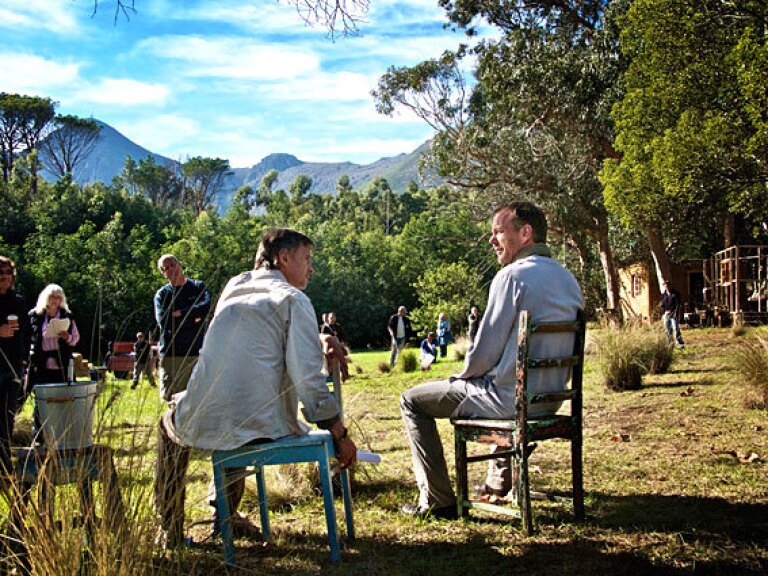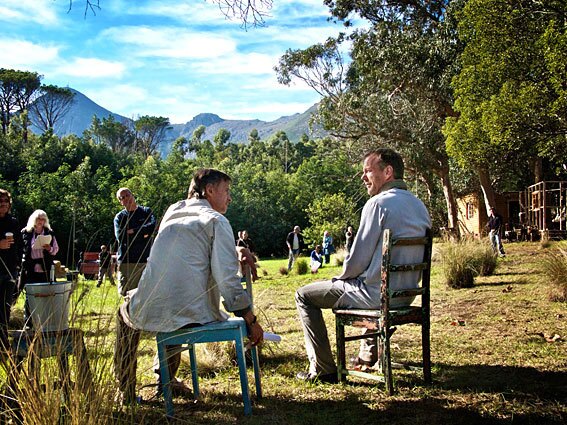 Actor Robert Carlyle rehearses his first big scene with Kiefer Sutherland during a glorious break in the inclement weather in South Africa. This photograph and the other roughly four dozen that are part of the exhibit at the
Paley Center for Media
in Beverly Hills, have been reproduced in medium-to-large-scale prints for display. The exhibit runs from Monday through Jan. 11, 2008.
(Rodney Charters / Fox)
NEW YORK -- It's time to load some new batteries in the clock: Jack is back!
Fox officially announced Monday that its reviving its high-octane drama "24" for a 12-episode limited run, which is set to roll out next summer.
"24: Live Another Day" will reunite executive producer Howard Gordon, who went on to find success with Showtime's "Homeland," with Mr. Jack Bauer himself, Kiefer Sutherland.
"It's great to have Jack back. '24' redefined the drama genre, and as we re-imagine the television miniseries, this iconic show will again break new ground for the network," network Chairman Kevin Reilly said in a statement. "The series remains a global sensation, and everyone at Fox is thrilled to be back at work with Kiefer, Howard and the incredibly creative '24' team."
PHOTOS: Memorable TV series finales
Fox said the 12 episodes will cover the show's well-known "24-hour" time period -- so get ready for some cuh-raziness. The series is said to pick up several years following the events of the final season -- so start the binge-watching to refresh your memory!
Then send a thank-you card to Gordon -- he's the reason it's all coming back.
"Jack Bauer has always been an exciting, thrilling character, and I confess that I've missed him. I think the audience has too," said Gordon, who served as showrunner for most of the series' run and won multiple Emmy Awards for his work. "The character has evolved through the years, and this new and exciting event series format is perfect to tell the next chapter of his story and continue to reflect how the world is changing. Fans can rest assured that the Jack they know and love will be back."
It seems his idea had 20th Century Fox TV, which produces the show, eager enough to bring it back.
"When Howard came to us saying he had an idea for a new chapter of '24,' he quite simply had us at 'hello,'" 20th Century Fox Television Chairs Gary Newman and Dana Walden said in a statement. "'24' is a signature series for this studio, beloved by critics and audiences worldwide. Howard's idea to revive the franchise as an event series couldn't be timelier, and with the brilliant Kiefer Sutherland on board to reprise his iconic role, we can't wait to get started."
And what about the Kief-man? Well, after Fox canceled "Touch," his follow-up to "24," we're sure he's just glad they gave him a backup plan.
"The response to '24' is unlike anything I have ever experienced as an actor before," Sutherland said in a statement. "To have the chance to reunite with the character, Jack Bauer, is like finding a lost friend. The story ideas from Howard Gordon are exciting and fresh, and will not disappoint. Great thanks to 20th Century Fox Television, Imagine Television and the Fox network for this opportunity. Make no mistake, my goal is to knock your socks off. See you soon."
The drama, which premiered in 2001, was nominated for a total of 73 Emmy Awards -- winning for outstanding drama in 2006 -- and became a touchstone in television with Sutherland's maverick portrayal of Bauer. The series wrapped its eight-season run in 2010.
ALSO:
CBS picks up "Reckless," a Southern legal drama
CBS orders two new dramas and four new comedies
"CSI: New York" and three other shows canceled by CBS
---
Inside the business of entertainment
The Wide Shot brings you news, analysis and insights on everything from streaming wars to production — and what it all means for the future.
You may occasionally receive promotional content from the Los Angeles Times.