Review: 'Bad Teacher' pleasantly softens as a CBS sitcom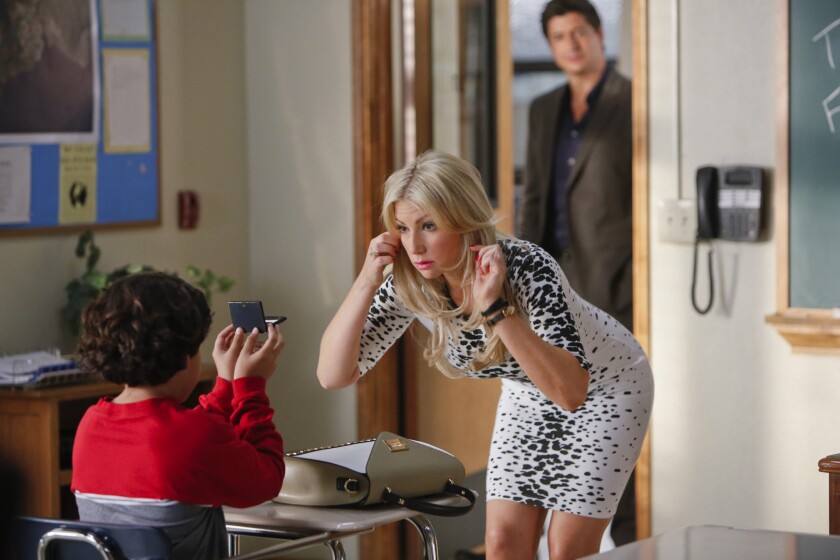 Los Angeles Times Television Critic
Based on the 2011 Cameron Diaz film of the same name, "Bad Teacher" is something of a novelty on CBS, a single-camera comedy in a sea of old-fashioned multicamera, feel-the-hilarity sitcoms like "The Big Bang Theory," "Two Broke Girls" and "Mike & Molly." ("The Crazy Ones," whose time slot "Bad Teacher" will occupy, cracked that mold this season but did not break it.)
Nevertheless, and for all the studied outrageousness of its model, it tells a now-familiar, deceptively sweet tale of the unruly force that brings its own kind of order and relief. And if it's a more conventional formulation than the film's, it's also a more efficient, better balanced and likable one.
As re-created by Hilary Winston ("Happy Endings," "Community"), the characters have different names and characteristics from those of their movie models, though similar shapes contain them.
PHOTOS: TV shows and their spinoffs
As before, there is a self-centered hot blond at the center of things, passing as a middle school teacher (Ari Graynor); a principal (David Alan Grier) not hard for her to manipulate; a genial gym teacher with love-interest potential (Ryan Hansen); a stiff-necked rival (Kristin Davis); a sad sack sidekick (Sara Gilbert); and children in need of the sort of help only a person technically unqualified to help them can give.
Neither the film nor the TV show is remotely realistic about what happens in a middle school or the things that can get a teacher fired, or is overly concerned much with children learning anything other than Life Lessons. As usual, we expect history and math to take care of themselves.
The characters, though still drawn to extremes, are less of a freak show here — that is, they are drawn with affection — and unlike Diaz's bad teacher, Graynor's is not a sociopath, merely selfish, and plausibly correctable. In addition, contrary to her original, she begins as an injured, not an injuring, party, having been left by a rich husband (whom, it is asserted, she genuinely loved) for "a younger, allegedly hotter girl."
Thinking that her friend's stepdaughter's school, conveniently stocked with the children of rich divorced dads, might be the place to find a new husband, she fakes a résumé, and, voilà: comedy.
Some will question whether what might be called the heavily implicit sexual humor is appropriate to a series set in a middle school. These are different times, I know, but not for everybody.
The show does take a few episodes to settle. (I have seen three.) But all in all, it's a pleasant, sunny and well-played ephemeral farce; Gilbert, Grier, Hansen and Davis are all good to see again, and Graynor inhabits her character with verve and increasing grace — she will be improved by her situation, and by improving others': "Symbiosis" is a word she will actually learn, and use in a sentence.
---------------------
'Bad Teacher'
Where: CBS
When: 9:30 p.m. Thursday
Rating: TV-14-DL (may be unsuitable for children under the age of 14 with advisories for suggestive dialogue and coarse language)
---
The complete guide to home viewing
Get Screen Gab for weekly recommendations, analysis, interviews and irreverent discussion of the TV and streaming movies everyone's talking about.
You may occasionally receive promotional content from the Los Angeles Times.