Brian Williams suspended amid Iraq war scandal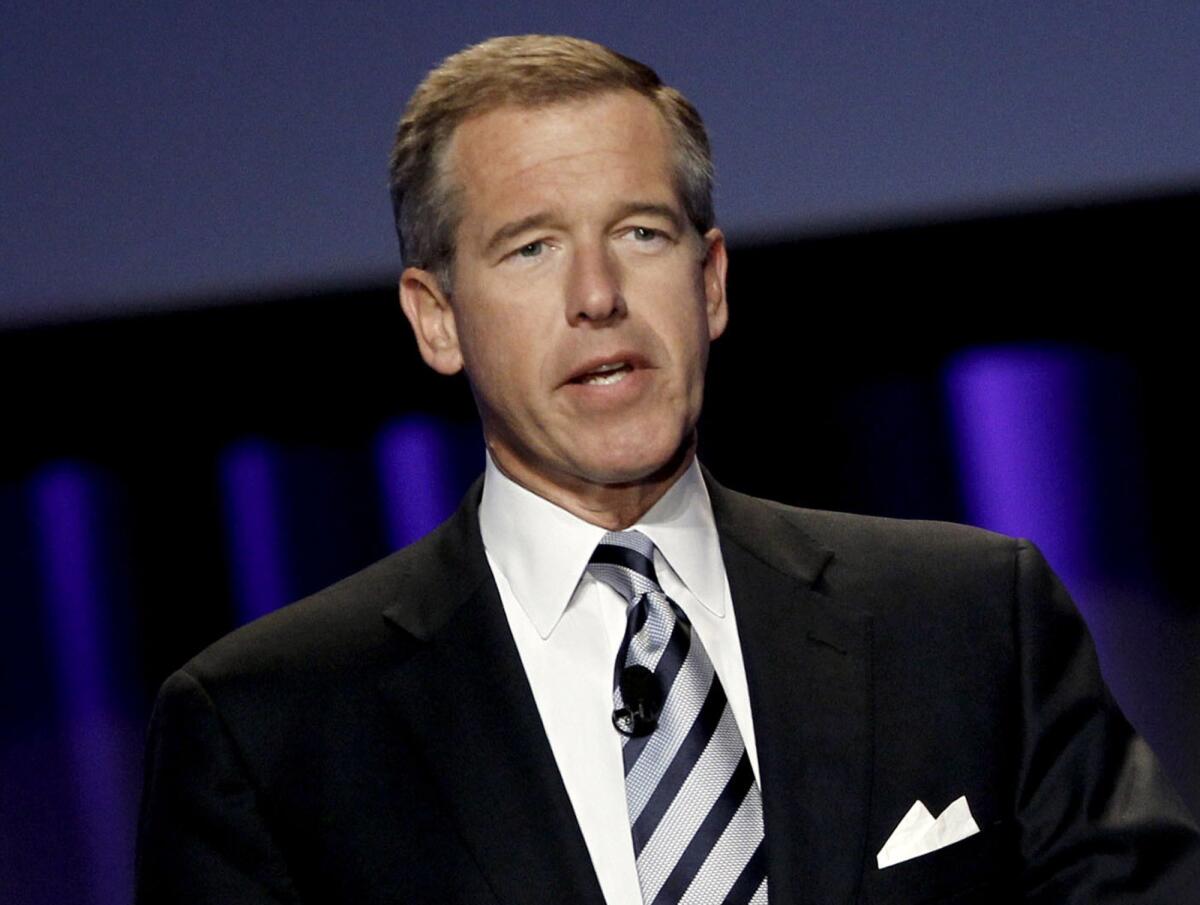 An exaggerated tale of combat in which no one was injured has proved injurious to the career of Brian Williams, who was suspended for six months without pay from his post at the top-rated "NBC Nightly News."
The swift punishment for Williams comes days after the news anchor announced he was taking a brief break from the anchor chair as a public relations crisis for the network continued to escalate.
"We have decided today to suspend Brian Williams as managing editor and anchor of 'NBC Nightly News' for six months," NBC News President Deborah Turness said in a statement Tuesday evening. "The suspension will be without pay and is effective immediately. We let Brian know of our decision earlier today. Lester Holt will continue to substitute anchor the 'NBC Nightly News.'"
In recent years, Williams has said that during the Iraq war he was in a Chinook helicopter that was forced down by grenade and small-arms fire, even though his original 2003 reporting said it was another helicopter in the formation that was hit.
But a number of crew members in the 159th Aviation Regiment who were on the mission disputed Williams' account to military newspaper Stars and Stripes.
Williams apologized during his "NBC Nightly News" broadcast last week, but it was widely perceived as insufficient by a chorus of media critics and war veterans.
For a major network anchor to be suspended in disgrace is largely unprecedented. The closest analogy would date from 2004, when CBS newsman Dan Rather was sharply criticized for a report about the Vietnam War record of then-President George W. Bush.
On "60 Minutes Wednesday," Rather offered documents critical of Bush's military service, but critics questioned the veracity of those files. A later inquiry commissioned by the network faulted the report for failing to authenticate the documents. Rather's relations with his bosses grew frayed and he resigned the following year.
Williams' suspension from the anchor chair marks a surprising and sudden turn of what had been a sterling broadcast-journalism career. The quintessential baby boomer, Williams fell in love with TV news during the 1960s when the "CBS Evening News with Walter Cronkite" and "The Huntley-Brinkley Report" were dominant programs. He once said that dinner didn't start in his family home in Elmira, N.Y. until the evening news was over.
"As a tiny child, it was the only job I could imagine doing," he told TV Guide in 2004.
Williams attended but never graduated from George Washington University. After working as an intern in the Jimmy Carter White House, he started working as a reporter and newscaster in local stations in Pittsburgh, Philadelphia, Washington, D.C., and eventually New York, where he was anchor at the CBS-owned and operated WCBS.
Williams was poached by NBC News in 1993 and was immediately groomed to be Tom Brokaw's successor on the "NBC Nightly News."
He worked as a live news anchor during the nascent days of MSNBC, when it was a pure cable news channel without the commentary. Williams had a nightly hourlong prime-time broadcast "The News With Brian Williams." In his third day on that job in 1996, he was on the air for hours covering the crash of TWA Flight 800.
The late network news producer Jeff Gralnick once described Williams as having "the same layer of steel across his butt that Cronkite had and that Brokaw and Peter Jennings have."
He's been known for being funny off the air, regaling friends and newsroom colleagues with wicked impersonations of politicians, NBC executives and even his predecessor Brokaw. It made him a natural guest on late-night television talk shows.
Williams renewed his contract with NBC in December.
Twitter: @SteveBattaglio
Get our L.A. Goes Out newsletter, with the week's best events, to help you explore and experience our city.
You may occasionally receive promotional content from the Los Angeles Times.