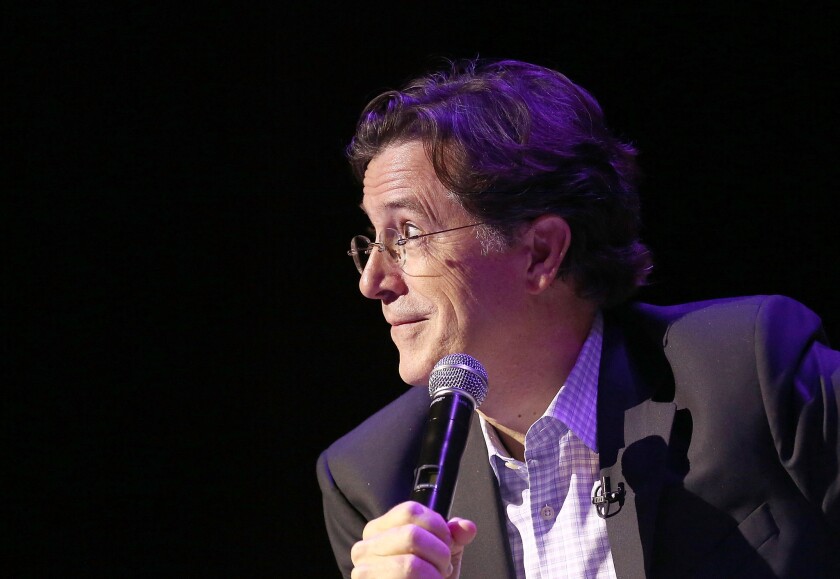 Who is the real Stephen Colbert?
It's the question on everyone's mind -- including Colbert's -- as he prepares to take over "The Late Show."
The comedian made an appearance at CBS' upfront presentation to advertisers Wednesday at Carnegie Hall, playfully addressing the speculation about what the host will be like now that he's shed his satirical persona.
The set began with a video showing Colbert packing up his office at "The Colbert Report" and preparing for a soul-searching journey to discover his true self-- but getting sidetracked when he turned on CBS and couldn't tear himself away from the screen.
Then it was time for a stand-up set from the real Stephen Colbert, who -- would you believe it -- looks a lot like the fake Stephen Colbert but with longer hair and fewer political jokes.
Colbert didn't get specific about what his "Late Show" will entail but promised to honor the legacy of David Letterman. "We will do the best show we possibly can and occasionally make the network very angry at us." (We sure hope he's serious about that.)
Speaking of which, Colbert joked that his show will mostly involve him "solving murders by zooming in on pubic hairs," making it a perfect fit for the network behind "CSI," "NCIS" and their million or so spinoffs.
In probably the biggest laugh of the set, Colbert assured the youth-hunting ad buyers in attendance that his show would be going for "young eyeballs, and not just the ones Rupert Murdoch buys on the black market."
CBS also showed off its other new late-night star, James Corden, who delivered a surprisingly earnest speech to the crowd at Carnegie Hall about his plans for "Late Late Show."
"It's very early days for us," said the British comedian, who noted that he's only hosted 26 shows since he took over the desk from Craig Ferguson in March and said he'd been boning up on the history of American late-night television. "I'm really loving being a part of this incredible new time in late night."
Follow @MeredithBlake on Twitter.
---