'Colbert Report's' 'Buddy Cole' helps Olympic athletes seem 'not gay'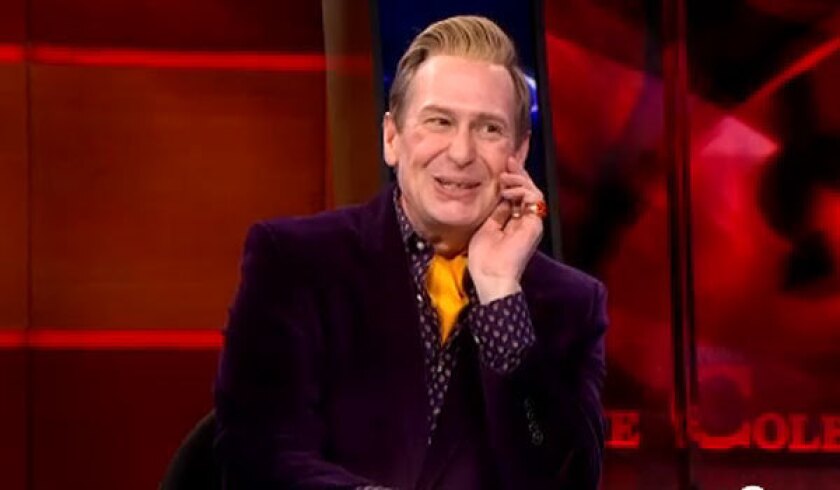 Russia's anti-gay laws have been a source of concern for many Americans heading into the Olympic Games, but Stephen Colbert appears to have the solution. On Tuesday's "Colbert Report," he sent "self-avowed man's man" Buddy Cole to meet with the U.S. men's speed skating team to give them some tips on how to seem not gay.
We should mention that "Buddy Cole" is actually former "Kids in the Hall" member Scott Thompson. The Buddy Cole character actually made his debut on "The Kids in the Hall" and Thompson himself once described the character as a "butch queen."
So what were Cole's helpful tips for the speed skaters?
For Jordan Denton, who spent time growing up in Texas and France he cautioned, "More Texas; less France."
He suggested JR Celski's Justin Bieber-like haircut was "a little lesbian" and counseled him that "chicks dig scars."
PHOTOS: Winter Olympics in film
And their tights? They "screamed gay propaganda." In order to make them less attractive, Buddy suggested adding fanny packs, dockers, sweaters and the "gay kryptonite" of Crocs.
Finally, finally, Buddy delighted in finally achieving the maximum heterosexuality. Hopefully those young men will be safe, thanks to Buddy Cole.
ALSO:
HBO gives title, premiere date to John Oliver's new show
Greta Gerwig to play lead in 'How I Met Your Mother' spinoff
Matt Lauer to replace Bob Costas on Olympics for a second night
---
Inside the business of entertainment
The Wide Shot brings you news, analysis and insights on everything from streaming wars to production — and what it all means for the future.
You may occasionally receive promotional content from the Los Angeles Times.