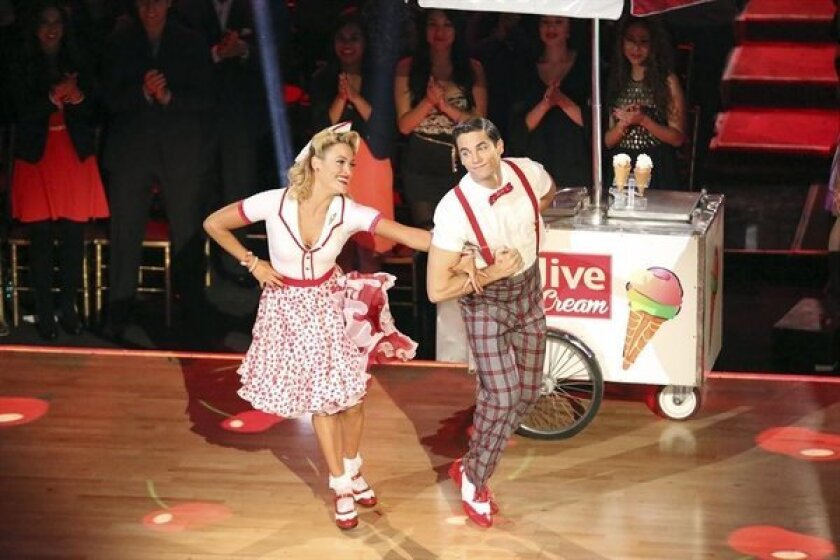 Call us Moonstruck. In a glittery match made in sparkle heaven, the shimmery stars aligned and Cher took over Week 8 on "Dancing With the Stars."
The not-quite-EGOT performer (she's got an Emmy, a Grammy, and an Oscar. Which makes her an EGO) and taller half of Sonny & Cher put on many costumes and hats during her night in the glitterverse. The multi-hyphenate performed two songs, filled in for Len Goodman as head judge, and had her songs featured in every routine. Son and former "DWTS" contestant Chaz Bono was in the audience. If it could be any more self-referential and meta, Loretta Castorini would have shown up and slapped a Witch of Eastwick with her Oscar while wearing a Mask.
But with every costume change, autotune and sparkly light that is Cher, darkness must also fall. And this week the elimination shadows descended upon Brant Daugherty and his equally beautiful pro partner Peta Murgatroyd took them out of the Mirrorball competition. "I learned a lot about myself," the "Pretty Little Liars" actor said, choked up with emotion. "I'm just grateful for the opportunity."
Perhaps had Brant & Peta won their dance-off challenge — in which three pairs of couples went toe-to-toe in either the cha-cha, the rumba, or the disco, for three extra judges' points — they wouldn't be saying goodbye to the glitterverse.
Amber Riley and Derek Hough got the highest judges' scores in the individual round and were saved from elimination and having to compete in the dance-off challenge. Which was a good thing, because they were still "a bunch of little injured birds" this week. The "Glee" actress was admitted to the hospital with a tear in one of her knee tendons, but she loomed large and in charge during her rumba to "If I Could Turn Back Time." Amber didn't show up in Cher's infamous buttless bodysuit, but she did take command of that dancing ship. Loved how she had her way with Derek and ripped off his shirt, unveiling a tan oiled torso underneath (because, you know, that's how sailors do). "I just thought it was fabulous," Cher said. "You owned it, you bought it, you got a T-shirt." Bruno applauded Amber for taking the wheel. "I bought it darling. Big time." Carrie Ann said Amber can "undulate like nobody" but thought she played it safe. "I felt like it was not your best dance," the judge harrumphed. Still, Bruno's 10 took Amber and Derek to first place in the individual round, which meant they were automatically safe and spared from the dance-off. Total: 28.
Corbin Bleu was a little distracted this week, raising funds for an anti-bullying movie he's producing. His phone rang off the hook, and oftentimes pro partner Karina Smirnoff was left to her own choreography devices while he ate, slept, or answered the phone. But Karina is a pro, and she made it work. She also did all that she could to distract the judges with a most Cher-ific metallic headdress. "It looks like the Mirrorball melted on your head," Tom observed. "Exactly," responded Karina without missing a beat. And the Argentine tango fit very well with Cher's "Welcome to Burlesque." Carrie Ann called it an "A" performance, but "sometimes I felt your footwork kind of caught underneath you." Bruno also liked the "wonderful depth" to Corbin's performance, but "some passes were not as clean." Cher, however, thought it was so "amazing" she had to be prompted to bring up her 9 paddle to punctuate it. Corbin and Karina received a 27 for their Argentine tango, and won three extra points in their exciting cha-cha dance-off against Elizabeth & Val. Total: 30.
Jack Osbourne and Cheryl Burke were a little intimidated at the thought of having to perform the tango to "The Beat Goes On" in front of Cher herself. "If we do a really bad job, it could really bum her out," Jack mused. Cheryl was also feeling the heat — turns out she had actually been named after Cher (though she's not sure if she believes in life after love. Or where that even comes from). But Jack's embraced the "DWTS" culture and dug himself deep into dancing groove, and he really finessed the stuffing out of that tango. "You are so confident, and what a difference it has made," Carrie Ann said. "You're just like a god out there." "You're like a tango dancing pimp!" Cher declared. Bruno, also, was amazed how much Jack has grown as a dancer. "That was a proper classic tango." Jack and Cheryl received a 27 for their tango, and earned three extra points for winning the disco dance-off challenge against Bill and Emma. Total: 30.
Leah Remini got Tony Dovolani. Tony got Leah. And they got to dance out Sonny and Cher's meet-cute at an L.A. coffee shop in their Viennese waltz to "I Got You Babe." The screen in the back read "Coffee Shop" just in case you didn't get from Leah at the counter with the mug. Nice support from Lindsay the waitress, and the swaying from the mosh pit. J. Lo liked the dance, and Bruno approved of the side-by-side movement, but cautioned Leah to "be careful in hold. "It was like you were having the time of your life out there," Carrie Ann said, though "sometimes you got behind the music." VH1's Behind the Music subject Cher was "just enthralled that you could interpret what Sonny and I went through that day at the coffee shop." Hugs all around! Leah and Tony received a 25 for their waltz, and an extra three points in a surprise win against Brant & Peta in the rumba dance-off. Total: 28.
Brant Daugherty was back on the "Pretty Little Liars" set this week, which allowed him to hang out with the Rosewood crew but resulted in losing two days of rehearsals. He worried he wouldn't get the dance in time. Not to mention all that shopping! And while the theme and costuming of his and Peta Murgatroyd's fox trot, set to the "Shoop Shoop Song (It's in His Kiss)" from "Mermaids," was a bit of a headscratcher, the judges thought the routine was solid. If not refined. Cher thought Brant and Peta have star quality: "You have two smiles that went together." Carrie Ann liked how Brant pushed himself week after week, but cautioned him to "finish your lines." Bruno agreed. "Your content is always flawless ... [but] you can be even better." Total: 27.
Elizabeth Berkley Lauren threw a wrench in hers and Valentin Chmerkovskiy's rehearsal time this week when she opted for a last-minute song and dance change. But dancing to one of her favorite songs ("Bang Bang") brought its own set of expectations and drove perfectionist Elizabeth to her breaking point when she didn't get the steps as fast as she hoped. Thankfully, Val was there to calm his partner down, and appear shirtless in the jazz routine. Bruno liked the "contention" but said Elizabeth "missed a lot of musical cues." Carrie Ann thought she was "one-dimensional in your anger." Cher, however, "liked the rough part of it. And I liked you winning," she said. And then she liked a bunch of other things that were bang banged out by the censors. Total: 25.
Cher (along with Farrah Fawcett) had Bill Engvall's heart back in the day, and he's lived through disco, so the comedian feels he's got this grooving routine with Emma Slater in the bag. Bill looked like Saturday Night Fever in an all white polyester ensemble. Emma was very Cher-like in a sparkly body suit with feather Clydesdale hooves. They danced to one of Cher's own favorite songs, "Strong Enough." There was a great lift with her ankles around his neck. So Bill, naturally, thought he killed it. So much that Tom joked, "I wish you'd get into it more." Carrie Ann loved him, but said Bill was off beat. "If I turned off the music, that would be an amazing disco," she said. Bruno thought it was "a disco inferno." Cher thought — well, "I was amazed that you could get her up in all those positions," the diva said. "It's a little blue pill," Bill responded. Ba-dum-dum. He'll be here next week, folks!. Total: 24.
What do you think, ballroom fans? Did you enjoy Cher better as a guest judge, or as a performer? Think someone else should have gone home instead? Do you believe in life after love?
ALSO:
'Dancing With the Stars' recap: Gone too soon
'Dancing With the Stars' recap: The Switching Hour
Complete 'Dancing With the Stars' coverage
---