David Simon plots Twitter return — to tell Jack Dorsey to drop dead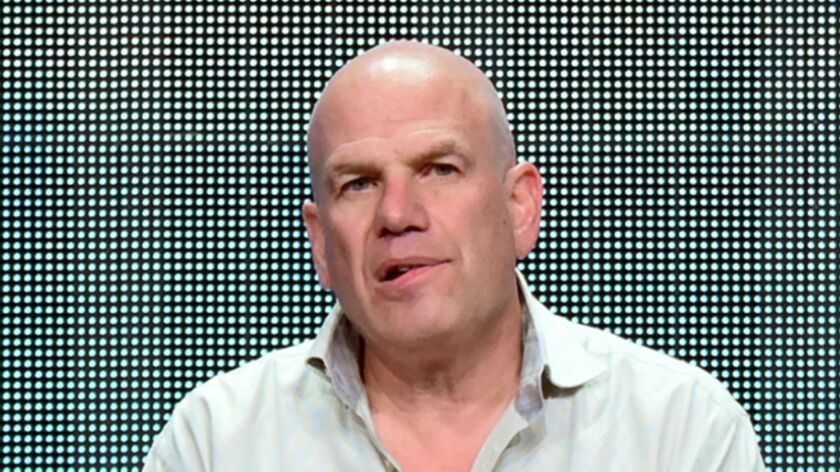 Digital Editor
David Simon isn't backing down.
A day after he said he was banned for a week from Twitter, "The Wire" creator addressed the ban Saturday during an ATX Television Festival panel and said he plans to return to the social media platform in full force.
"The truth is, I'm going to get back on and I'm going to basically say all the same things that I got thrown off [for], but I'm going to say them to [Twitter Chief Executive] Jack Dorsey. I'm going to tweet them at Jack Dorsey — the exact same language — on the premise of telling someone that they can drop dead is not harassment," he said. "I'm just going to say, 'Really, for your policies, you should drop dead.'"
On Friday, Simon wrote a blog post saying he had been banned from Twitter because of a tweet in which he wished death, in graphic detail, on a Twitter user who voiced their support for President Trump's immigration policy. In the blog post, Simon also pointed to his recent heated Twitter exchanges on immigration policy.
"Suffice to say that while you can arrive on Twitter and disseminate the untethered and anti-human opinion that mothers who have their children kidnapped and held incommunicado from them at the American border are criminals — and both mother and child deserve that fate — or that 14-year-old boys who survive the Holocaust are guilty of betraying fellow Jews when there is no evidence of such, you CANNOT wish that these people should go away and die of a fulminant venereal rash," Simon wrote.
The journalist turned TV creator, who is currently behind the HBO period drama "The Deuce," expanded on that as well on Saturday's panel, which covered making politically minded television in the current administration.
"What I got tossed off Twitter for was basically the wave of people, the Trump-ites or bots or whatever was in support of this, who were saying, 'We've always torn children from mothers and housed them incommunicado.' No we haven't." Simon told the panel in Austin, Texas. "And then they would throw up a picture of the unaccompanied kids that were arriving back in 2014 and say, 'Look, here's these kids without mothers.' Yes, but they didn't come with their mothers."
He continued: "You're screaming, 'Look at my apple.' It's an orange, and you think by virtue of the fact that you keep arriving with the same equation eventually the apple becomes an orange, and they're right, it does."
Simon also took issue with the rise of fake news in relation to the death of chef and TV host Anthony Bourdain, with whom Simon was close friends. "The news wasn't [out] an hour before Alex Jones was saying he was killed by the deep state," Simon said Saturday. "Nobody is held responsible."
When discussing the current state of the country, and specifically its politics, Simon revealed he has been working on a political drama pilot for HBO about Congress and how much Capital Hill is influenced by mass capital and how "hyperpartisan" Congress has become in the past two decades. The pilot centers on a mainstream Republican congresswoman "who's frustrated by the inertia and the brokenness of this system."
However, Simon also revealed that the pilot was originally written assuming a central "rationalist, non-insane person" like Mitt Romney, Hillary Clinton or John Kasich would be elected president.
"We wrote the pilot, and then Trump won and we threw that pilot out and we started the room over again," he said. Next, Simon said Trump was imagined as "remarkably ineffective in our second pilot. And then they passed the tax bill," he said. "We're on our fourth [version] now and I don't think we can go ahead with this project. We're waiting for the midterms, we're waiting to see what happens: Is there a blowback? Does the system right itself in any remote way? I don't know how to write this .… I don't know what the world is. How do I write it?"
As for his upcoming return to Twitter, Simon predicted his strategy would end with him getting banned again from the social media platform, but he tried to find a silver lining in the situation. "I think it might actually be healthy for me," he said. "If I can just keep myself banned, my life might be more ordered."
---
The complete guide to home viewing
Get Screen Gab for weekly recommendations, analysis, interviews and irreverent discussion of the TV and streaming movies everyone's talking about.
You may occasionally receive promotional content from the Los Angeles Times.