'Duck Dynasty's' Phil Robertson: Five more debate-worthy quotes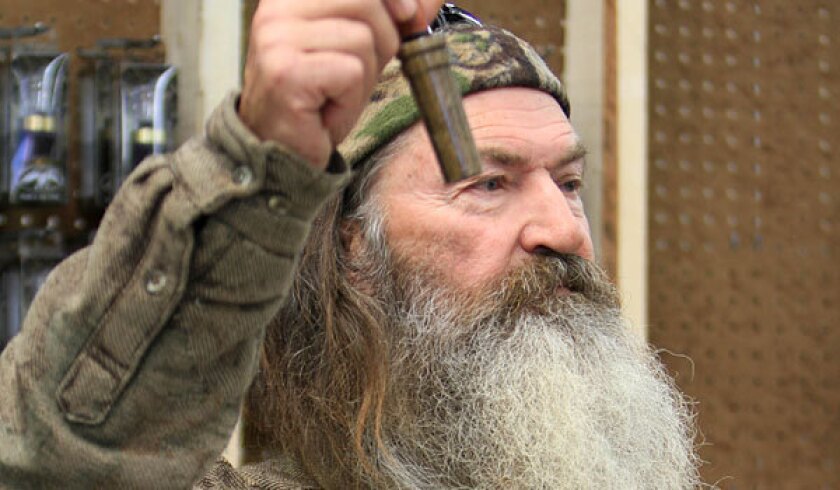 The debate over A&E's "Duck Dynasty" and the comments made in a GQ interview by one of its stars, Phil Robertson, continues to rage. While Robertson sits out future filming and the rest of the Robertson clan questions whether they will film the show without him, there are plenty of places to get Phil Robertson's raw viewpoints without "Duck Dynasty."
As a devout member of the Church of Christ, Robertson has been a frequent speaker and preacher around the country, especially since gaining fame from the highest-rated nonfiction series in cable TV history. Anyone who takes the time to watch those videos will find plenty of things to discuss and debate.
Check out these nuggets:
"Women with women. Men with men. They committed indecent acts with one another. And they received in themselves the due penalty for their perversion. They're full of murder, envy, strife, hatred. They are insolent, arrogant God haters. They are heartless. They are faithless. They are senseless. They are ruthless. They invent ways of doing evil." -- Speaking at the 2010 Wild Game Supper in Pottstown, Pa.
PHOTOS: Behind the scenes of movies and TV
"Why do they murder and why do they hate us? Because all of them ... 80 years of history, they all want to conquer the world, they all rejected Jesus and they're all famous for murder. Nazis, Shintoists, Communists and the Mohammedists. Every one of them the same way." -- Preaching at Hillsboro Church of Christ in El Dorado, Ark., in 2008.
"From one man God made all nations of men. We all came from the same dude, and I don't know what color he was." -- Preaching at Saddleback Church in Lake Forest, Calif. in July 2013.
A good woman is "hard to find. Mainly because these boys are waiting until they get to be about 20 years old before they marry 'em. Look, you wait till they get to be about 20 years old, they only picking that's going to take place is your pocket. You gotta marry these girls when they're 15 or 16, they'll pick your ducks. You need to check with mom and dad about that, of course." -- Speaking at Sportsmen's Ministry in Georgia in 2009.
"I'm no preacher. Know how you can know? This is free! Now, if I pass the hat, you can say, 'He's a preacher.'" -- Speaking at Lakeway Chevron in Texas, December 2012.
ALSO:
Jon Stewart brings John Oliver to tears on 'Daily Show' sendoff
'Duck Dynasty': Robertsons threaten to pull out of popular series
'Duck Dynasty' backlash spotlights an uneasy reality in TV industry
---
The complete guide to home viewing
Get Screen Gab for weekly recommendations, analysis, interviews and irreverent discussion of the TV and streaming movies everyone's talking about.
You may occasionally receive promotional content from the Los Angeles Times.