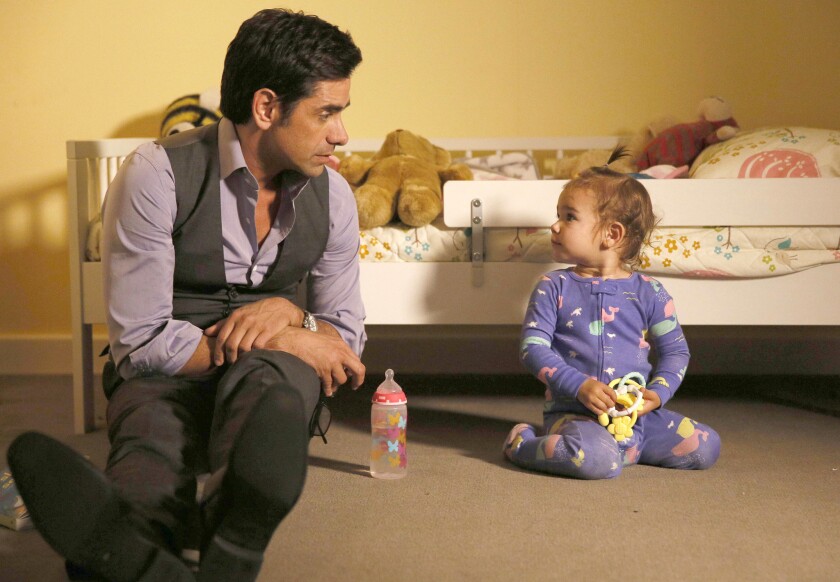 For years, Fox has taken pride in attracting the youngest median audience of the four major broadcast networks, with a lineup full of youthful comedies like "New Girl," "Family Guy," "Bob's Burgers" and "Glee."
But at its upfront presentation Monday at the Beacon Theater, Fox flaunted John Stamos and Rob Lowe, the respective leads of its two new fall comedies, "Grandfathered" and "The Grinder." Nothing unusual about that, right?
Well, both men happen to be 51 years old, which puts them just outside the 18-to-49 demographic that advertisers and media buyers -- the very men and women in the audience at the Beacon Monday afternoon - pay a premium to reach. The under-50 crowd has also been Fox's target audience since the days of "Beverly Hills, 90210."
INTERACTIVE: The TV addict's guide to what's new (and what's gone) for the fall season
The stars are anchoring a totally remade Tuesday night -- "something you don't do unless you've got the goods," said Fox Chairman Dana Walden. In "Grandfathered," which will air at 8 p.m., Stamos stars as an aging playboy who discovers that, thanks to a long-ago relationship, he has both a son and a granddaughter.
It will be followed at 8:30 by "The Grinder," in which Lowe plays an actor in a legal drama who moves home to work in his family's law firm when his show is canceled.
Having tried its hand at quirky comedies about twenty- and thirtysomethings, like the recently canceled "Mindy Project" and "Weird Loners," the network now appears to be betting on more mature stars -- albeit ones who also happen to be highly bankable, unusually handsome and exceptionally well-preserved.
It's a formula that's worked well for CBS dramas such as "NCIS," "CSI" and "Blue Bloods," which feature aging heartthrobs (Mark Harmon, Ted Danson and Tom Selleck, respectively) in lead roles.
As Andy Samberg, who will host the Emmys on Fox later this year, joked at Monday's presentation, "The Grinder" and "Grandfathered" prove there are "still opportunities out there for ageless, beautiful men" on television.
Warms the heart, doesn't it?
Follow @MeredithBlake on Twitter.
---