Garry Shandling dies at 66; comedian's influential career spanned decades
Comedy writer and actor Garry Shandling is shown at his Brentwood home in 2007.
(Robert Gauthier / Los Angeles Times)
Shandling appears on stage for HBO's "The 1995 Young Comedians Special" at the Wheeler Theatre in Aspen, Colo., during the U.S. Comedy Arts Festival.
(Al Seib / Los Angeles Times)
Shandling works with Jeffrey Tambor on the set of "The Larry Sanders Show in August 1992.
(Robert Gabriel / Los Angeles TImes)
Shandling, left, and actor David Duchovny joke around during the 50th Emmy Awards on Sept. 13, 1998, at the Shrine Auditorium.
(Paul Morse / Los Angeles Times)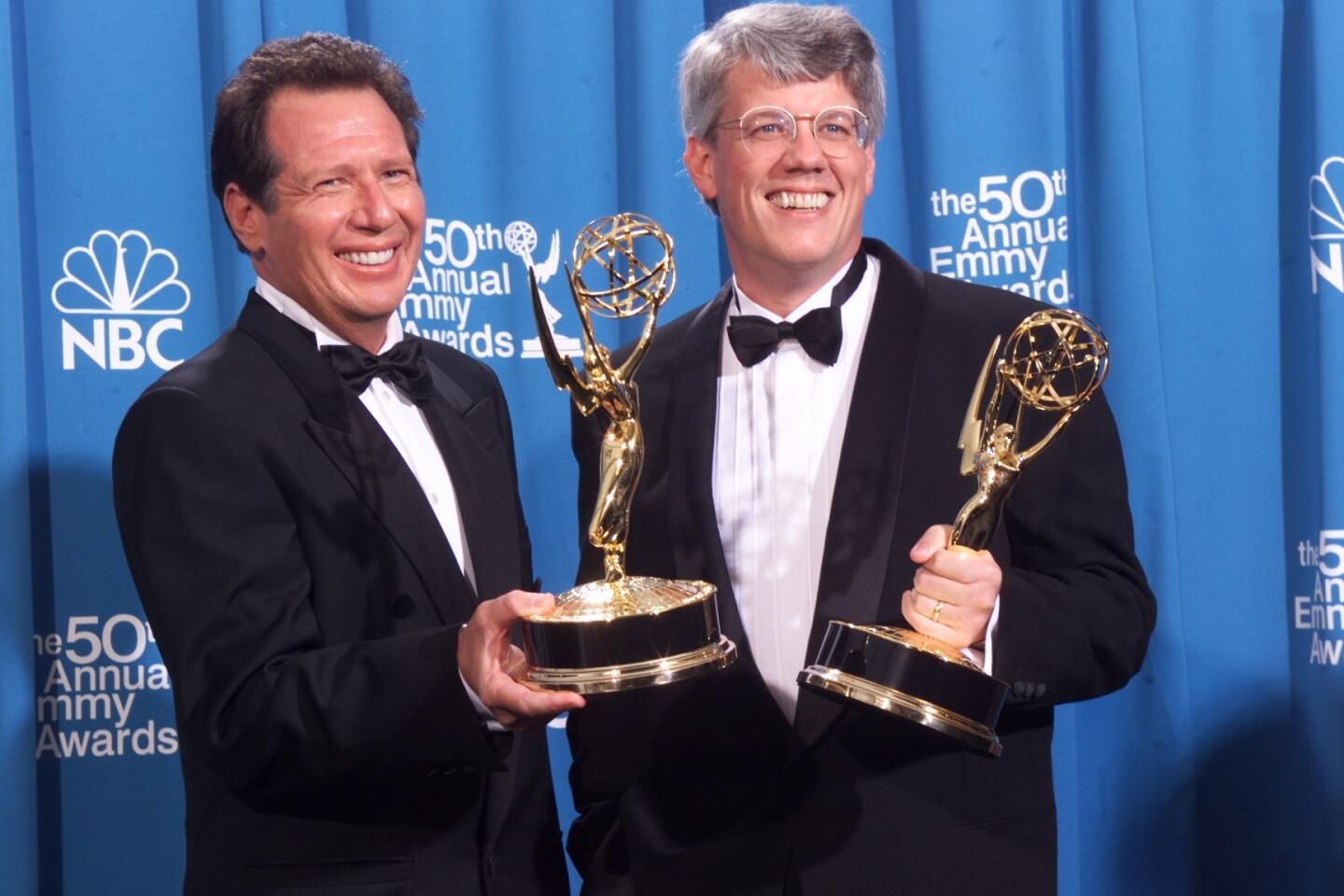 Shandling, left, and Peter Tolan show off their Emmys for Outstanding Writing for a Comedy Series during the 1998 Emmy Awards at the Shrine Auditorium.
(Robert Gauthier / Los Angeles Times)
After four years of "The Larry Sanders Show," Shandling bailed out. "I've never been someone who could find a groove and just mosey along. Once it's been accomplished, I say, "Let's move on."
(Patrick Downs / Los Angeles TImes)
Shandling, right, continued his collaborations with Duchovny when he guest-starred in a 2000 episode of "The X-Files."
(Larry Watson / Associated Press)
Garry Shandling poses in front of a painting in his management office.
(Patrick Downs / Los Angeles TImes)
Shandling, left, and Bill Maher at the 52nd Emmy Awards at the Shrine Auditorium on Sept. 10, 2000.
(Lawrence K. Ho / Los Angeles Times)
Shandling performs at the Children's AIDS Foundation benefit at the Wilshire Theater in Beverly Hill on March 19, 2005.
(Luis Sinco / Los Angeles Times)
Shandling, center, at the 2004 Emmys, hosted the event in 2000 and 2004, and hosted the Grammy Awards from 1990 to 1995. Throughout his career, Shandling was nominated for 19 Emmys and two Golden Globes.
(Brian VanderBrug / Los Angeles Times)
Shandling, right, was on hand as actor David Duchovny was honored with a star on the Hollywood Walk of Fame on Jan. 25, 2016.
(Mike Nelson / EPA)
Garry Shandling, the pioneering cable TV star and writer whose turn as a self-doubting talk-show host on HBO's "The Larry Sanders Show" during the 1990s helped redefine the television sitcom, has died. He was 66.
The Chicago-born Shandling died Thursday in Los Angeles of a heart attack, spokesman Alan Nierob said.
Shandling was among a generation of comics who helped revolutionize TV comedy by casting aside the setup-punchline mechanics of the traditional network sitcom and exploring characterization more deeply. Like his contemporary David Letterman, Shandling had little patience for show business conventions, which he found worthy of ridicule. Unlike Letterman, he never earned the brass ring of his own network talk show, even though he was a frequent guest host on "The Tonight Show" and was at one time, along with Letterman and Joan Rivers, a leading contender to replace Johnny Carson, who retired in 1992. That job ultimately went to Jay Leno.
Instead, Shandling reached his greatest career pinnacle as Larry Sanders, a host of a fictional talk show who was caught in an awkward, passive-aggressive dance with everyone in his sphere, including his on-air sidekick Hank "Hey Now" Kingsley (Jeffrey Tambor). "Larry Sanders," which aired on HBO from 1992 to 1998, pushed the boundaries by featuring real celebrities in sometimes less-than-flattering cameos (often discussing real projects), having Shandling directly address the audience and refer not-so-subtly to his own problems and — especially controversial at the time — doing away with a laugh track.
Such features are now commonplace in sitcoms ranging from "The Office" to "30 Rock" to "Modern Family," but they were groundbreaking at the time, with "Larry Sanders" winning numerous awards, including three Primetime Emmys.
Shandling died after being rushed to the hospital after an unspecified medical emergency, according to the Los Angeles Police Department, which said it would investigate the cause of his death. No further details were immediately available.
Shandling never married and appeared to have no close survivors.
Comics who felt his influence took to social media to pay their respects.
"Garry Shandling was as kind and generous as he was funny and that is saying a lot," Jimmy Kimmel tweeted. Albert Brooks wrote: "Brilliantly funny and such a great guy. He will be so missed."
"Garry would see the ridiculousness of me being asked to sum up his life five minutes after being told of his passing. It is a perfect, ridiculous Larry Sanders moment," director Judd Apatow said in a statement. "I can imagine how Hank would handle it but I just don't know how to sum up someone I loved so much who taught me everything I know and was always so kind to me. I am just too sad. Maybe tomorrow I will do better."
"Working with him was one of the great privileges of my career," said costar Rip Torn, who played Sanders' blustery producer, Artie. "He was a comic talent of immense originality who enthusiastically encouraged and responded to the originality of others."
HBO said in a statement: "Garry ushered in the modern period of original programming at HBO with his brilliant masterpiece, 'The Larry Sanders Show.' All of us at HBO have a special place in our hearts for him not only for his enormous talent but for his kindness and decency. We will miss him terribly."
Perhaps because he was a self-described neurotic himself, Shandling was sensitive about satirizing people in the entertainment industry, first on his late-1980s Showtime series "It's Garry Shandling's Show" and then on "Larry Sanders."
"It's an extremely delicate process because no one wants to be made fun of, and I try to be really protective of that," Shandling explained to The Times in 1995, speaking of "Larry Sanders." "I do not think this is a mean-spirited show in any way. There's a level of satire in which, if one gets it, then they're willing to play with that. This show allows an opportunity for some people to play themselves in a way that they haven't been able to do before."
After "Larry Sanders" wrapped up, Shandling became an in-demand emcee, hosting the Emmys in 2000 and 2004. But his career suffered in later years. An attempt to break out as a leading movie star, the 2000 fantasy "What Planet Are You From?," fizzled with critics and audiences. TV roles grew scarce.
He endured a public falling-out with his onetime manager, Brad Grey, now the powerful chief of Paramount Pictures. Shandling claimed that he had been the target of a "smear campaign" directed by Grey and private investigator Anthony Pellicano after a series of business disagreements. Shandling testified in 2008 at Pellicano's trial for wiretapping and conspiracy; Grey denied Shandling's charges.
Shandling was born Nov. 29, 1949. When he was young, his parents, who ran small businesses, moved the family from Chicago to Arizona to seek treatment for Garry's older brother Barry, who suffered from cystic fibrosis. Barry died at age 10.
Shandling moved to Los Angeles in the early 1970s to pursue a career in comedy writing. He started out writing ad copy before eventually landing staff writing jobs on sitcoms like "Sanford and Son" and "Welcome Back, Kotter."
After a serious car accident in Beverly Hills when he was 27, Shandling decided to focus on building a career as a stand-up comedian. He landed gigs at the Comedy Store in L.A. and cultivated a stage persona that played up his real-life neuroses.
He booked a coveted spot on Johnny Carson's "Tonight Show" in 1981, and became a regular guest on the show. Carson, whose favor was highly sought after by young comics, tapped him as a permanent guest host.
By 1986, he had created his own sitcom for Showtime, "It's Garry Shandling's Show." The series, co-created by Alan Zweibel, ran until 1990.
More recently, Shandling joined Jerry Seinfeld on his Web series "Comedians In Cars Getting Coffee" in an episode with the eerily foreboding title, "It's Great That Garry Shandling Is Still Alive."
In the episode, the comedy pals toured their old stomping grounds of the Comedy Store and talked about their career paths. During the drive, Shandling mentioned he had a hyperparathyroid gland that was undiagnosed because, as Shandling put it, "the symptoms mirror the exact same symptoms an older Jewish man would have. Which is, you know, lethargic, you get puffy, you get heavy, you kind of feel like you want a divorce but you're thinking you're not married."
The pair also chatted about death, particularly those of fellow comedians Robin Williams and David Brenner, and the legacy of their work. Shandling said material "is purely a vehicle for you to express your spirit. And your soul, and your being" before expressing in his droll way what he'd want his end to be like.
"What I want at my funeral is an actual boxing referee to do a count. And at 5 just wave it off and say, 'He's not getting up,'" Shandling said.
Times staff writers Veronica Rocha and Yvonne Villarreal contributed to this report.
FROM THE ARCHIVES:
Garry Shandling's essay on the millennium: 'Time is just a concept'
'Oddball perfectionist' Garry Shandling on his constant quest to improve his craft
With Garry Shandling, nothing was straightforward, including the DVD release of 'Larry Sanders Show'
Real talk shows should learn from Garry Shandling's 'The Larry Sanders Show'
A look back at the enduring qualities of Garry Shandling's 'The Larry Sanders Show'
Get our L.A. Goes Out newsletter, with the week's best events, to help you explore and experience our city.
You may occasionally receive promotional content from the Los Angeles Times.