From the Archives: With Garry Shandling, nothing was straightforward, including the DVD release of 'Larry Sanders Show'
Garry Shandling died at age 66 on Thursday, leaving behind an impressive television and comedy legacy. This story originally ran in The Times on April 15, 2007, just before the DVD release of Shandling's seminal comedy series "The Larry Sanders Show."
We could begin with the Zen "emptiness circle" tattooed on the back of his neck. Or start by setting the scene: "It's a pleasant spring afternoon on the calm and verdant grounds of the Hotel Bel-Air; swans glide thoughtlessly across a still pond." We could open with a joke that also communicates detail: "I'm playing with guys younger than me," said Garry Shandling, 57, fresh from a game of basketball, "and I realized today my strongest defensive technique is that I'm so out of breath that the guy I'm guarding thinks I could die at any minute."
Or a deep thought, half-disguised as a joke: "I've been on a state of high alert since high school. I didn't need 9/11 to remind me that we live on a ball of flame."
Or we could get right to the news that Tuesday marks the release of "Not Just the Best of the Larry Sanders Show," a four-disc selective retrospective of the paradigm-breaking, paradigm-setting 1992 to 1998 HBO comedy about a late-night talk show host and his codependents -- a set with which Shandling, its star and guiding light, was thoroughly, even profoundly involved.
The DVD, which contains eight hours of new material, is a thing of many angles, as much about Shandling as it is about "Sanders," and as much about the actors as the characters they played, and as much about the process as the product. It revels in contradictions: the seriousness of comedy; playing a role to become yourself; offering for public consumption what the menu describes (in Shandling's own handwriting) as "intimate, personal, indulgent visits with my friends that are meant for only me to see."
"What am I going to do that is different and appropriate and gives honor to the show and that cast?" Shandling rhetorically asked on the above-mentioned afternoon at the above-mentioned hotel. Roused to make a case or searching to complete a thought or to roll an idea into a joke, Shandling presents an interesting mix of passion and abstraction. ("Because the show was special, almost a sacred process. And there's a theme that runs through the DVD, which is the search for authenticity in life. You want to see bloopers? It's not what the show was about." When he calls the project "a labor of love," he is not being glib; love, in some unlikely way, is its actual subject.
What "Sanders" was really about, to Shandling, was "the process of finding the moment, of feeling safe to be who you are." It was a chance for him to "explore the shadow side of human behavior" and to work with actors "with real personal power -- the kind of actors that would push me, who I could feel without having to worry about the words, who made me act behaviorally. This show is about behavior. Everybody thinks it's about the jokes." The power was brought by a remarkable cast that at various times included Janeane Garofalo, Jeremy Piven, Scott Thompson, Penny Johnson, Wallace Langham, Mary Lynn Rajskub, Kathryn Harrold and Bob Odenkirk, and, most powerfully, Rip Torn and Jeffrey Tambor as, respectively, protective producer Artie and needy sidekick Hank.
Though it was never successful in the way of "Frasier" or "Friends," the series' influence continues to play out, if only because it demonstrated how cable television could accommodate more complicated flavors; in that sense, it made way for "The Sopranos" and whatever else "The Sopranos" made way for. It achieved a kind of easy naturalism not even TV drama had managed, and was new in its use of strong language but also its use of silence. There was no laugh track, no background music. It was dark, but human; edgy, but not heartless; its heroes often pathetic, yet sympathetic. ("These are characters struggling to be good," said Shandling.)
It anticipated the current run on backstage comedies, and explored the blurring of the line between fact and fiction later seen in "Entourage," "Extras" and "Curb Your Enthusiasm," with guest celebrities playing versions or inversions of themselves; it developed the "walk and talk" scene Aaron Sorkin made the stylistic cornerstone of "Sports Night," "The West Wing" and "Studio 60 on the Sunset Strip." "Sanders" writer-producer Judd Apatow carried its devotion to the real into his next project, the high school comedy "Freaks and Geeks."
Comedy writer and actor Garry Shandling is shown at his Brentwood home in 2007.
(Robert Gauthier / Los Angeles Times)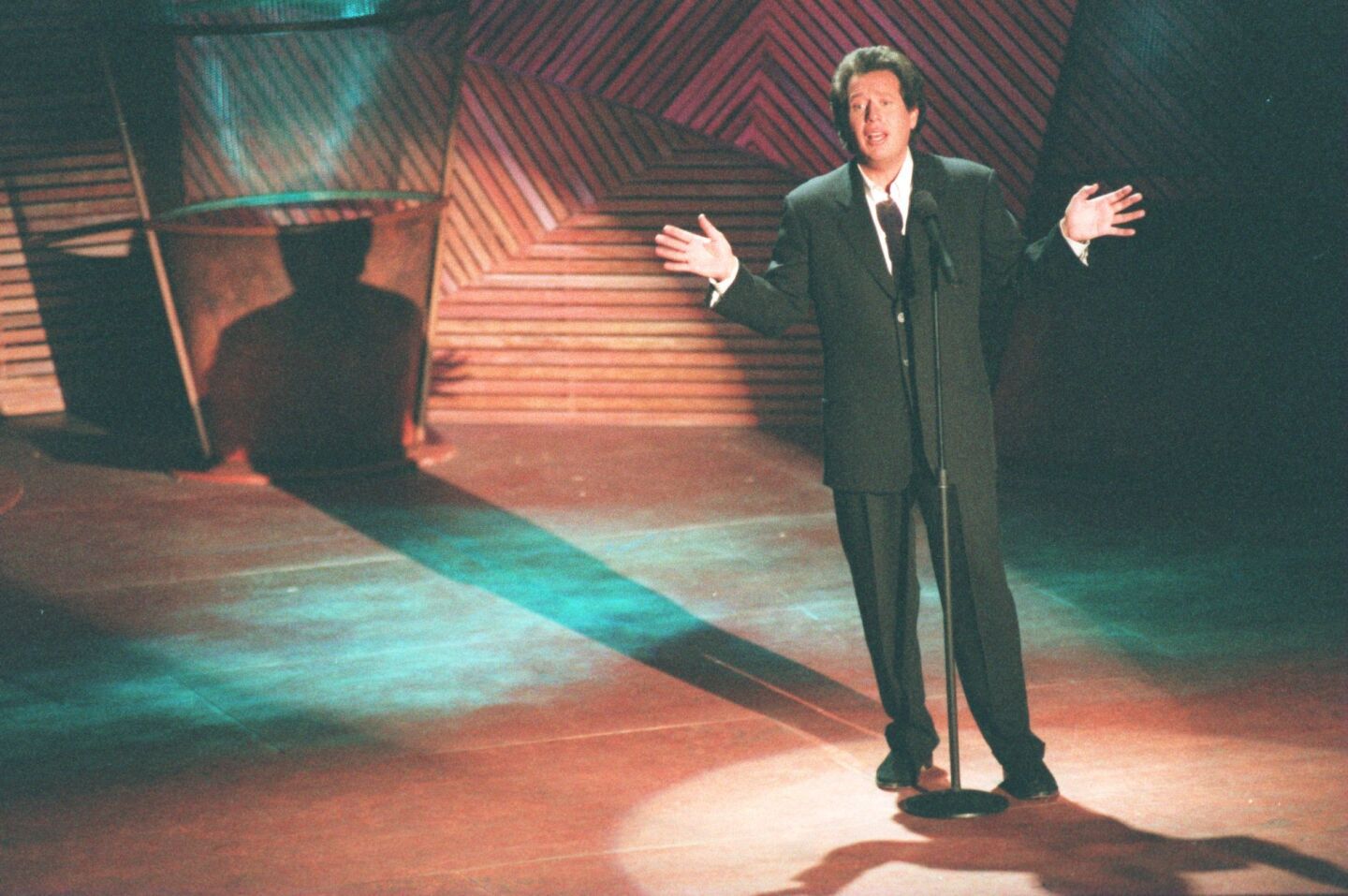 Shandling appears on stage for HBO's "The 1995 Young Comedians Special" at the Wheeler Theatre in Aspen, Colo., during the U.S. Comedy Arts Festival.
(Al Seib / Los Angeles Times)
Shandling works with Jeffrey Tambor on the set of "The Larry Sanders Show in August 1992.
(Robert Gabriel / Los Angeles TImes)
Shandling, left, and actor David Duchovny joke around during the 50th Emmy Awards on Sept. 13, 1998, at the Shrine Auditorium.
(Paul Morse / Los Angeles Times)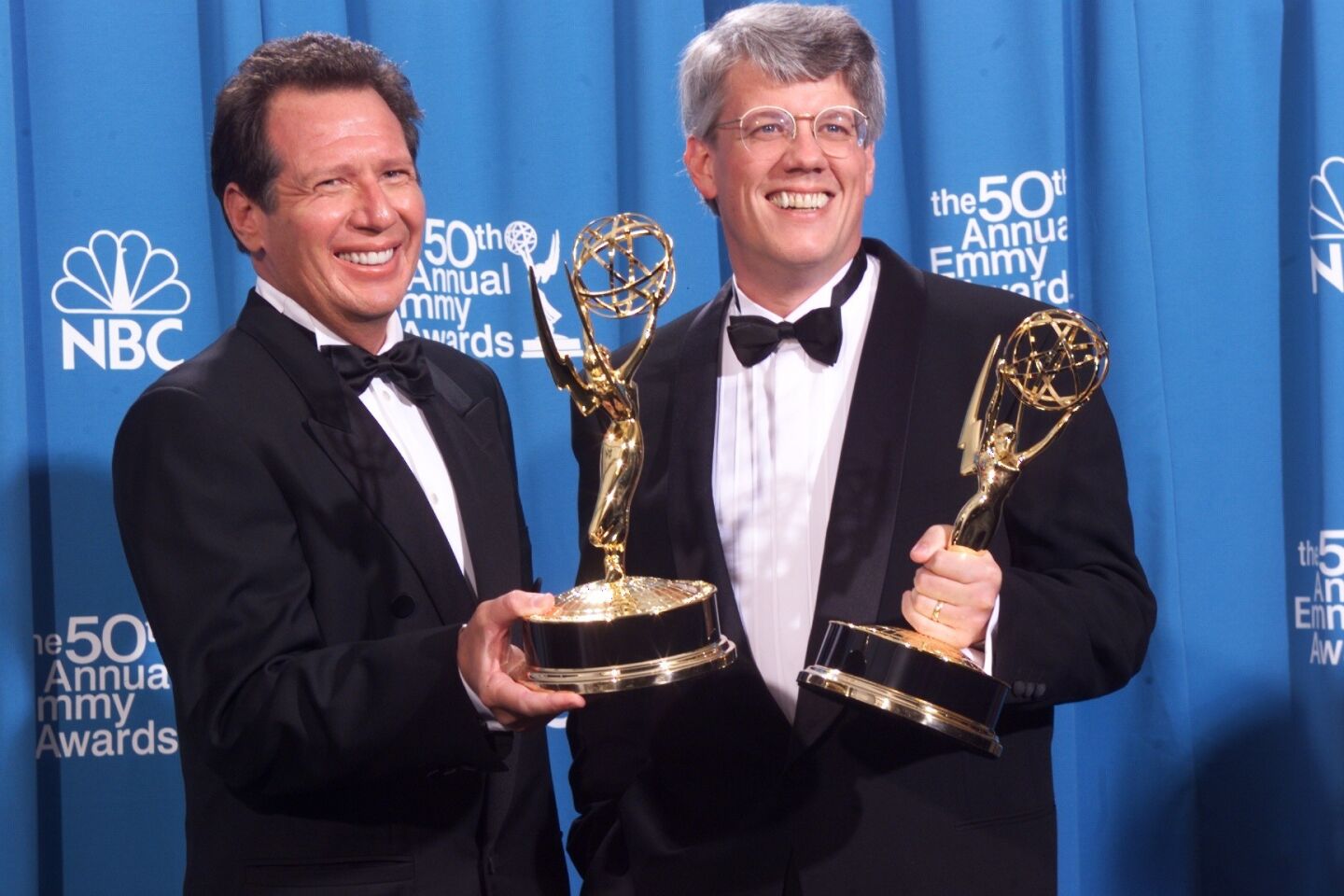 Shandling, left, and Peter Tolan show off their Emmys for Outstanding Writing for a Comedy Series during the 1998 Emmy Awards at the Shrine Auditorium.
(Robert Gauthier / Los Angeles Times)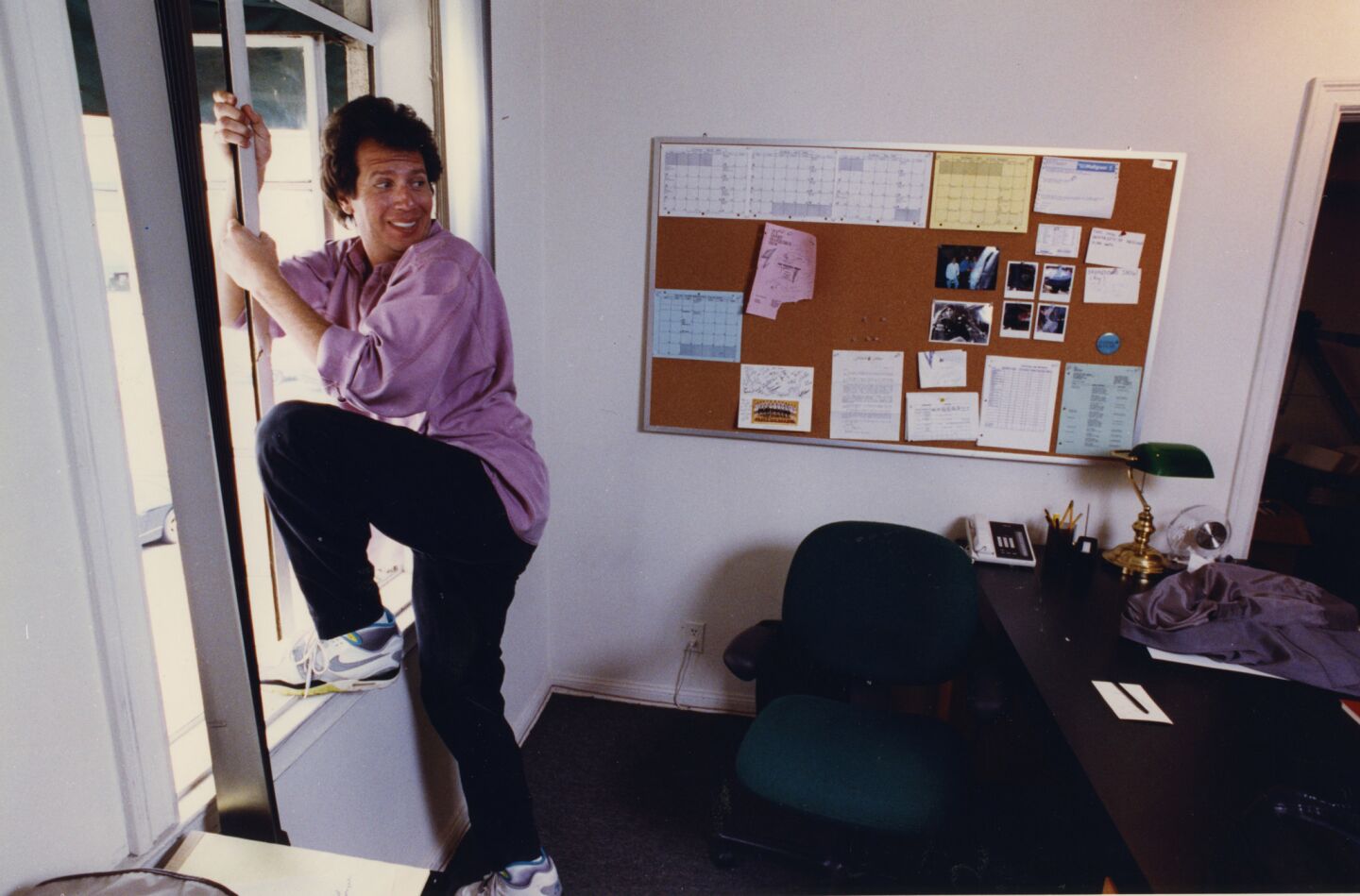 After four years of "The Larry Sanders Show," Shandling bailed out. "I've never been someone who could find a groove and just mosey along. Once it's been accomplished, I say, "Let's move on."
(Patrick Downs / Los Angeles TImes)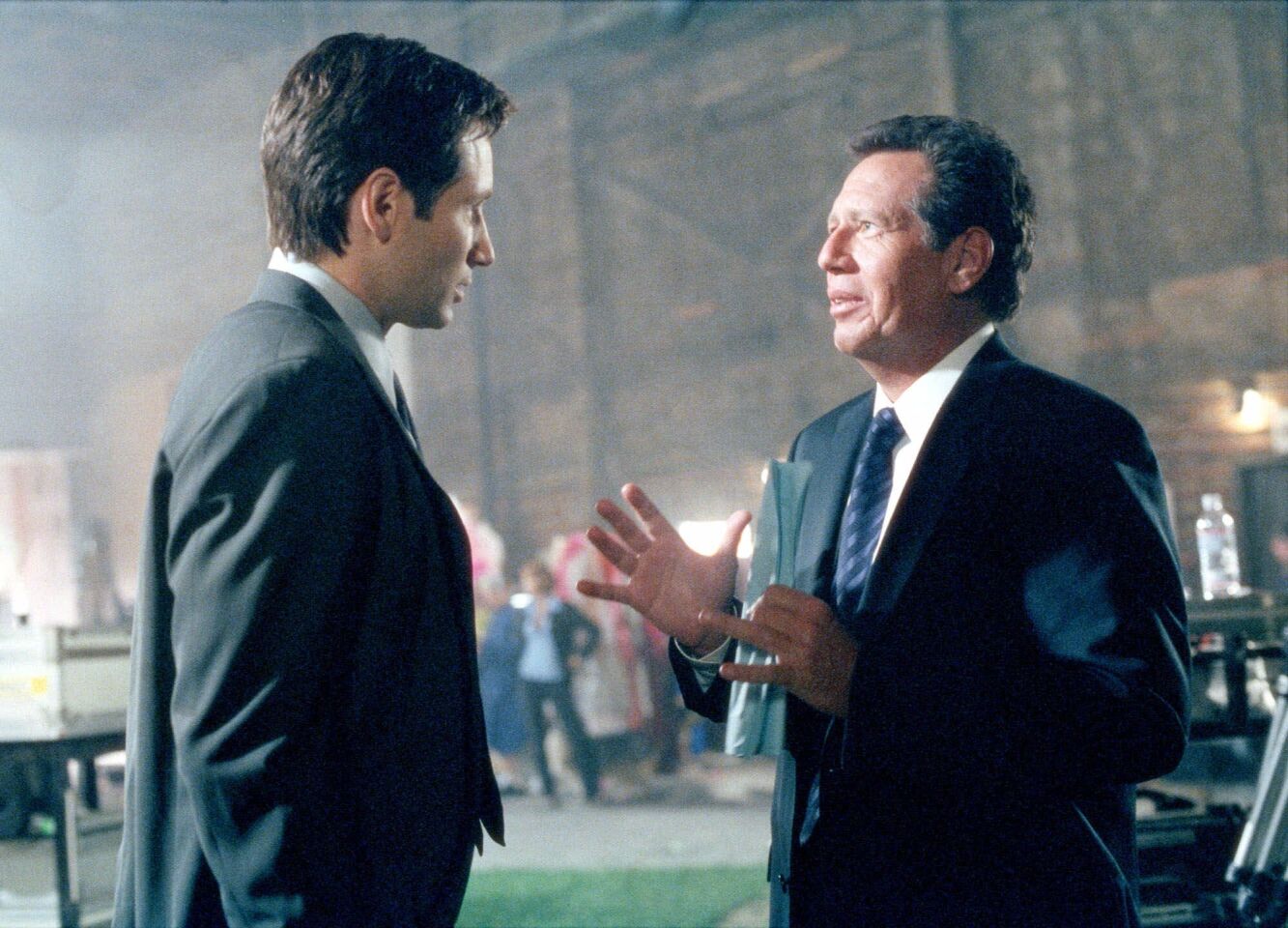 Shandling, right, continued his collaborations with Duchovny when he guest-starred in a 2000 episode of "The X-Files."
(Larry Watson / Associated Press)
Garry Shandling poses in front of a painting in his management office.
(Patrick Downs / Los Angeles TImes)
Shandling, left, and Bill Maher at the 52nd Emmy Awards at the Shrine Auditorium on Sept. 10, 2000.
(Lawrence K. Ho / Los Angeles Times)
Shandling performs at the Children's AIDS Foundation benefit at the Wilshire Theater in Beverly Hill on March 19, 2005.
(Luis Sinco / Los Angeles Times)
Shandling, center, at the 2004 Emmys, hosted the event in 2000 and 2004, and hosted the Grammy Awards from 1990 to 1995. Throughout his career, Shandling was nominated for 19 Emmys and two Golden Globes.
(Brian VanderBrug / Los Angeles Times)
Shandling, right, was on hand as actor David Duchovny was honored with a star on the Hollywood Walk of Fame on Jan. 25, 2016.
(Mike Nelson / EPA)
That the new "Sanders" set, five years after the never-followed-up release of "The Entire First Season," represents only about a quarter of the show's 89 episodes is disappointing at first. But there are things to be said for the "selected" as opposed to the "collected" approach -- originally suggested by Sony, the releasing label, but readily approved by the star, who suggests more may be coming. (A tape of their initial meeting is included as an "Easter Egg" in the DVD set.) The shorter version gives you the whole shape of "Larry Sanders" -- you can take it all in, even with the extras, in a relatively manageable time -- and gives the proper context to Shandling's special additions. There is a beginning and an end -- two ends, in fact: the end of the series and the end of the DVD, new footage in which a Vietnamese Buddhist monk speaks to Shandling of extending "love and compassion to all sentient beings" and notes that "the true enemy is ignorance."
Shandling seems to see everything -- stand-up comedy, acting, boxing, a DVD, this interview -- as an occasion for growth, learning, self-realization. He's been meditating since the late '70s, when he would head with his dog into the hills behind Santa Barbara to "clear out his mind." "But in 1978, all the people I was working with would think that was really weird, to the degree I stopped talking about it. And I think my dog stopped telling the other dogs 'cause he was embarrassed. The other dogs are going, 'You mean, you just go out there and sit there? He doesn't throw you anything, you don't chase anything?'"
His interest in Zen certainly must have primed him for Roy London, the acting teacher who received a "special thanks" credit on every episode of "The Larry Sanders Show" and whom Shandling calls "the most important man ever in my life." "A lot of questions I had about life and about art and psychology he had answers to. And he was guiding people in that class to eliminate everything but their essence and just be, so you're working on life and acting at the same time."
It's possibly too much to say that there would have been no "Larry Sanders Show" without London's influence -- though while he was alive he read all the scripts and directed at least one episode -- but it would have been a different animal, not as layered, probably, or as determinedly real. On the DVD, one cast member after another testifies to Shandling's insistence on eliminating the "acting" from the "being" and to his having changed their work, careers and even lives.
One choice on the DVD's opening menu reads, "I don't really want to watch this DVD. I'd rather spend my time talking to a human being." (Selecting it gets the response "Option not available.") Appropriately, then, the heart of the set -- which includes the usual commentary tracks and deleted scenes, along with a documentary on the show -- is the several long, basically unedited encounters Shandling has with some of the show's celebrity guests, who are not coincidentally also his friends: Sharon Stone, Alec Baldwin, David Duchovny, Ellen DeGeneres, Carol Burnett, Tom Petty, Jon Stewart and Jerry Seinfeld. These are "experimental" pieces he describes as "whatever happens from the actual human contact, when you don't have to do anything or prove anything."
They are fascinating to watch. The best are unguarded almost to the point of strangeness. Their appeal is not exactly voyeuristic, though a couple of sequences cut close to the bone. (None more than a moving and unplanned exchange between Shandling and cast member Linda Doucett, who had also been his girlfriend and who sued him and the show -- a suit long since settled -- after they broke up and she was let go.)
A lot happens in even the shortest of them, as conversations shade this way and that; each has its own music. Shandling and Seinfeld get energy from each other; Petty is laconic and funny. Baldwin is deposed as the two spar in a boxing ring. (Boxing turns out to be not unrelated to acting.). Best of all is Stone, with whom Shandling has a long history perfectly visible in their wary, loving regard. "We were so young," Stone sighs, watching outtakes from her "Sanders" appearance on a laptop. "How cute we were."
"I think that's new work," said Shandling, stressing each word. He has not been exactly inactive or invisible since he ended "Sanders" -- he's hosted the Emmys, made a few movies, was the voice of the turtle in the animated feature "Over the Hedge" -- but this DVD is his real next act. "It isn't just a look at old shows -- there's a progression, and this experiment in leaving the camera on. I don't know how it's going to integrate into what I do next, but I think I'm evolving. I'm curious to see what I do -- I don't want to have to work on it, but I'd be interested in seeing it."
robert.lloyd@latimes.com
MORE:
PHOTOS: Notable deaths of 2016
A look back at the enduring qualities of 'The Larry Sanders Show'
From the Archives: Real talk shows should learn from 'The Larry Sanders Show'
---
Get our daily Entertainment newsletter
Get the day's top stories on Hollywood, film, television, music, arts, culture and more.
You may occasionally receive promotional content from the Los Angeles Times.