NBC hopes crime thriller fans will eat 'Hannibal' up
Some of the most popular series on TV right now are also among the most violent, including AMC's "The Walking Dead," Showtime's "Dexter," CBS' "Criminal Minds" and Fox's "The Following."
(Edel Rodriguez / For The Times)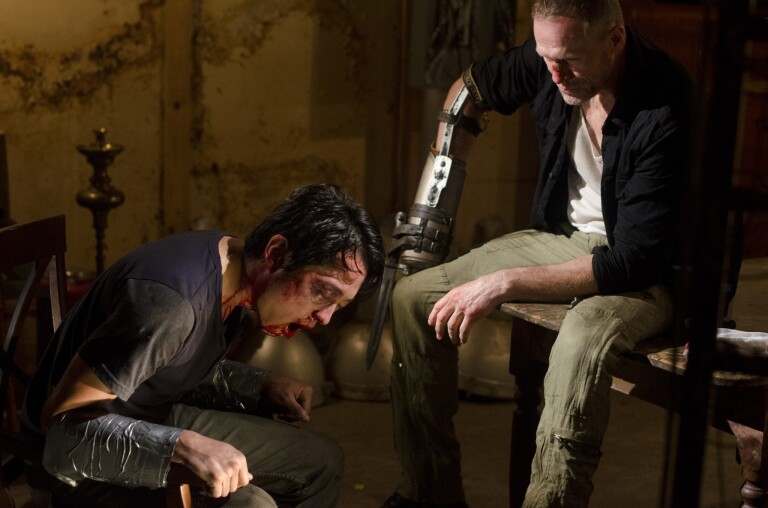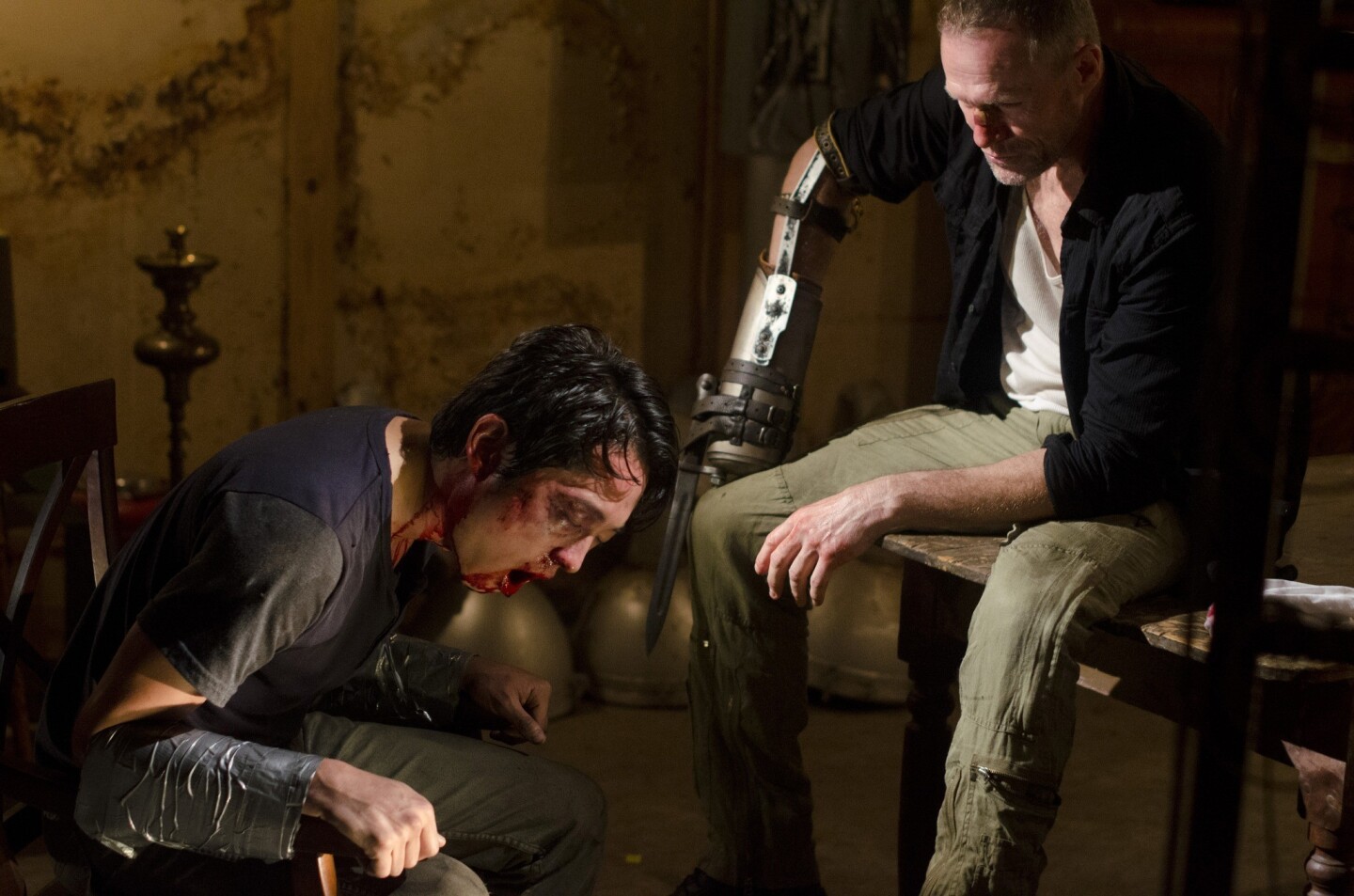 Glenn (Steven Yeun), left, and Merle Dixon (Michael Rooker) in "The Walking Dead."
(Gene Page / AMC)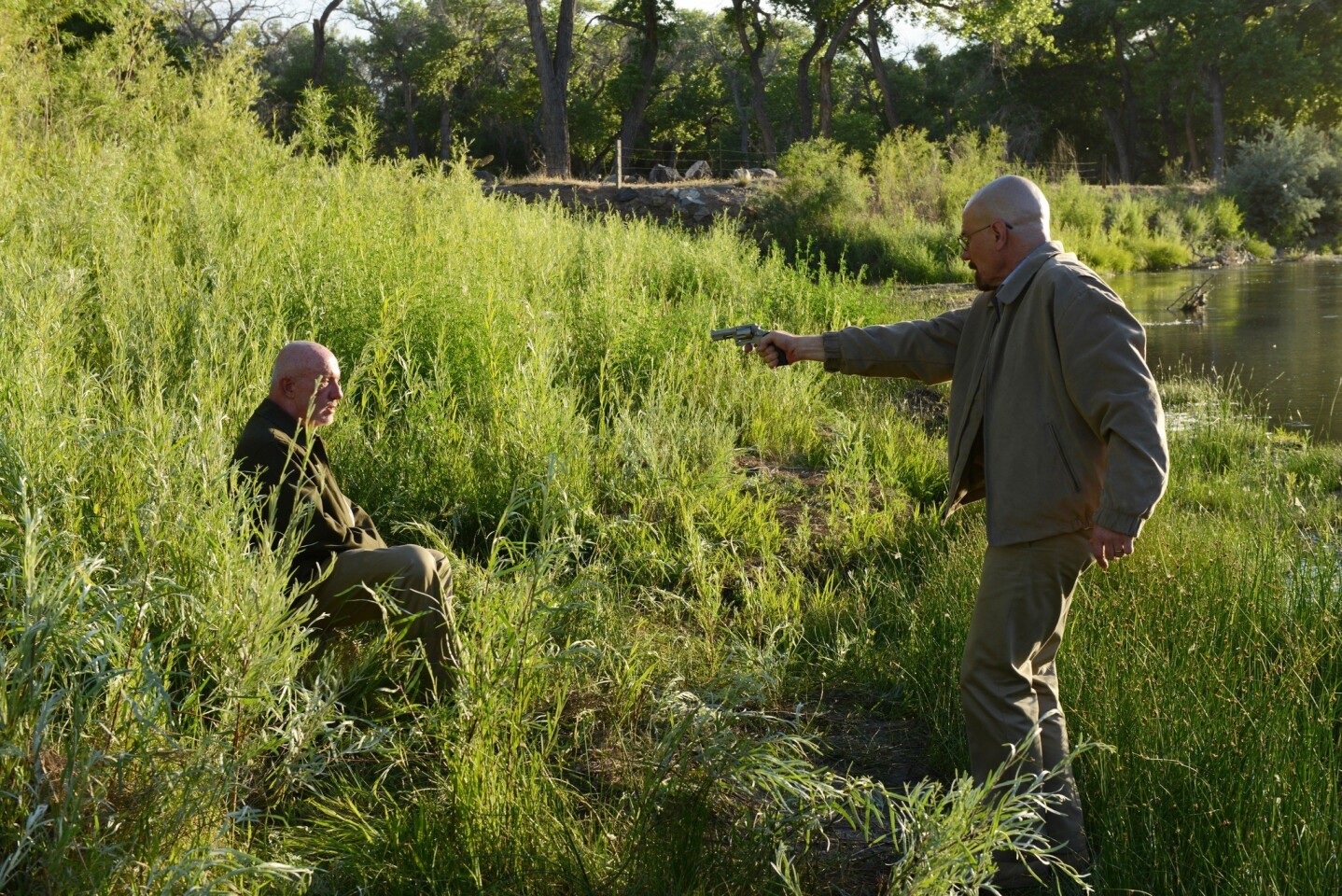 Mike (Jonathan Banks), left, and Walter White (Bryan Cranston) in "Breaking Bad."
(Ursula Coyote / AMC)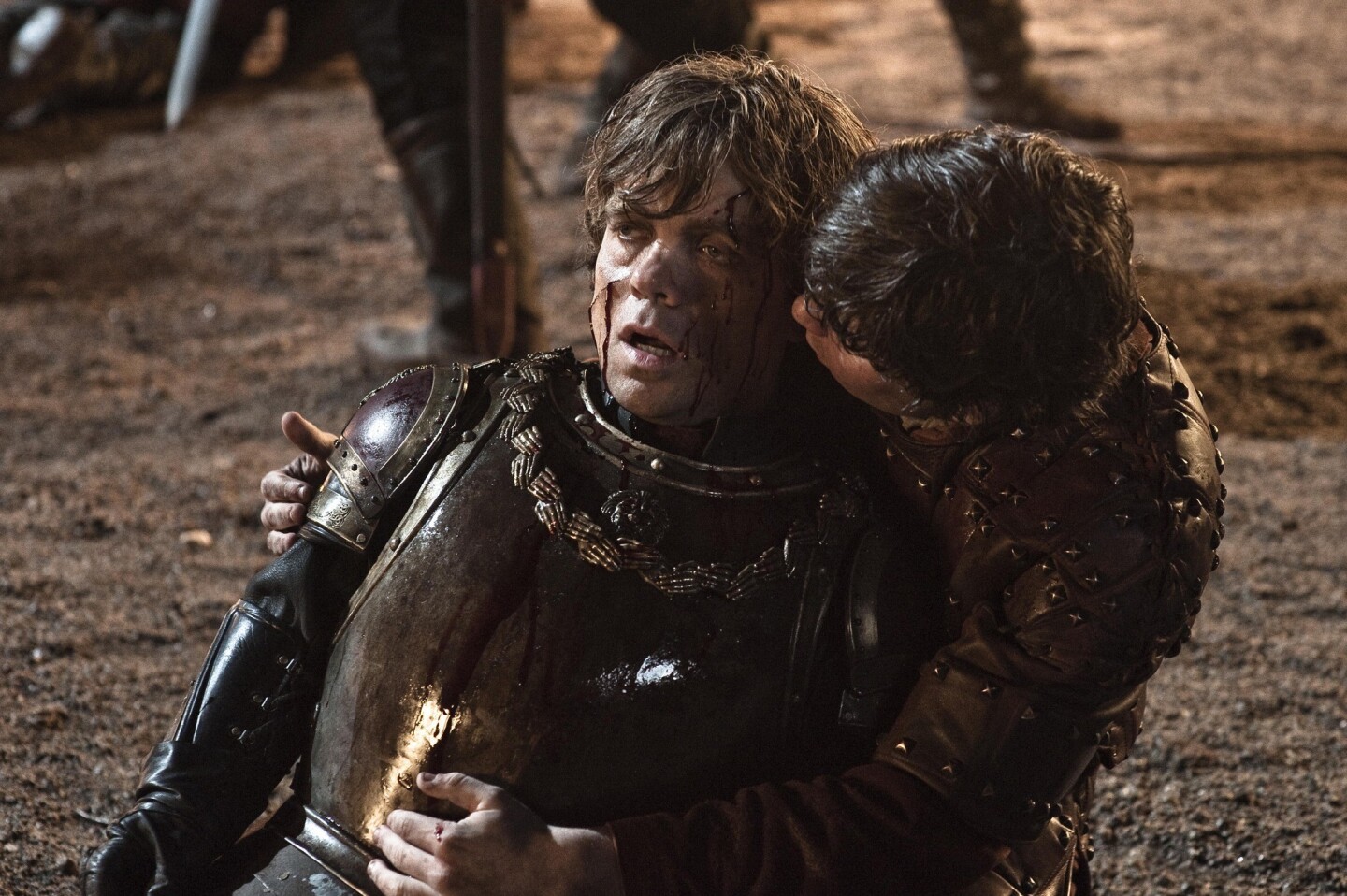 Tyrion Lannister (Peter Dinklage) is attacked during the Battle of Blackwater Bay in "Game of Thrones."
(Helen Sloan / HBO)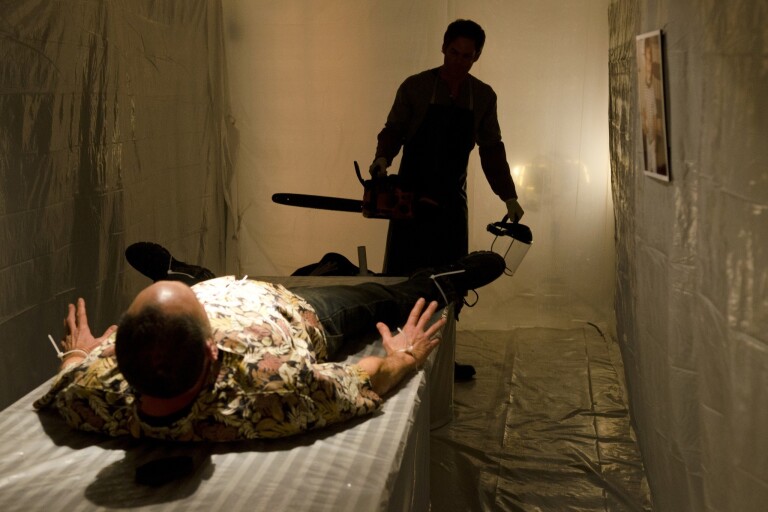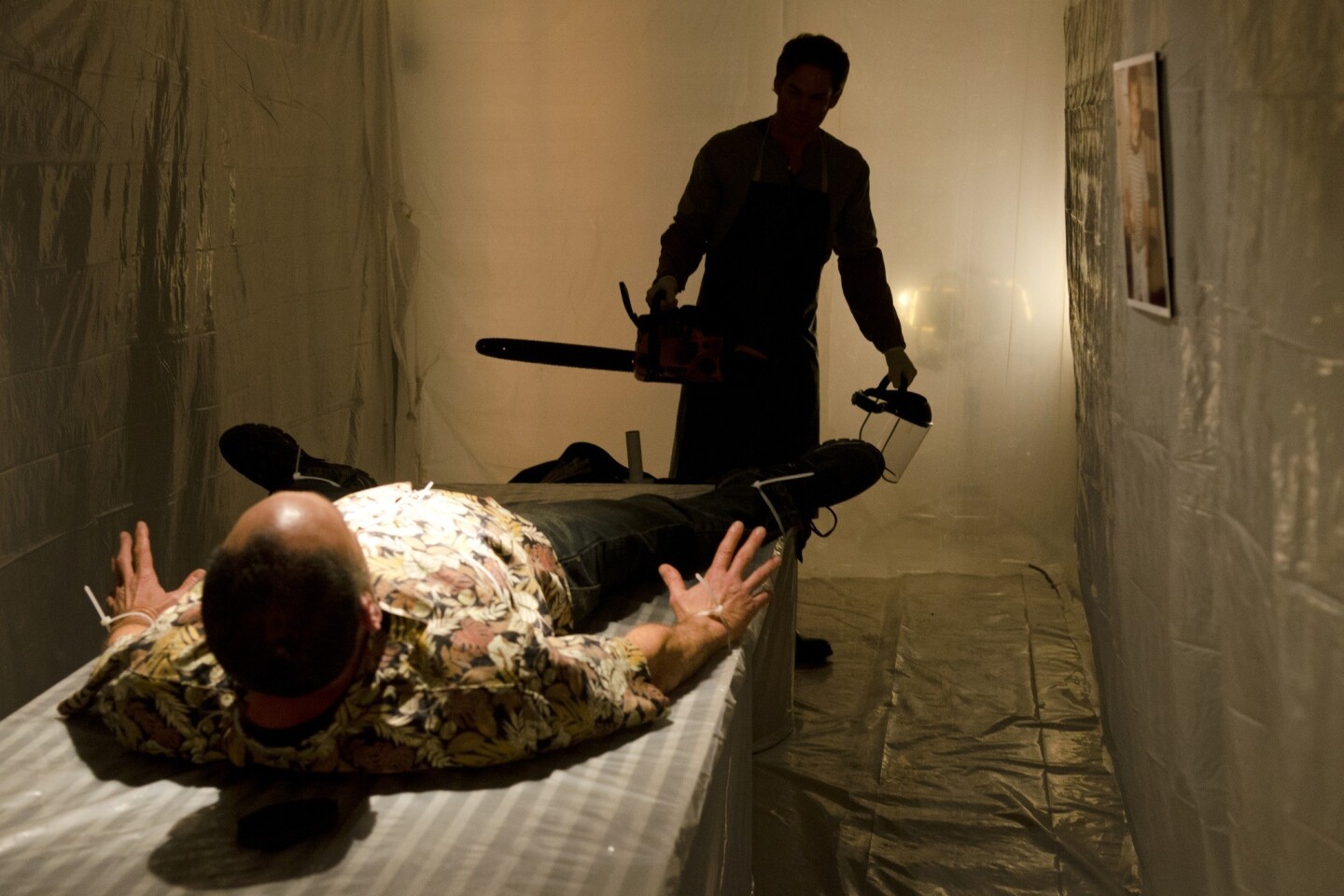 Michael C. Hall, rear, as Dexter Morgan in "Dexter."
(Randy Tepper / Showtime)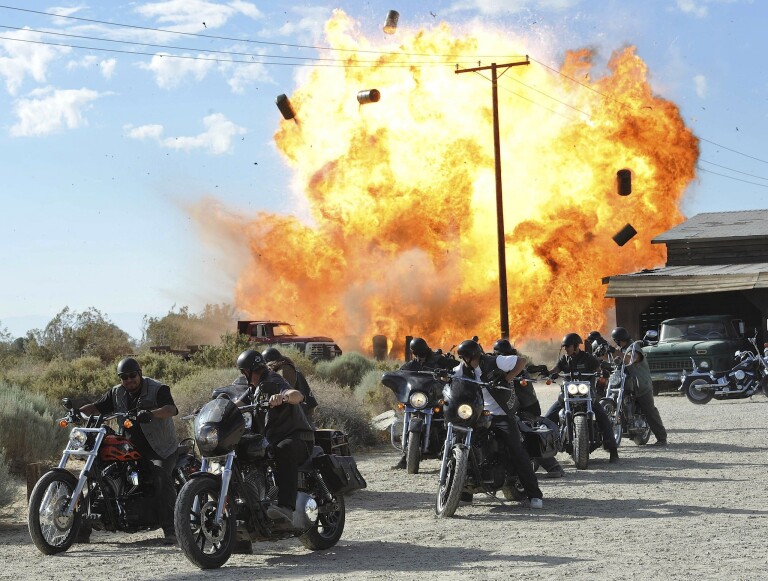 The biker gang drama "Sons of Anarchy."
(Prashant Gupta / AP / FX)
Jennifer Jareau (AJ Cook) in "Criminal Minds."
(Cliff Lipson / CBS)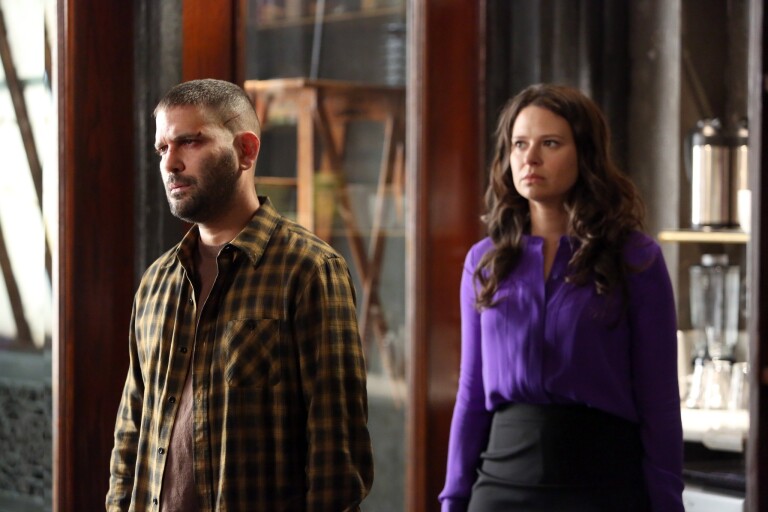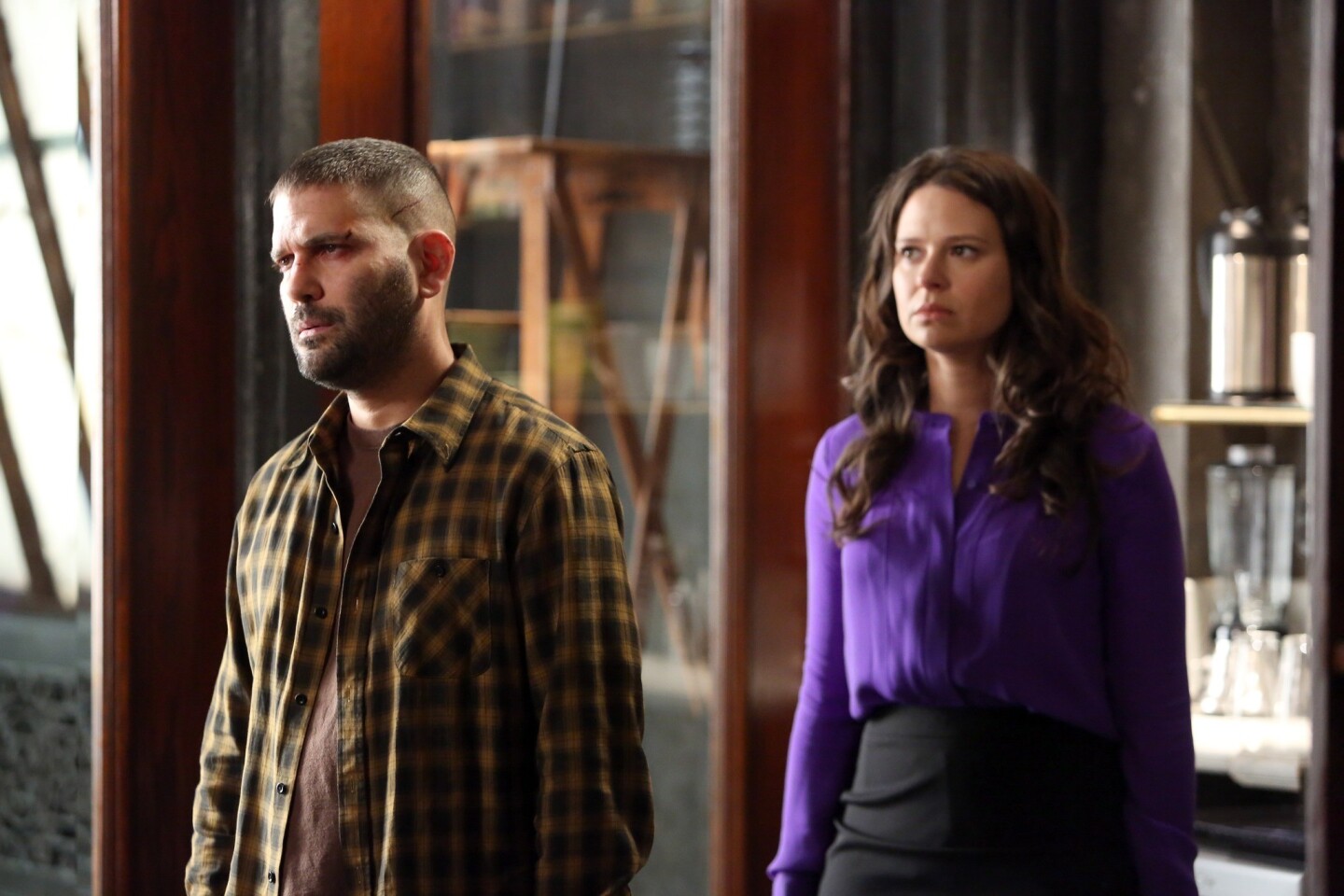 Huck (Guillermo Diaz) and Quinn (Katie Lowes) in "Scandal."
(Danny Feld / ABC)
Special Agent Leroy Jethro Gibbs (Mark Harmon, center) and the NCIS team investigate a crash on "NCIS."
(Cliff Lipson / CBS)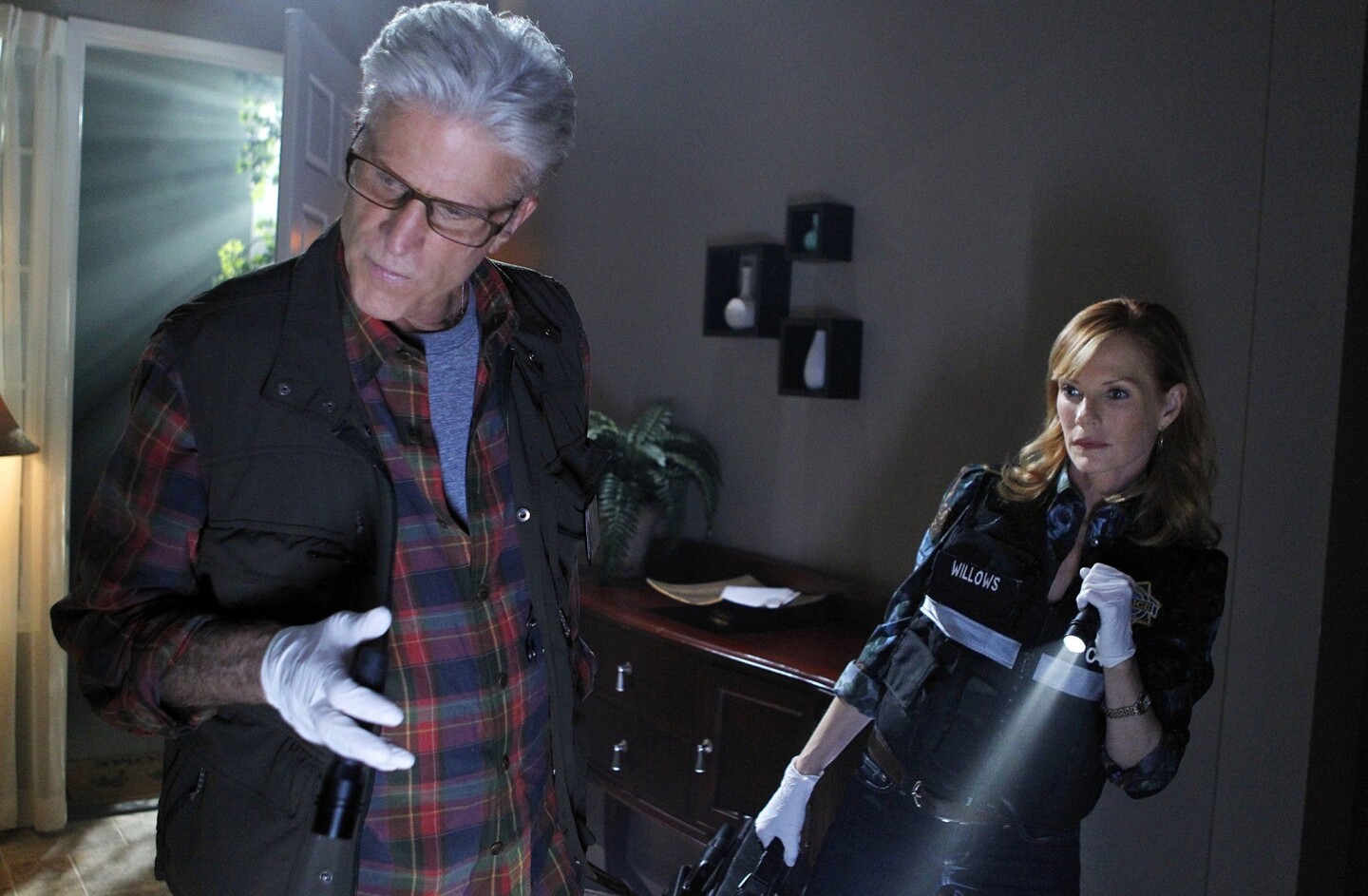 D.B. Russell (played by Ted Danson) and Catherine Willows (Marg Helgenberger) on "CSI: Crime Scene Investigation."
(Sonja Flemming / CBS)
Elena Gilbert (Nina Dobrev) tends to the wound of her vampire boyfiend, Stefan Salvatore (Paul Wesley), in "The Vampire Diaries."
(Annette Brown / The CW)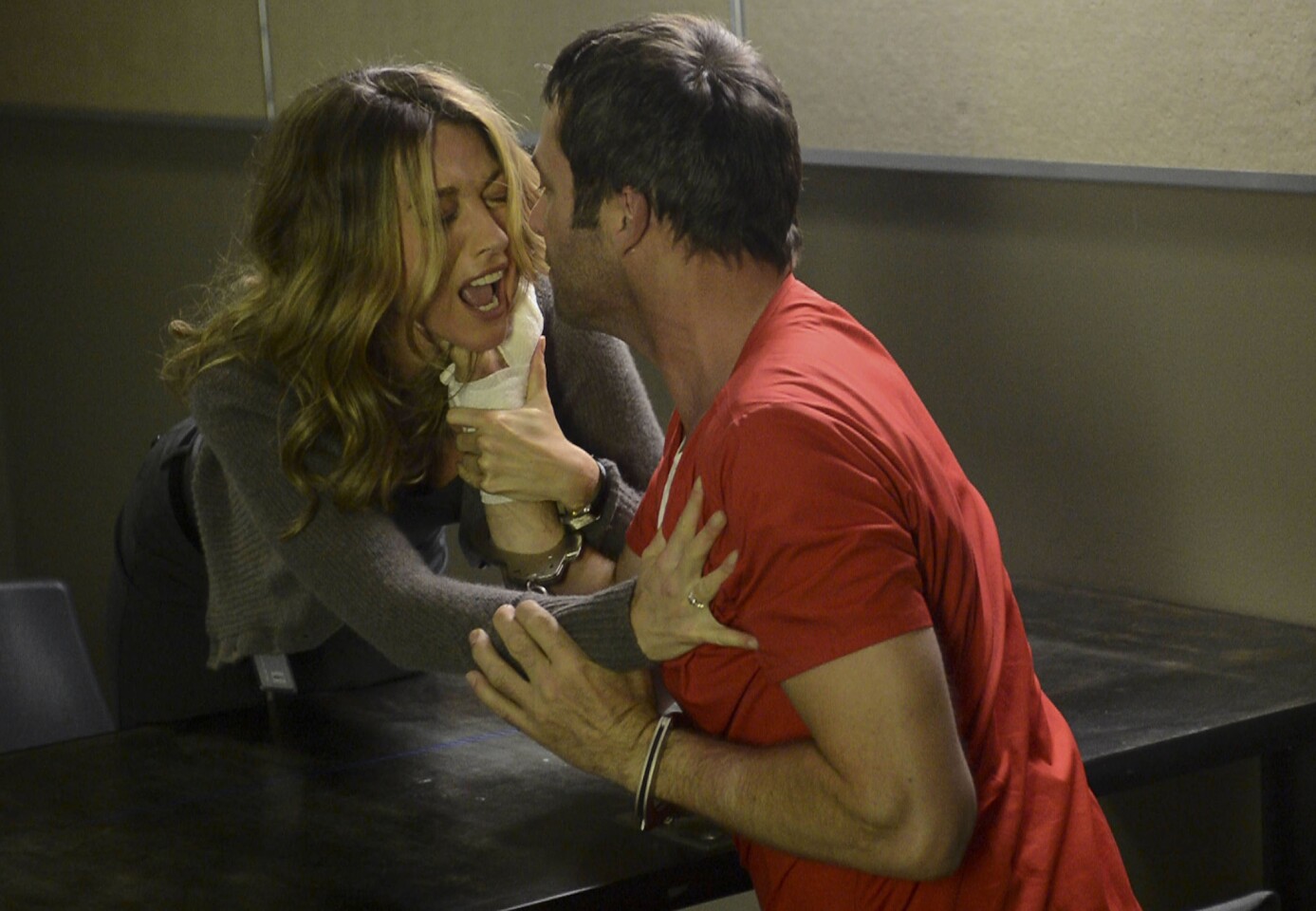 Joe Carroll (James Purefoy) gets too close to his ex-wife, Claire Matthews (Natalie Zea), in "The Following."
(David Giesbrecht / FOX)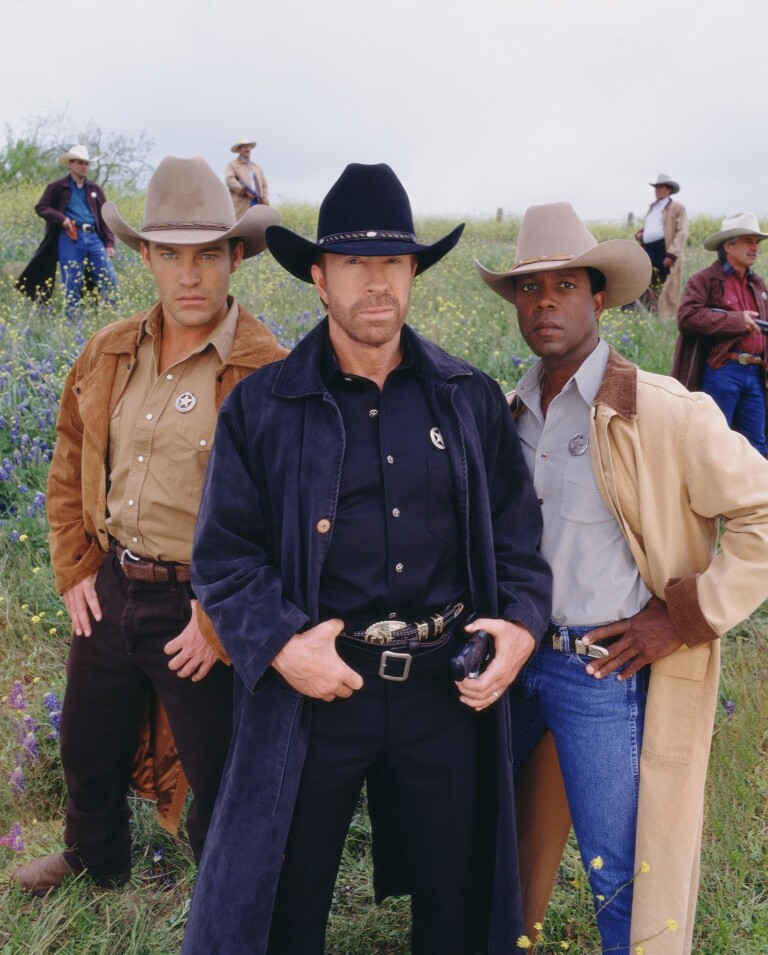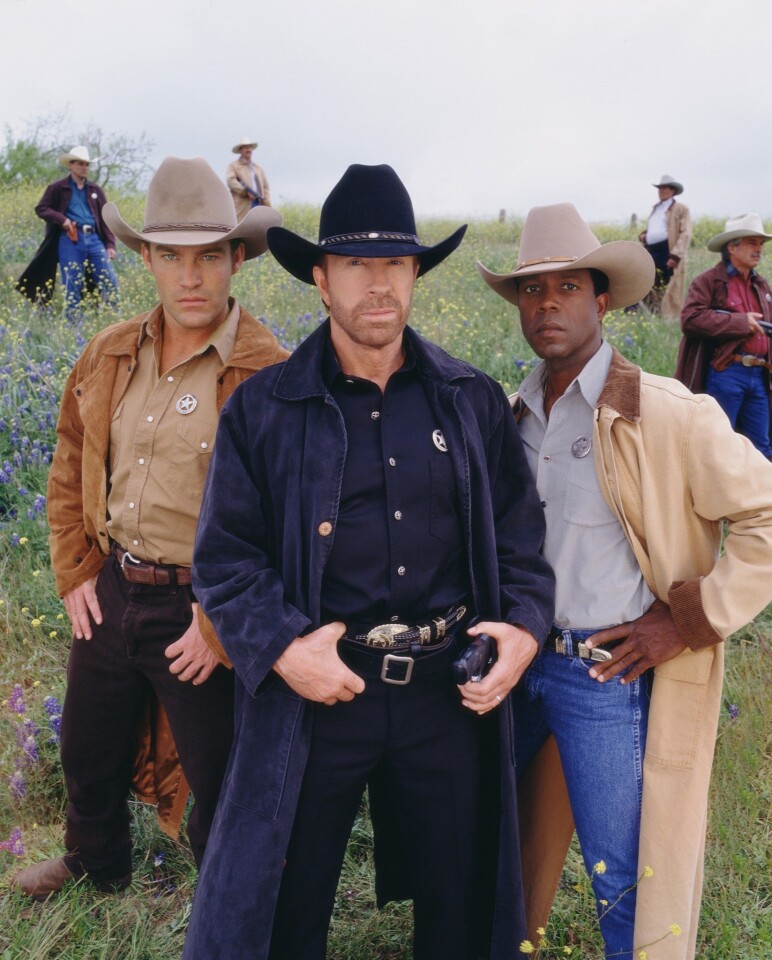 Judson Mills, left, Chuck Norris, center, and Clarence Gilyard in "Walker, Texas Ranger."
(Tony Esparza / CBS)
You just can't keep a good cannibal down.
More than three decades after he first murdered and chomped his way to pop culture infamy, sophisticated serial murderer Hannibal Lecter is back, alive and well-fed. And although he has gone from the big screen to the small screen, his twisted appetites have not diminished during his absence.
Introduced in a series of bestselling novels by Thomas Harris that gave birth to a hit film franchise, which included the Oscar-winning "Silence of the Lambs," Lecter's latest incarnation is "Hannibal," a dark drama premiering Thursday on NBC.
SPECIAL COVERAGE: The Culture of Violence
The series is a prequel to the novels and films, positioning him as a psychiatrist who works for the FBI. He is recruited to help a troubled but gifted criminal profiler, Will Graham (Hugh Dancy), who has the ability to see inside the minds of serial killers. Lecter, however, has his own personal — and likely demented — agenda for the unwitting Graham.
Mads Mikkelsen ("Casino Royale") steps into the Lecter apron previously worn by Brian Cox ("Manhunter") and Anthony Hopkins, who won an Oscar for his portrayal. Helming the series is executive producer Bryan Fuller ("Pushing Daisies," "Heroes").
NBC, which has had a roller-coaster season and could use a new hit, is banking that Lecter has aged like a fine Chianti, the wine he famously consumed along with a serving of fava beans as he devoured the liver of one of his victims.
"We like making as much noise as possible, and we loved the idea of Hannibal as a series," said Jennifer Salke, president of NBC Entertainment. She was particularly excited about Fuller's involvement: "We love him as a visionary and a creator, and we're always behind what he's excited about. When he wanted to tackle Hannibal, we loved the idea. We think it's a little sleeper."
But times have changed since Lecter first arrived on the terror scene. The series is debuting just a few months after network executives came under fire as they tried to justify the flood of escalating violence on-screen in shows such as "Criminal Minds," "Dexter" and "CSI: Crime Scene Investigation" that critics maintained were glorifications or even more troubling, inspirations for real-world killings. Those charges came in the wake of horrific mass shootings in Colorado and Connecticut that claimed numerous young lives.
NBC Entertainment Chairman Robert Greenblatt told reporters in January that although "Hannibal" would obviously be gruesome and gory, no killings would be depicted on-screen. Yet in the first five minutes of the first episode, a couple is shown being gunned down in their home, with blood spurting from torsos and necks in slow motion (the perspective is of Graham's re-imagining how the real killer committed the crime). Later, throats of two women are graphically slashed. In a later episode, a man is shot point-blank in the head, blood spraying onto a person standing nearby.
And that's not counting the display of murder victims, including women impaled on deer antlers and a couple displayed following their murder with the flesh skinned from their backs and held up with fish hooks and string like angel wings.
"Hannibal" is also premiering in the shadow of "The Following," Fox's drama that features a gleefully evil serial killer very much in the mode of Lecter — brilliant professor Joe Carroll (James Purefoy), who is so charismatic that he attracts a throng of followers eager to do his diabolical bidding, especially when it comes to wrecking the life of his target, former FBI agent Ryan Hardy (Kevin Bacon). Despite weekly depictions of graphic violence in which innocents are slashed, burned, maimed, gutted and shot at close range with spear guns, "The Following," which also puts Carroll's young son in peril, has attracted a solid viewership and will likely be renewed for next season.
THE CULTURE OF VIOLENCE: Video Games | World Cinema
Fuller is aware that "Hannibal" may trigger concern about its extreme content, and said his intent was to pay tribute to the Lecter legacy, calling it a "hybridization of the crime thriller and the horror movie." He said he wanted to particularly explore the personality disorders of Graham, and the relationship between him and Lecter, "two crazy men who need each other to understand each other."
Graphic violence and images are a necessary part of that dynamic, he said.
"It's about honoring the genre and respecting the source," Fuller said. "Those familiar with 'Silence of the Lambs' will have a certain expectation to the material, and at a certain point we have to deliver those ingredients. 'Silence of the Lambs' was beautiful and scary, but it was also graphic. We don't want to offend anyone, but this is an adult content show."
Added Salke, "After all, the show is called 'Hannibal.'"
Dancy said he did not feel the violence was gratuitous: "I have no interest in violence for the sake of it or for the lack of other ideas. There has to be imagination, purpose and circumstance. The violence Graham sees illustrates the weight that is on his shoulders, the murkiness of his world."
THE CULTURE OF VIOLENCE: Art | Film | Hollywood
Mikkelsen said he is not approaching the character of Lecter as a man who specializes in torture and mayhem: "It's as close as you can be to Satan, but he doesn't see it that way. He enjoys the beauty of what he is doing."
While the debate over gun control rages on in Washington, the outcry over violence in popular culture that followed the Colorado and Connecticut shootings appears to have quieted down. There's been no major criticism or protest of the violence in "The Following."
Said Stephanie Moulton Sarkis, a psychotherapist who has written about the effects of TV violence: "I believe there's no outcry because audiences have really become desensitized to it, with shows like 'The Walking Dead' and others. If it bothered people, they wouldn't watch it. So it will continue."
--
'Hannibal'
Where: NBC
When: 10 p.m. Thursday
Rating: TV-14-V (may be unsuitable for children under the age of 14 with an advisory for violence)
---
The complete guide to home viewing
Get Screen Gab for weekly recommendations, analysis, interviews and irreverent discussion of the TV and streaming movies everyone's talking about.
You may occasionally receive promotional content from the Los Angeles Times.