'Heroes Reborn' creator Tim Kring talks about 'unfinished' business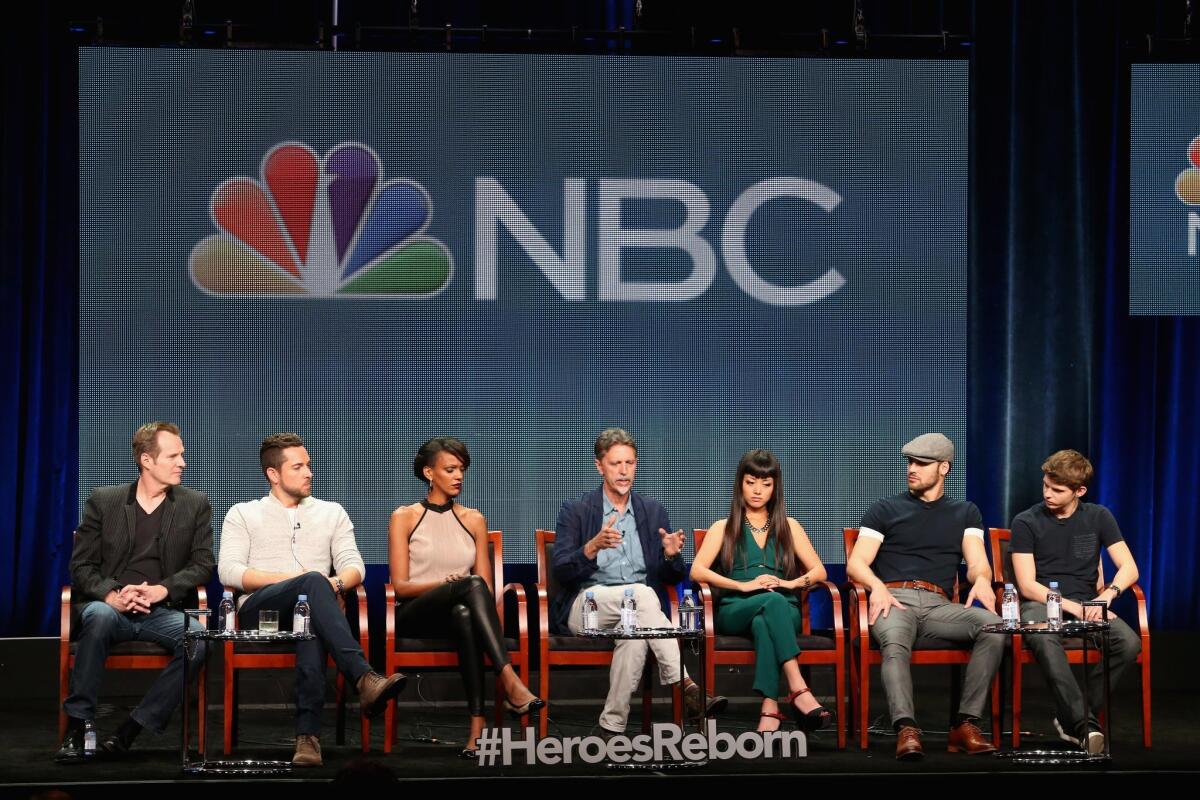 For "Heroes" creator Tim Kring, the idea of revisiting the world that the series inhabits was largely due to unfinished business.
Kring appeared Thursday at the Television Critics Assn. press tour in Beverly Hills for the "Heroes Reborn" panel. And when asked why he felt the need to reopen the book on the NBC sci-fi drama that ended its four-season run in 2010, Kring said he felt there were more stories to tell.
"The truth is when we went off the air, we didn't know we were going off the air, so we left at an absolutely fantastic moment that set everything into motion for what we're doing here," Kring, flanked by the new faces of the series, told reporters.
FULL COVERAGE: TCA Summer press tour 2015
The series ended with Hayden Panettiere's character, high school cheerleader Claire Bennett, exposing to the world her powers (rapid cellular regeneration).
"It was almost an obligatory sort of hand-off, you know, baton pass to where we needed to go from there," Kring said. "And because we didn't get to have that fifth season, I did always have that in my mind, that there was an unfinished nature to all of this."
"Reborn" picks up in real time, five years after Claire outed herself. The cast of the 13-episode event series, as previously announced, includes returning stars Jack Coleman (H.R.G.), Masi Oka (Hiro), Sendhil Ramamurthy (Mohinder), Jimmy Jean-Louis (the Haitian) and Christine Rose (Angela Petrelli). New cast members are Ryan Guzman, Robbie Kay, Danika Yarosh, Judith Shekoni, Kiki Sukezane, Henry Zebrowski and Gatlin Green.
According to the series synopsis, a year prior to when the show picks up, a terrorist attack has hit Odessa, Texas, and those with extraordinary powers are in hiding to escape the wrath of those who lost loved ones in the incident. And, according to Kring, Panettiere's Claire Bennett didn't make it.
"In the real world of the story, [Claire] died a year prior to our story starting," Kring said. "That gets into some of the mythology that's attached to the original show."
Kring continued: "This world has become a very different place. There's something really great about this: This is not the fifth season, this is actually the 10th season, as if there were seasons in-between. I had always wanted to tell the story of when the world discovers these people."
When asked why more of the original cast members are not involved in the reboot, Kring said it was party due to scheduling and partly due to where the story picks up.
"Some of the people, some of the actors, did not have the availability because they were involved in other things," Kring said.
"The story was really the thing that dictated who would come back," he added. "The show was always designed to be very elastic in its premise. I always saw it as a show that could repopulate itself. I wanted to make it something that was easy for brand-new viewers to watch. For them, caring about new characters is just as important as having former cast in the show."
Kring also expressed some relief about the show's shorter iteration this time around. The event series will consists of 13 episodes, down from the conventional broadcast run of about 20-plus episodes.
"I think the biggest pitfall for us always was the amount of story that we had to tell in a year," Kring said. "But with 13 episodes it means that we can tell this very aggressive form of storytelling. And by that I mean putting what I say 50 pounds of story into a 10-pound bag. And it's what gives the show and the audience this kind of exhilarating feeling at the end of every episode where they can't believe they've seen that much story happen."
"Heroes Reborn" returns to NBC with a two-hour premiere on Thursday, Sept. 24, at 8 p.m.
I tweet about TV (and other things) here: @villarrealy
MORE ON 'HEROES REBORN':
'Heroes Reborn' to premiere at Toronto as part of festival's new TV program
'Heroes Reborn' Comic-Con trailer shows a world post-Mutant Registration Act
Get our L.A. Goes Out newsletter, with the week's best events, to help you explore and experience our city.
You may occasionally receive promotional content from the Los Angeles Times.