'How to Get Away With Murder' recap: The whole truth, and nothing but the truth, comes out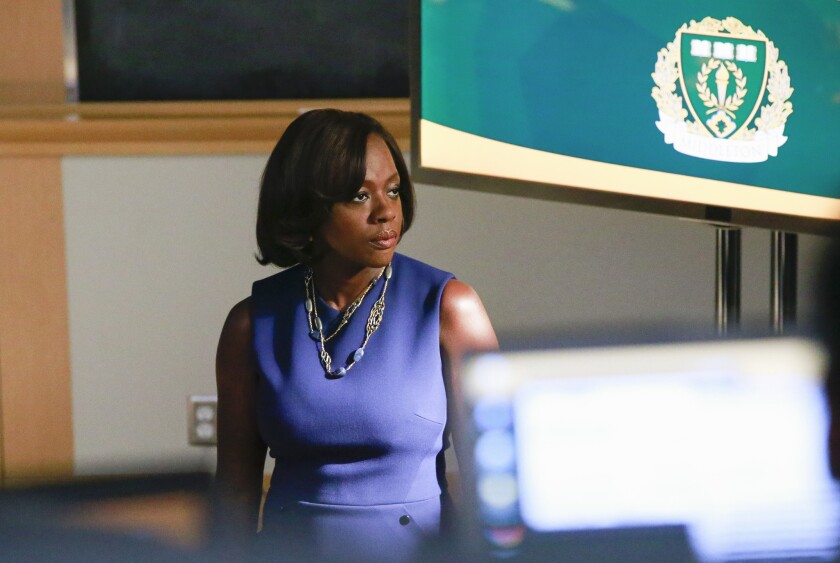 Annalise Keating has really done it now. After nine episodes, each of which either began or ended with her lying on the floor of Catherine and Caleb's mansion with a gaping gunshot wound in her stomach, we now know she has no one to blame but herself.
We always kind of knew that, though, didn't we?
In the midseason finale of "How to Get Away With Murder" (the show is on winter hiatus until Feb. 11), all of the missing story lines and what led to Annalise's being shot were revealed.
Picking up where last week's cliffhanger left off, Caleb (Kendrick Sampson) and Michaela (Aja Naomi King) are trying to convince Connor (Jack Falahee) to help them tamper with the gun they found in Catherine's (Amy Okuda) art studio. Simultaneously, Wes (Alfred Enoch) has run to Annalise (Viola Davis) with knowledge that Phillip (Jefferson White) and Catherine probably are working together after discovering one of her paintings in a surveillance photo of Phillip. Soon the plans meet when Michaela, Connor and Caleb are forced to divulge their knowledge of the situation to Annalise when Catherine runs away after walking in on the group discussing what to do with the gun.
As the Hapstall case continues to wreak havoc on the lives of Keating and her associates, Nate (Billy Brown) is being accused of altering Phillip's records by the world's most loathed A.D.A., Emily Sinclair (Sarah Burns). Although Sinclair has no proof that Nate committed the crime — but we know he totally did it — she uses the opportunity to provoke him in the police station so she can file a harassment claim against him and get him fired. Nate, instead, decides to file a racial discrimination lawsuit of his own against Sinclair.
But the lawsuits will never see the light of day because Sinclair is mowed down by a car driven by Asher (Matt McGorry) in a fit of rage and grief over his father's suicide. Asher believes Sinclair single-handedly provoked his father when she leaked information about his corruption — too bad we all know what Annalise's role in that tragedy was. Asher immediately calls the one person he can think of to help him with Sinclair's body: Bonnie (Liza Weil), who in turn calls Annalise. Annalise, as any good sociopath would do, comes up with the perfect plan on how to get away with all this murder in a matter of minutes.
SIGN UP for the free Essential Arts & Culture newsletter >>
The plan is to pin Sinclair's death on Catherine, who is being hunted and taken care of by Frank (Charlie Weber), by rolling her body off the balcony to look like she was pushed. However, Annalise soon realizes that she is the weak link in the plan as it would look odd for the police to show up at the crime scene with death all around her but not a scratch on herself. This is where the brilliant plan of having one of her students shoot her comes in.
After making the proper phone calls to provide suitable evidence, Annalise calls the cops, acting as if she has been shot so the paramedics can get to her before anything too bad happens. With time running out, she begs her students to shoot her, but they can't go through with. Knowing what buttons to push, Annalise finally gets Wes to crack when she reveals that Rebecca (Katie Findlay) has been dead the whole time and she has been purposefully lying to him. Seriously, I have never seen someone work so hard to get shot before in my life.
Overtaken by grief, anger and confusion, Wes shoots Annalise, but not in the leg like she wanted — in the stomach. Just as he is about to finish her off with a bullet to the head, Annalise whispers "Christophe" to bring him back to reality.
In the final few frames, we see a young Wes, whose real name is Christophe we are led to believe, in an interrogation room with a police officer recounting the events of finding his mother dead at home. Unbeknownst to him, Annalise and Eve (Famke Janssen) are on the other side of the glass watching his every move and asking, "What have we done."
So what did you think of the midseason finale? Is Annalise going to survive her wound? What is her real connection to Wes? What will the second half of the season bring? Sound off in the comments and try to wait patiently for February.
Best quote:
"Now let's get to work." — Annalise Keating (Viola Davis)
Follow me on Twitter @ShannonOConnor0
---
Inside the business of entertainment
The Wide Shot brings you news, analysis and insights on everything from streaming wars to production — and what it all means for the future.
You may occasionally receive promotional content from the Los Angeles Times.