Perspective: Streep's speech at Globes drew backlash, but was it really about politics?
Meryl Streep's impassioned Golden Globes speech Sunday night has become a lightning rod for conservatives who claim it's yet another example of how far Hollywood is out of touch with the average American experience.
"Thank you, Hollywood Foreign Press," Streep said upon accepting the Cecil B. DeMille Award for outstanding contributions to the world of entertainment. "You and all of us in this room really belong to the most vilified segments of American society right now. Think about it: Hollywood, foreigners and the press."
While never mentioning him by name, Streep spoke of her shock when now-President-elect Donald Trump appeared to imitate disabled New York Times reporter Serge Kovaleski on the campaign trail in 2015. Trump vehemently denies that he mocked the man.
"Disrespect invites disrespect. Violence incites violence. When the powerful use their position to bully others, we all lose," Streep said, her voice hoarse from a weekend in which she was overcome with grief. Streep had performed at late friend Carrie Fisher's memorial service on Thursday.
But her message rang out crystal clear, and it was not about politics. It was more a plea to protect both humanity and the humanities, to respect one another's differences regardless of political affiliation.
Streep spoke of Hollywood as a collection of people from other places, their only jobs to "enter the lives of people who are different from us and let you feel what that feels like." She also spoke out in support of the Committee to Protect Journalists because "they'll need us to safeguard the truth."
See the most-read stories in Entertainment this hour »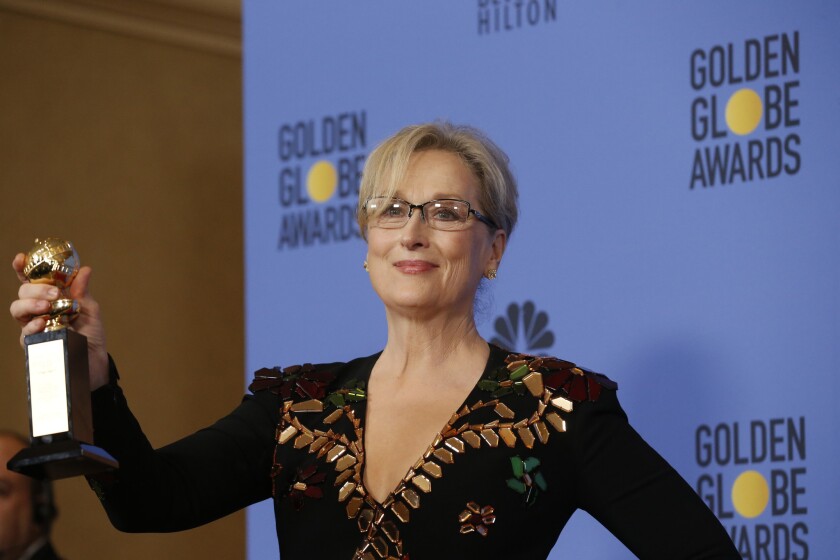 There was an immediate pushback from those who found Streep's speech to be the height of Hollywood elitism.
"This Meryl Streep speech is why Trump won," tweeted Fox News host Meghan McCain. "And if people in Hollywood don't start recognizing why and how — you will help him get re-elected."
The Federalist contributor Bethany S. Mandel echoed a similar sentiment, tweeting, "Trump is a thing. A thing that is happening. Because people talked down to and ignored his supporters instead of listening to them."
"This is exactly why Hwood is DYING," tweeted Fox News host Sean Hannity. "What a bunch of hypocrites. Sex, violence, and drivel rule hwood. Turning the channel."
The president-elect took issue not with Hollywood, but with Streep herself, dismissing her as an upset Clinton supporter.
"Meryl Streep, one of the most over-rated actresses in Hollywood, doesn't know me but attacked last night at the Golden Globes," tweeted Trump early Monday morning. "She is a Hillary flunky who lost big."
Streep has not responded to Trump's comments.
"The election is over. She lost," said Kellyanne Conway, incoming counselor to the president, on "Fox & Friends" on Monday morning. "Everybody in that audience, with very few exceptions, was of a single, myopic mind as to how they wanted the election to go and how they expected the election to go."
Conway's implication that Hollywood liberals are political outliers in this country overlooks the fact that Clinton won the popular vote by more than 2.8 million votes and oversimplifies the issues that now divide the nation.
"This is Hollywood," Conway said. "I think where there is self-pity, a lot more self-awareness would do them some charm. Talking about how vilified poor Hollywood is, in their gazillion-dollar gowns — can I borrow a couple of those for the inaugural, please?"
Conway's dress plea was possibly a reference to her boss' telling the New York Times, "We are going to have an unbelievable, perhaps record-setting turnout for the inauguration, and there will be plenty of movie and entertainment stars."
"All the dress shops are sold out in Washington. It's hard to find a great dress for this inauguration," Trump said.
And here's where the argument against Hollywood elitism really falls apart. Trump asserts that his inauguration will have plenty of star power, even as his counselor speaks of how out of touch those same stars are.
"Also," faith-based author and blogger Rachel Held Evans tweeted Sunday night, "the people complaining about a Hollywood star 'lecturing them' on politics elected a reality TV star as president."
The framing of Hollywood as "other" fails because Streep wasn't delivering a political call-to-arms. She was making an entreaty to move forward with something akin to hope.
"We have to remind each other of the privilege and the responsibility of the act of empathy," Streep said.
That's not politics. That's humanity.
ALSO
Has Hollywood lost touch with American values?
Watch (and read) all of Meryl Streep's provocative Golden Globes acceptance speech
Donald Trump couldn't let Meryl Streep's Golden Globes speech go unanswered
---
The complete guide to home viewing
Get Screen Gab for everything about the TV shows and streaming movies everyone's talking about.
You may occasionally receive promotional content from the Los Angeles Times.