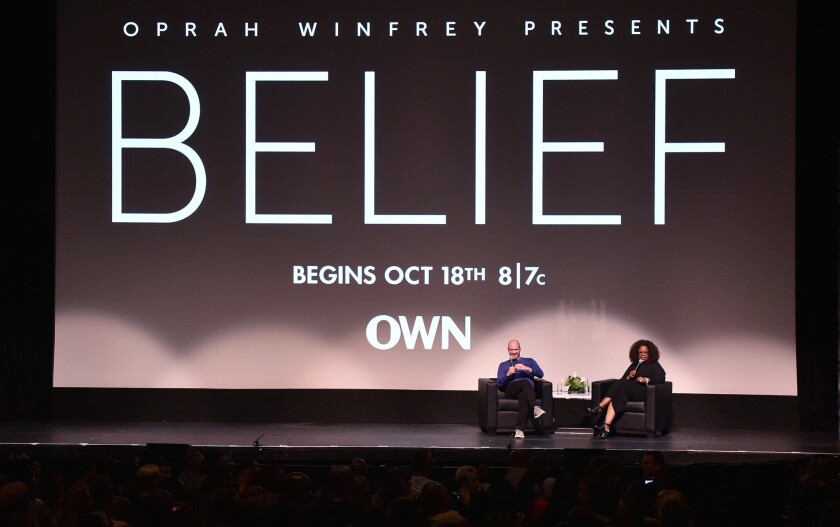 Reporting from New York —
Oprah Winfrey has faced her share of challenges since launching the OWN Network in 2011. Broad audiences and rich profits (not to mention favorable coverage) have been hard to come by.
Those challenges, she said, prompted her to examine what shows people want to see. And they led her to create a miniseries that she says has not been previously attempted on such a scale: a sprawling look at many of the world's religions (or, at least, select individuals who practice them).
"When we were going through our tough times, when everything in the press was 'the struggling OWN Network,' when we were trying to figure out what our audience wants to see," Winfrey said, "I turned inward." The answer, she said, lay in a large-scale project about faith.
SIGN UP for the free Indie Focus movies newsletter >>
Winfrey was unveiling the fruits of that contemplative moment, titled "Belief," at a screening room in New York. She introduced the first of its seven episodes, and shortly after, took a familiar spot on a couch interviewing her team of collaborators at a post-screening talk.
"Belief," a new episode of which will air on OWN every night next week starting Sunday, spans a number of continents to tell its stories of people turning to faith, often in times of trouble; each episode features four or five segments.
The stories are varied. A young rape victim attends an evangelical camp in the United States to reclaim her faith. A young Jewish boy in Budapest, Hungary, celebrates an unlikely bar mitzvah. A dying Aboriginal man in Australia takes his grandson into the wilderness to pass on his heritage and a mantle before it's too late.
The miniseries, which Winfrey executive produced with five collaborators, is slickly produced with an undercurrent of self-empowerment. Though there are snapshots of many religions, this is faith of the universal humanist sort. As she does for other pieces of OWN nonfiction programming, Winfrey narrates the story in voice-over.
Winfrey and producers devised "Belief" as a sprawling spiritual globetrot that in a sense looks to do for religious feeling what "Cosmos" did for rationalist thinking.
"It almost was unthinkable that one of the most universal subjects hadn't been looked at in its totality," said David Shadrack Smith, an executive producer and creative director of "Belief," describing a question team members asked themselves when they first came up with the idea. "And the second question was: 'Maybe there's a reason it had not been done before?'" he laughed. "It's not easy."
Part of the challenge is logistical, the simple matter of tracking down the right people to represent a given religion. And part of it was to find common threads among all of those people. Winfrey, after all, said she wanted the miniseries to have a kind of bridge-building effect.
"We are more alike than we are different," she said, citing a line told to her by Maya Angelou. "It sounds like 'Oh, that's a nice phrase,' but when you see and experience the series this way, you can see that," she said.
In its look at religious experiences that will seem foreign to some viewers, "Belief" walks a fine line between making its subjects exotic and identifiable. Watching it, one has a sense of how alien religious practices can be, even as some of the underlying impulses are reassuringly familiar. "At the heart of the human experience is seeking purpose, seeking meaning. 'Where do I fit in in that story of humankind?'" said Shadrack Smith.
Eric Strauss, one of the series' directors, said that among the goals was to present religion as something "not divisive but connective" -- a corrective to a pop culture in which he says the subject has been given a bad rap.
"So much of what we hear about faith and religion is negative," he said. "The aim was to swing that pendulum back."
In making the series, many of the creators reconnected with their own faiths, they say, at least when they weren't too busy stressing about capturing the right story across the globe. As for Winfrey, she said "Belief" has been part of a larger goal of mapping out a post-daily existence for herself, a process that she says has not been simple.
"The whole idea of doing the show all those years was like breathing to me," she said. "But finding all those diverse lanes that audiences would respond to? That would take some time."
Twitter: @ZeitchikLAT
ALSO:
Lamar Odom: A Shakespearean tale for a TMZ era
Will Don Cheadle shake the establishment with 'Miles Ahead'?
---