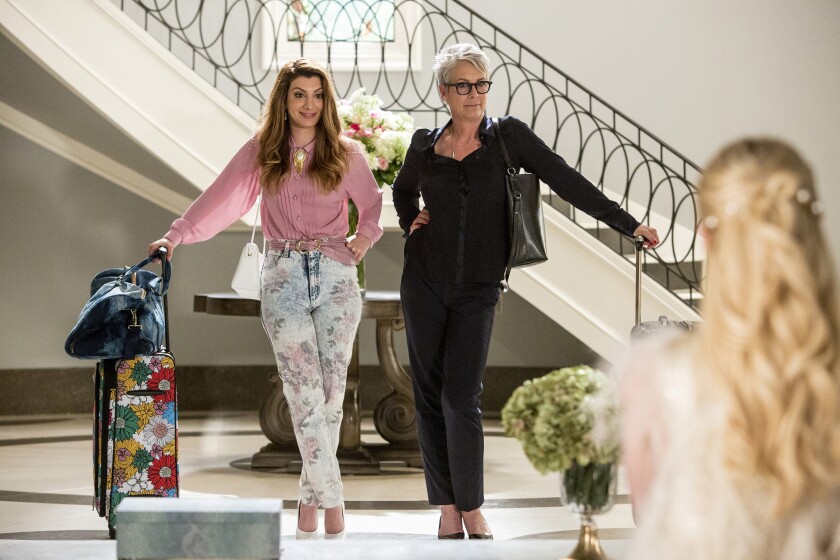 The Red Devil ditches the butcher's knife (for good? Probably not) for a new weapon of choice in the aptly titled new "Scream Queens" episode, "Chainsaw."
Before things take a turn for the bloody, the students at Wallace University hold a nighttime vigil for their fallen classmates Boone (Nick Jonas), who we all know is alive and possibly the killer, and Tiffany (Whitney Meyer). It is here that Dean Munsch (Jamie Lee Curtis) reveals that the university's mascot will no longer be the red devil (for obvious reasons) but instead Coney, because nothing says this is a college without a serial killer like a sweet, if slightly creepy-looking ice cream cone.
SIGN UP for the free Classic Hollywood newsletter >>
While the university is making progress in the case with mascot changes, the Kappa Kappa Tau sleuths Grace (Skyler Samuels) and Zayday (Keke Palmer) are determined to find out what happen to Chanel #2 (Ariana Grande). Despite reading her death tweet (so relieved that did not go unseen) and finding a blood stain on the carpet of her room, the girls (except Denise (Niecy Nash)) still believe she is alive. She is, after all, still posting to Instagram. Honestly if anyone could, the Chanels would haunt Instagram from the grave — just call it a hunch. The three girls take a trip to #2's lavish Bel-Air home where they meet her parents (wonderfully played by Charisma Carpenter and Roger Bart) and find out about her scandalous past of rehab and dating uber-jerk Chad Radwell (Glen Powell).
Back at campus Grace attends her first class, "Intro to Film Analysis," only to storm out minutes later when she finds out the class is taught by her overprotective father Wes (Oliver Hudson). Wes, who is becoming all of his students' crush, screens the 1974 classic "The Texas Chain Saw Massacre" (a coincidence? I think not).
Meanwhile, campus mascot Coney basks in his newfound popularity until it is — quite literally — cut short when the Red Devil slices him up with a chainsaw. Ladies and gentlemen, we have our first death of the episode.
Back at the Kappa Kappa Tau house, Chanel (Emma Roberts) agrees to give Hester (Lea Michele) a makeover, in order to increase her popularity and make her dateable again in Chad's eyes. Meanwhile, Chanel #3 (Billie Lourd) is revealing to Sam (Jeanna Han) that she is the biological daughter of Charles Manson. Worried that if anyone finds out she will be immediately suspected of being the killer, #3 forges an alibi bond with Sam.
After presenting the newly made-over Hester — Michele looks fabulous, but I kind of miss the brace already — and officially making her Chanel #6 (much to Chanel #5's (Abigail Breslin) chagrin), Chanel prepares to continue the Hell Week festivities only to find out that Dean Munsch and Gigi Caldwell (the continually delightful Nasim Pedrad) are moving into the house for a week to keep an eye on the girls. Now, this is a plot point I can get behind.
SIGN UP for the free Indie Focus movies newsletter >>
While the Kappas are living in their own personal hell, the Dickie Dollar Scholars head out into the night — in a scene that manages to utilize the Backstreet Boys music and style in the best way possible — to fight the Red Devil and avenge Boone. However, the boys' bats are no match for the Red Devils' (yes, there are two!) chainsaws as one of the scholars meets his end.
Elsewhere, Grace and Pete (Diego Boneta) are back to working together — do we fully trust him yet? — and are off to find an old member of Kappa who may have witnessed the fateful birth in 1995.
Back at Kappa, terror strikes as the Red Devil attacks Gigi with the chainsaw, only to be successfully beaten away by her with not a lot of help from Wes. When Dean Munsch emerges after the ordeal, claiming not to have heard the screams, Wes accuses her of being the killer.
So what did you think of the follow-up episode? Are you sad about Coney too? Do you think Abigail Breslin is being grossly underused as well? Sound off in the comments and check back for what fresh hell next week's episode brings.
Scream count: 3
Red Devil sightings: 6
Best quote: "You're telling me you don't carry a gun, but you carry around a bottle of that stuff (luminol)?" - Zayday Williams (Keke Palmer)
Follow @ShannonOConnor0 on Twitter.
---