The Derek Shepherd effect that'll get you back into 'Grey's Anatomy'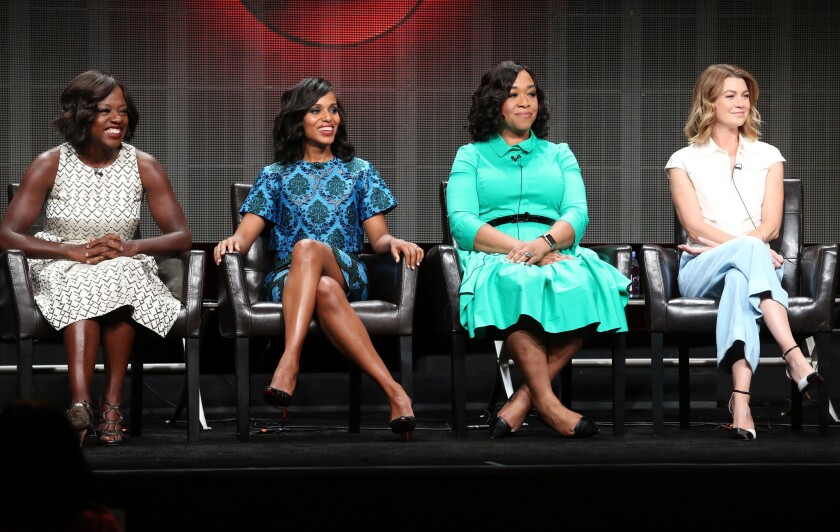 Thank God it's Shonda Rhimes.
ABC is banking on the mega-producer and Shondaland's twisty female-led dramas — "Grey's Anatomy," "Scandal" and "How to Get Away With Murder" — to carry Thursday's prime-time block of programming.
Joined by the leading ladies of her "TGIT" lineup, Viola Davis, Kerry Washington and Ellen Pompeo, executive producer Betsy Beers and "HTGAWM" creator Pete Nowalk during the Television Critics Assn. panel in Beverly Hills, Rhimes on Tuesday remained tight-lipped about the shows' upcoming story lines but did tease to Meredith's rebirth on the next season of "Grey's Anatomy" after the death of her husband (Patrick Dempsey) and noted that "Scandal" and its Season 4 cliffhangers would pick up right where they left off.
The shows return and air back to back on Sept. 24.
Rhimes' long-running medical soap "Grey's Anatomy" is going into its 12th season, despite its exodus of numerous original lead characters. Season 11 saw the departure of Dempsey, whose Dr. McDreamy met his end in a car crash. Rhimes said that move was the only way they could preserve Meredith and Derek's love story and she is excited about the show's "lighter tone" moving forward.
"We ended last season in which we said the sun is going to rise again," Rhimes said. "We do have this world in which Meredith is single and she is living this life that she hadn't thought she was going to be living again. She's living in a house with her sisters, and she's surrounded by women who are dating and having a whole life, and she's not into any of that and starting to wonder if there's a there a second life here or are the best years of your life behind you."
The writer and producer said she's excited about the medical growth of the character as a leader and the evolution of that woman.
Pompeo said that it's an important human story to tell.
"So many people lose their spouses in a myriad of different ways and a lot people feel like they can't get up again," the actress said. "To tell that story about how life does go on after what you think is impossible is something that so many people can relate to."
The "Grey's Anatomy" star said that it's a story worth telling if it can provide even one person comfort.
Washington political drama "Scandal" enters its fifth season by hitting the ground running. "Gladiators" will have to stock up on their wine and popcorn and settle in to see what becomes of several of the Season 4 finale's cliffhangers.
With the successful arrest of Papa Pope in the finale, Olivia (Washington) finally — and passionately — reunites with Fitz (Tony Goldwyn), the president of the United States, on the White House terrace after he gives the first lady the boot.
"We are picking up almost pretty much where we left off, which is a pretty harrowing place, where the world had been fairly blown apart for everybody," Rhimes said.
Cyrus (Jeff Perry) is fired as the president's chief of staff, the president's wife, Mellie (Bellamy Young), loses Fitz's support after getting a grand jury massacred, Jake (Scott Foley) walks away from Olivia and Quinn (Katie Lowes) is considering killing Huck (Guillermo Diaz) after he's revealed as the grand jury murderer.
"How To," a law school-set murder series, is the newest of the trio and is going into its second season. The whodunnit sophomore drama already clinched a lead actress Emmy Award nomination for Davis' role as complex, no-nonsense criminal defense attorney Annalise Keating, a law professor who finds herself and her students at the center of a campus murder. Guest actress Cicely Tyson, who plays Annalise's estranged, house-burning mother, also received a nod.
The series picks up about a week after Rebecca's surprising murder.
"The big question for Annalise is what has she wrought and the consequences of the first season," said its show runer, Nowalk.
They would delve into several characters' back stories, including how they met each other and "what dark and twisted things that happened to them in the past," he said.
"There's these fresh new strorylines for these people you think you know at this point in the show but don't really know anything at all."
Ahead of the panel, ABC President Paul Lee said that he is "obviously very pleased" with the year ABC had and boasted about Rhimes' shows giving the network a ratings boost that helped define ABC as a premier brand.
At the network's upfronts presentation in May, ABC announced a midseason order for yet another Shondaland drama: a fraud investigation thriller called "The Catch," spotlighting Mireille Enos of "The Killing" as the female lead.
None of the Shondaland's dramas are without sex, murder, twists and strong female leads, but the producer said that she is just drawn to projects she thinks are good rather than female-led procedurals.
"Scandal's" success is belived to have given rise to more empowered African American characters on television (see: "Empire"), but Rhimes declined to comment on that being her legacy.
"I don't think we spend our time focusing on awards or accolades," she said. "I'm focusing on work that I do as a writer. I certainly don't spend any time thinking about legacy because we're still doing this ... staying in the present is way more useful to me."
Despite her Emmy nomination, Davis chimed in, saying: "If you're in this business for awards, you're in the wrong business."
Follow me on Twitter @NardineSaad.
---
Inside the business of entertainment
The Wide Shot brings you news, analysis and insights on everything from streaming wars to production — and what it all means for the future.
You may occasionally receive promotional content from the Los Angeles Times.