Sid Caesar: Five TV clips that demonstrate his comic genius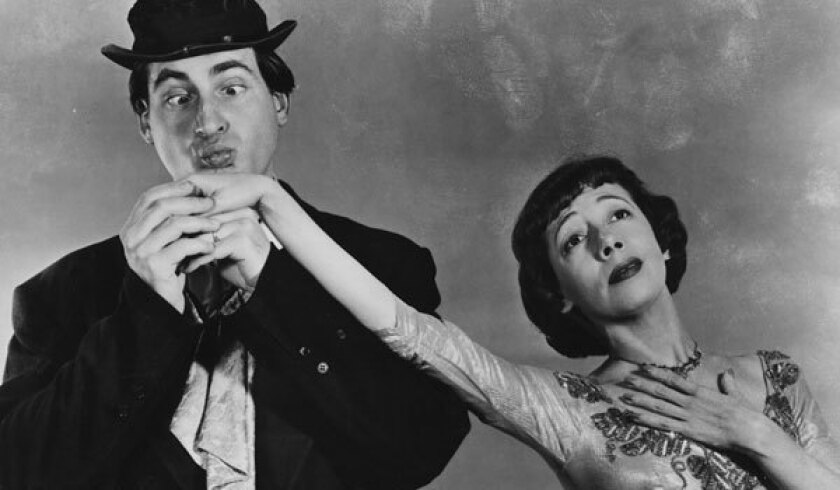 Sid Caesar, who died Wednesday at the age of 91, had a career that spanned stage and screen, but it was on TV that he was best known.
His first TV appearance was on Milton Berle's "Texaco Star Theater," but it was on the variety show program "Your Show of Shows" that he became famous.
The show, which aired on NBC beginning in 1950, showcased Caesar's talents alongside other future comedy legends, including Carl Reiner, Imogene Coca and Howie Morris.
Mel Brooks and Neil Simon were writers for the show, which grew from the vaudeville tradition.
PHOTOS: Sid Caesar | 1922 - 2014
Caesar and Coca were paired in this fan favorite sketch about a man in a lenghty argument with his wife over the status of their marriage. Caesar's ability to mix a buttoned-down "normal" character with outrageous physical comedy was on full display.
One of Caesar's many recurring characters was "The Professor," who could be an expert in any subject and was interviewed by a reporter, played by Carl Reiner. The format of the sketch, an expert being interviewed by the straight-man reporter, served as the inspiration for Mel Brooks and Carl Reiner's classic "Two Thousand Year Old Man" routine.
PHOTOS: Celebrities react to Sid Caesar's death
After "Your Show of Shows" ended in 1954, Caesar returned to NBC with "Caesar's Hour," his own sketch comedy show, which ran until 1957. Many members of the "Your Show of Shows" team returned for this show. In this sketch, Caesar demonstrates his talent with comedic "double talk," which allowed him to appear to speak in a foreign language, when in fact, he was speaking gibberish.
In this sketch, he plays a World War II-era German general talking to his valet, played by Howie Morris.
PHOTOS: Sid Caesar | 1922 - 2014 | Celebrities react to Sid Caesar's death
After the height of his TV sketch comedy career through the 1950s, Caesar wisely found ways to introduce his comedy to new generations through guest spots, such as this appearance on "Sesame Street" in which he reprised his classic "Professor" character for kids who weren't alive when "Your Show of Shows" was on the air.
Some of Caesar's last TV acting appearances were on sitcoms including "Mad About You" and "Life With Louie." This clip from the 1995 episode of the short-lived Jay Thomas sitcom "Love & War," demonstrates Caesar's ability to adapt to the times. Following a topical discussion of the ongoing Palestinian-Israeli dispute, Caesar segues easily into a classic bit involving an annoying theater patron that would have been perfectly at home on "Your Show of Shows."
PHOTOS: Sid Caesar | 1922 - 2014 | Celebrities react to Sid Caesar's death
ALSO:
Shirley Temple Black dies: Growing up with Shirley
Sid Caesar, pioneer of live television comedy, dies at 91
Pete Seeger: Musicians, activists and Obama remember an icon
---
Inside the business of entertainment
The Wide Shot brings you news, analysis and insights on everything from streaming wars to production — and what it all means for the future.
You may occasionally receive promotional content from the Los Angeles Times.