Sochi Olympics TV moment: Slopestyle sweep, skating slip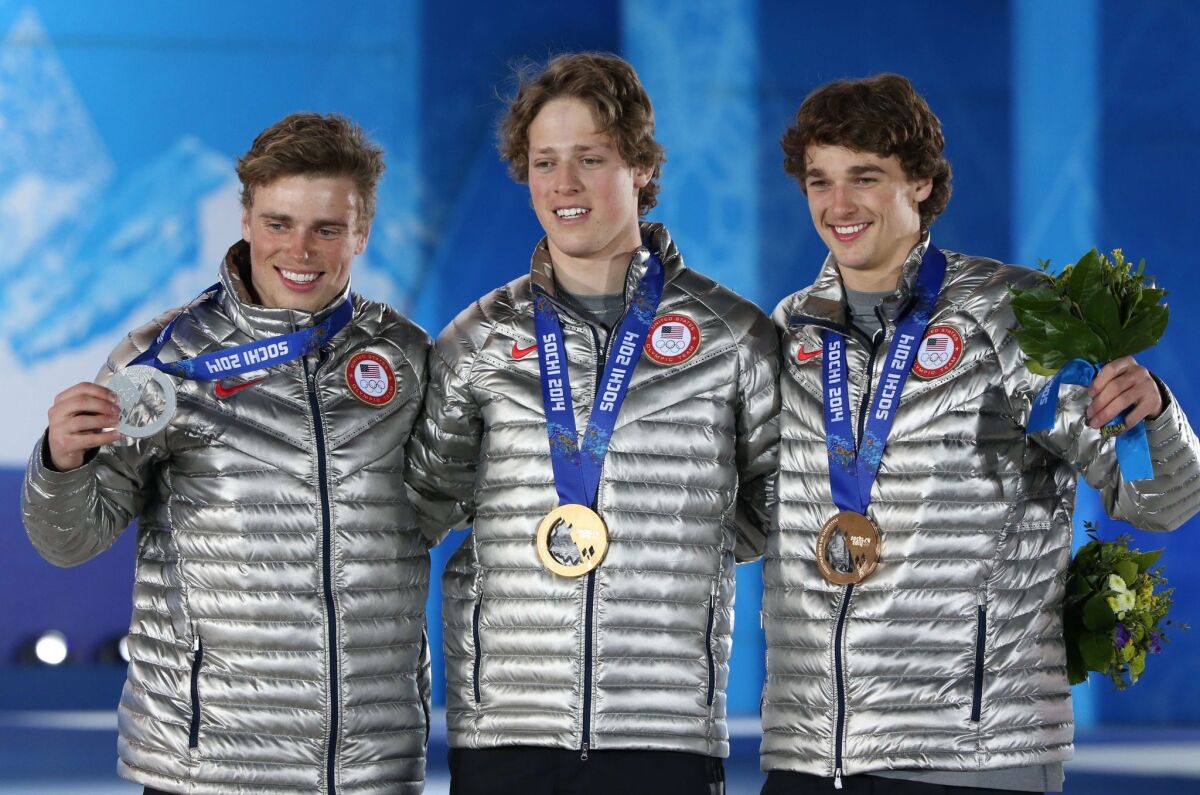 With slopestyle, figure skating and skeleton all in action Thursday, it was a day without one big narrative but plenty of juicy smaller ones.
Russian figure-skating superstar Evgeni Plushenko practically set off a local media riot when he had an 11th-hour opt-out of the men's singles competition due to a back injury; the skeletal American Noelle Pikus-Pace looked for a comeback story to make TV Olympics producers giddy; and U.S. slopestyler Joss Christensen became, well, the polite Shaun White. Five streams in NBC's Olympics telecast Thursday.
--U.S. audiences could be delighted by the Olympic plaza sight of three American flags waving overhead after U.S. men took gold, silver and bronze in the newly christened event of ski slopestyle (Gus Kenworthy and Nick Goepper came in second and third, respectively, to Christensen's first-place finish). It was only the third-ever Yankee sweep in the Winter Games, and the first since 2002. "It's unbelievable that the United States has swept the podium with such a strong international field," said one NBC commentator. Indeed, ski slopestyle has plenty of foreign competitors, though it wouldn't exactly be clear from NBC's prime-time telecast, in which the race was edited to feel as if about 90% of the sport's Olympians come from the U.S. The only foreign national we saw with any regularity was Swede Henrik Harlaut, and that may only be because the director found it too hard to resist his skivvy exposure.
PHOTOS: Winter Olympics in film
--Speaking of the stars and stripes, has there been an announcer as boomingly patriotic--and frustratingly un-insightful--as luge and skeleton play-by-play man Leigh Diffey? Favoring bombast over analysis, as he has so far these Games, Diffey did little to shed light on the tactics or nuanced history of Pikus-Pace, the 31-year-old out-of-retirement American skeleton challenger trying to win the first medal for a U.S. woman in the sport since 2002. Diffey actually has little experience calling snow sports and is mainly an auto-racing analyst. (Don't worry, sliding enthusiasts, it's not just you. The first Google autocomplete for Diffey is "Leigh Diffey annoying" and leads to auto-racing posts with lines like "Is it just me or is Leigh Diffey the most annoying race commentator on the air? and "He's annoying, and 'he isn't overly knowledgeable of F1.")
Fortunately we were treated to the first-person post-race breakdown, an endearing luge and skeleton tradition. (Can you imagine NFL players doing anything like that?) Also fortunately, Pikus-Pace told trackside reporter Lewis Johnson that she's "just trying to take it one curve at a time," the best twist on a sports cliche we've heard in a long time.
--It was a night of pain in the figure-skating realm. Plushenko had his back tweak that caused him to opt out of the men's competition when he couldn't compete in the short program. NBC's team of Tom Hammond, Scott Hamilton and Sandra Bezic had the expected schmaltz about "a sad goodbye for a great champion" and "he gave his body for his country." The Russian sports commentariat was less kind, questioning why the 31-year-old hadn't made way for a younger competitor before the Games started. "It's on the conscience of Zhenya, the team and the federation," 1994 gold medalist Alexei Urmanov told R-sport, using Plushenko's nickname. "Perform through the pain for the honor of the country," Igor Lebedev, a member of parliament, scolded on Twitter. Talk about adding insult to injury.
PHOTOS: Sochi Olympics Opening Ceremony
--Also at the Iceberg Skating Palace on Thursday, Illinois teenager Jason Brown had the skate of all skates, but it was another injury that became a broadcast fixture as Jeremy Abbot landed on the front of his skates and pitched forward, smacking his hip and running up on the wall, looking more like a competitor from the venue's short-track events. Things looked bleak but Abbott got up, to no shortage of giddy exclamation from Hamilton that almost made you enjoy the gritty move a little less. Abbott was winning in a post-skate interview with Andrea Joyce, though, when he said that "My personal story has always been about perseverance and getting up when you fall. Maybe I'm not an Olympic champion but if nothing else I can teach the world that."
--Finally, just because. U.S. men's curling escaped with a win over Germany after a near-disastrous 10th end. Even with the victory Shus & Co. were still near the bottom of the standings (and, as it turned out, would lose not long after to lowly Russia). But in that moment there was some vindication for the embattled skip and U.S. curling as a whole. After watching the team escape cataclysm in the final end at 2 a.m., America could turn off the TV, dreaming of stones and sweepers and hammers all the night long.
[For the record, 1:48 p.m. PST, Feb. 14: An earlier version of this article referred to Jason Brown as Jason Aaron.]
[Note: This is part of an ongoing series documenting the Sochi Olympics from a TV perspective. Every morning of the Games, we'll look at a key moment from the previous day that NBC captured, elevated, honored, bungled or otherwise reported in a notable way, as only the most-televised event on the planet can be covered.]
ALSO:
Sochi Olympics: If it's speed skating, it must be wackiness
Sochi Olympics TV moment: Shaun White's loss is NBC's gain
Sochi Olympics: Figure skating and that pregnant pre-score moment
Follow me on Twitter at @ZeitchikLAT
---
The complete guide to home viewing
Get Screen Gab for everything about the TV shows and streaming movies everyone's talking about.
You may occasionally receive promotional content from the Los Angeles Times.