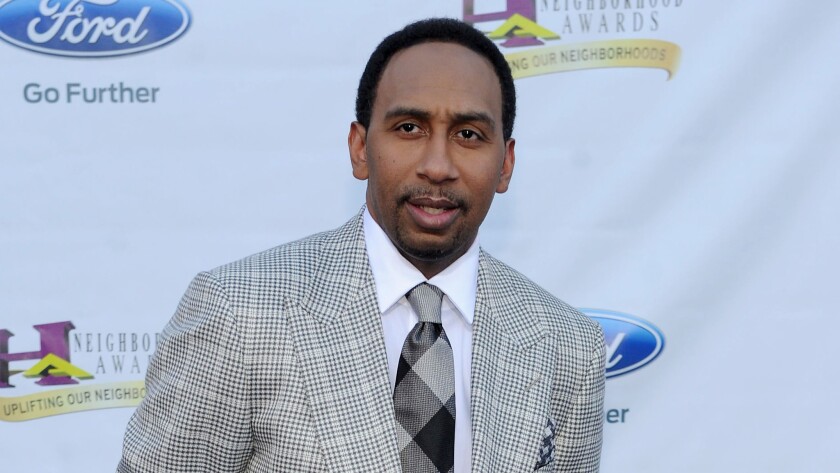 Stephen A. Smith will be suspended from ESPN for about a week effective immediately, the cable sports giant announced Tuesday.
In a statement released to the media, ESPN said, "Smith will not appear on 'First Take' or ESPN Radio for the next week. He will return to ESPN next Wed."
The suspension comes just days after Smith made controversial on-air comments about domestic violence that led to an outcry from many quarters, including Smith's ESPN colleague Michelle Beadle, who spoke out about the comments on Twitter.
During a discussion about the two-game suspension of Baltimore Ravens running back Ray Rice for beating his then-fiancee (now wife) unconcious in an elevator in February, Smith launched into a rambling speech about domestic violence that seemed to imply that women share some of the blame for violent incidents.
While the sports anchor did say, "We know you have no business putting your hands on a woman," he also cautioned women, saying, "Let's make sure we don't do anything to provoke wrong actions."
Beadle wrote, "Violence isn't the victim's issue. It's the abuser's. To insinuate otherwise is irresponsible and disgusting. Walk. Away."
Smith issued two apologies on Twitter and a taped apology that aired Monday on "First Take."
In the apology, Smith said, "My words came across that it is somehow a woman's fault. This was not my intent. It is not what I was trying to say. Yet the failure to clearly articulate something different lies squarely on my shoulders."
Follow me on Twitter: @patrickkevinday
---