'Last Kingdom' mashes up action of 'Game of Thrones' with lesser-known English history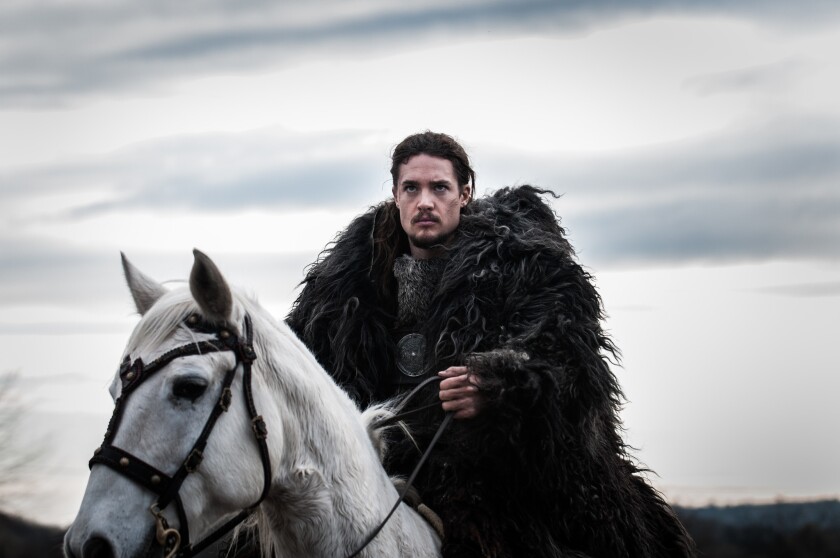 BBC America's "The Last Kingdom" has quickly drawn comparisons to several well-known series: Imagine a mash-up of the action of "Game of Thrones," the historical particulars of "Downton Abbey," drama of "The Tudors" and the grittiness of "Vikings" all set against the backdrop of the nascent England's lesser-documented origins.
The eight-part drama comes from the minds of Emmy Award-winning "Downton Abbey" producers Gareth Neame ("Dracula," "Hotel Babylon") and Nigel Marchant, and promises themes of redemption, vengeance and self-discovery while combining historical figures and events with fiction.
The show, which premieres Oct. 10, is an adaptation of Bernard Cornwell's bestselling and ongoing book series, "The Saxon Stories," and focuses on the young warrior Uhtred (Alexander Dreymon, "American Horror Story"), a son of a Saxon king who is kidnapped by Danes and is fighting to claim his birthright during England's nascent in the 9th and 10th centuries.
FULL COVERAGE: Television Crtitics Assn. press tour 2015
"At the heart of it, it is a story of a man and his destiny," Neame said at the Television Critics Assn. press tour in Beverly Hills on Friday. "It's about Uhtred and this amazing journey that he has to go on and his relationship with King Alfred."
The producers and the series itself have been inspired by History's "Vikings" and Showtime's "The Tudors" and appears to be similar in scope to HBO's "Game of Thrones" down to the "every man must be prepared to die" tagline. But Neame insisted that while there may be some similarities to its predecessors, "Last Kingdom" is a very different drama.
"I'm a huge admirer of 'Game of Thrones,' but it's really a different genre, that is fantasy genre, this is isn't fantasy at all. There's no dragons in this show and many of these characters really existed.... What it has in common maybe is the action, the battles and the look of the show."
PHOTOS: The scene at Summer TCA 2015
The first season was shot primarily with hand-held cameras using natural light in locales including Budapest, Wales and Denmark. The cast and crew touted its documentary-style feel, contemporary music and "grubby rawness and realism."
"The Last Kingdom" historically hinges on the story of King Alfred the Great (David Dawson) and his aspirations to form England by uniting its disparate kingdoms. Neame described Alfred as the English version of America's George Washington because "he's a name all English people have heard but know nothing about." Unlike "Downton," he said there's no living memory of the etiquette, behavior or photographs of the era.
"I think for audiences in the United States, England is thought of that place that's just always been there, so much has come from there," Neame said. "But the idea that there was a time before it even existed was interesting to me ... it's that idea that stories from the past can be great fun, can be exciting. It doesn't have to be good for you, you don't have to learn anything if you don't want to. It's just a great way of storytelling and entertainment coming from these great stories of the past."
Dawson ("Secret Diary of a Call Girl," "Ripper Street") explained that he was attracted to Alfred as soon as he realized his preconceived notion of the king as a burly warrior was nothing like the frail and intellectual character who came alive in the script.
"Historically, when you look back, he never expected to have the crown," Dawson said. "He is very much a cultured man and a well-read man. He wanted to educate his kingdom ... he's complex, quite frail, ruthless, a bit of a shagger, self-loathing manipulator. But he cares so much about his vision for people and incredibly loves his family."
Though Cornwell's expertise and eight books provided much source material for the drama, Neame employed academic experts, which he also did on "Downton," to tell the story.
The showrunner said that the show has been mapped for four seasons, roughly assuming two books per season and yet again drawing another comparison to "Game of Thrones."
"Bernard has been a massive ally and great supporter, but he's relatively hands off in the making of the show," Neame said. "I'm hoping we'll get into a 'Game of Thrones' scenario that we sort of overtake the books and he'll have to write us some more."
Follow me on Twitter @NardineSaad.
---
Inside the business of entertainment
The Wide Shot brings you news, analysis and insights on everything from streaming wars to production — and what it all means for the future.
You may occasionally receive promotional content from the Los Angeles Times.