Review: 'The Passion': Fox presents the Jesus of New Orleans
For its musical Palm Sunday TV spectacular take on a Christian passion play – the theatrical retracing of the last days and hours in the life of Jesus – Fox, Dick Clark Productions' and "Glee" music producer Adam Anders, enlisted the city of New Orleans, Tyler Perry and a passel of pop songs and singers. It was based on a Dutch model that, like this American version, also features a large illuminated cross carried by a crowd through the streets.
The main activity was split between filmed segments, live performance – with those elements at times superimposed -- and a procession, covered as a news event, in which the cross made its way from the Super Dome to Woldenberg Park on the Mississippi River. It was there, on a multi-level stage – its towers suggesting those of a city and also echoing the lines of a riverboat parked nearby – that Perry provided narration and Trisha Yearwood, representing the person of the Virgin Mary, sang love songs to her son.
Host and narrator Tyler Perry appears in "The Passion," a musical event airing live from New Orleans on Fox from Woldenberg Park.
(Kevin Winter / Getty Images for dcp)
The show begins with the crowd watching live from New Orleans at Woldenberg Park.
(Kevin Winter / Getty Images for dcp)
Singer Yolanda Adams
(Kevin Winter / Getty Images for dcp)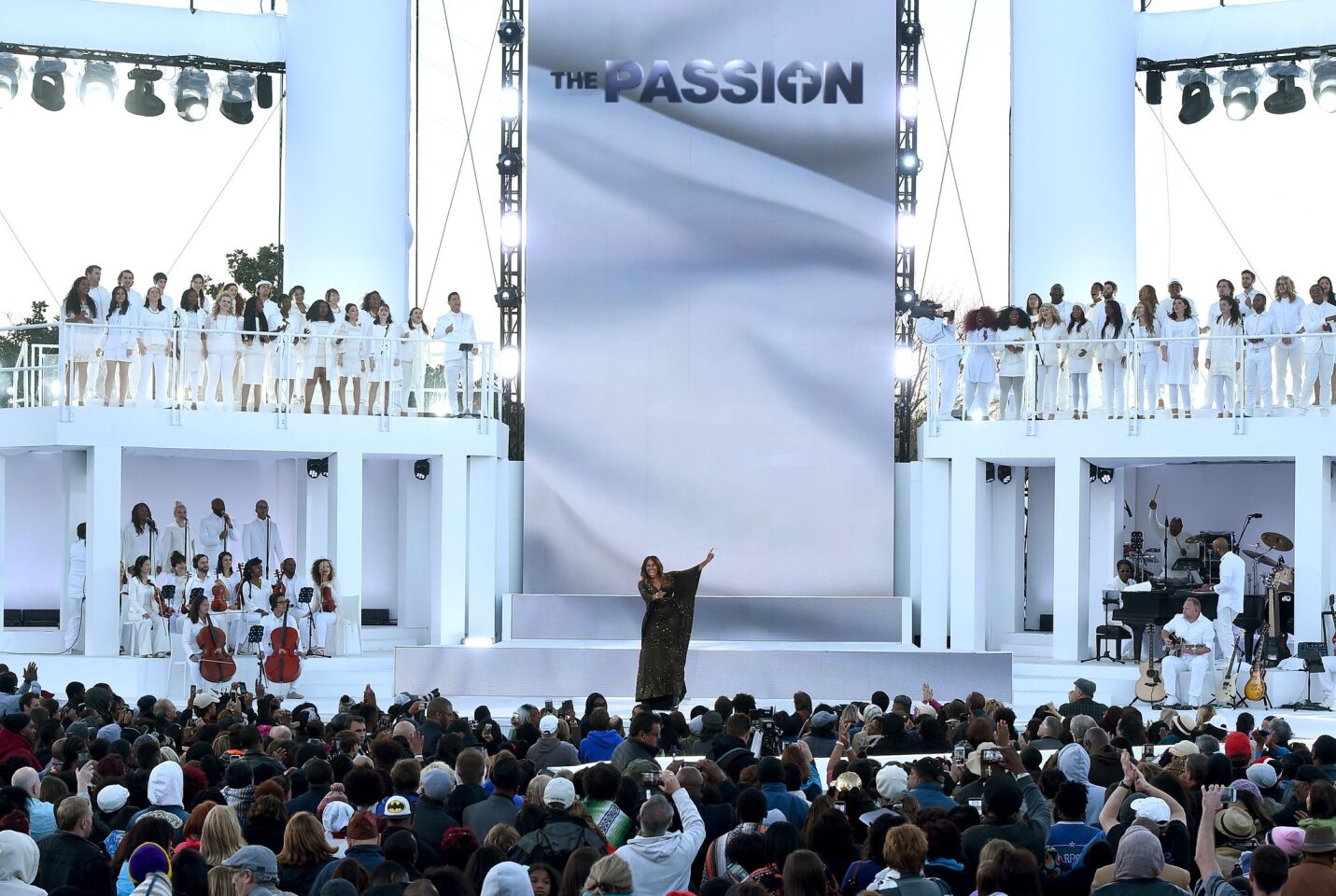 A look at the entire stage as singer Yolanda Adams appears with a choir and musicians.
(Kevin Winter / Getty Images for dcp)
Singer Trisha Yearwood
(Kevin Winter / Getty Images for dcp)
Trisha Yearwood
(Kevin Winter / Getty Images for dcp)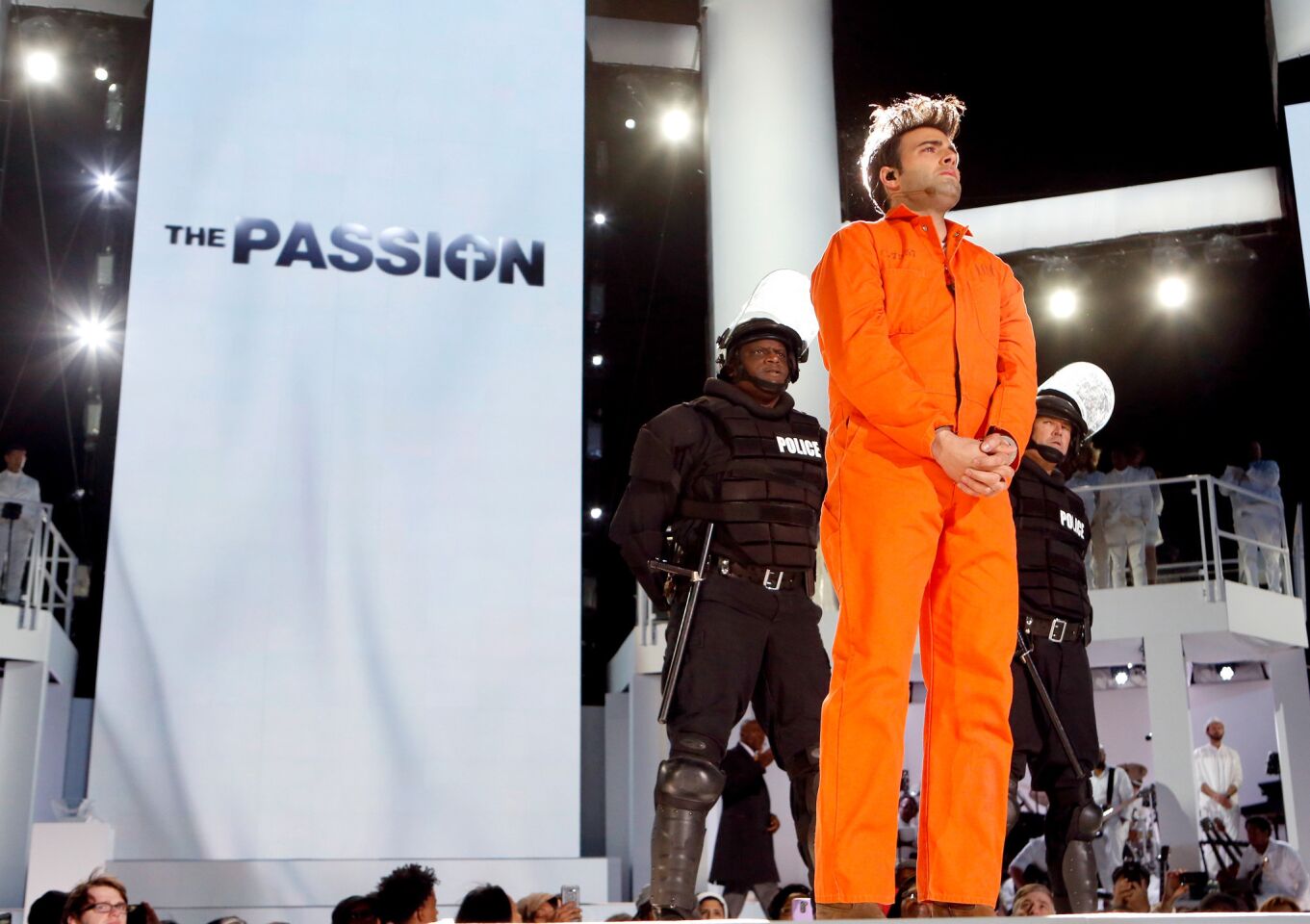 Singer Jencarlos Canela, who portrayed Jesus.
(Skip Bolen / Getty Images for dcp)
Host Tyler Perry
(Kevin Winter / Getty Images for dcp)
The cross that's been transported through New Orleans arrives at the stage.
(Kevin Winter / Getty Images for dcp)
Singer Trisha Yearwood sings next to the transported cross in "The Passion."
(Skip Bolen / Getty Images for dcp)
The cast appears on stage in "The Passion."
(Kevin Winter / Getty Images)
Songs by a selection of late-20th and early 21st-century hitmakers, including Whitney Houston, Train, Hoobastank, Evanescence and Creed, were performed by a multi-ethnic, multi-genre cast that included, along with pillar of country Yearwood, telenovela (and "Telenovela") star Jencarlos Canela as Jesus; hard-rock "American Idol" runner-up Chris Daughtry as Judas; tropical singer Prince Royce as Peter; and high-fashion international soul man Seal as a slick Pontius Pilate; and gospel music star Yolanda Adams. One would say that on balance they were chosen for their singing, which was faultless, rather than their acting, which in some cases felt stiff even as it was obviously impassioned; on the other hand, the acting didn't take up much screen time.
Traditionally, religious stories have been remodeled to reflect the times in which the're told; there is nothing conceptually amiss with the re-setting, though the connections the script tried to draw between the Christ story and the post-Katrina "resurrection" of New Orleans, represented visually by the riverfront redevelopment that ringed the stage, felt convenient at best.
The filmed segments, which followed Jesus and his disciples from their entry into the city, by streetcar, through to Judas' betrayal and Jesus' arrest – cop cars pulling into the homeless encampment (not a real homeless encampment) that stood for the garden of Gethsemane -- were cleverly handled in some cases; Peter's guilty flight from the garden through an ordinary New Orleans neighborhood was perhaps the most felicitous use of the host city. Jesus' trial, with the crowd enlisted to chant "Crucify him!," took place not on film but onstage.
With their lyrical vagueness and insistence on big feelings super-powerfully communicated, the inspirational, aspirational power-balladry and anthems of inner turmoil that made up the bulk of the soundtrack -- the stuff of "American Idol" and "The Voice," where many of these songs have been sung – proved at least superficially adaptable to the spiritual business at hand. (In some of these numbers, all you need to do is change "you" to "You.")
Much will depend therefore on whether or not you find it moving, hilarious, blasphemous, discordant or just plain weird that that Pilate and Jesus would reach toward "Mad Max: Beyond Thunderdome" and "We Don't Need Another Hero" to mark their meeting, followed by Pilate's solo, Tears for Fears' "Mad World."
Still, for many viewers, and, one would guess, for most of the people that turned out in New Orleans, the mere fact of the program's existence will outweigh any concerns about its quality; it will be enough that a cross was carried through the streets, and that Jesus got prime-time coverage on a broadcast network. I wouldn't argue with anyone's emotional or spiritual reaction to "The Passion," anymore than I would argue with their love for these singers or these songs, in whatever proportion they worked on you. Many in the crowd were visibly moved; that's not anything a critic can review.
The climax of the story, the suffering that gives the passion its Latin-rooted name, in which Jesus is mocked and flogged and driven through the streets toward his crucifixion was jumped over here – this was a feel-good passion, overall -- with the action proceeding from "Mad World" straight to a resurrected Christ, singing Katy Perry's "Unconditionally" from atop the Westin New Orleans Canal Place many stories above the crowd below.
Adams, supported by the Preservation Hall Jazz Band, closed the show with "When the Saints Go Marching In." After an hour and 57 minutes, the actual music of New Orleans made a most welcome appearance.
Follow Robert Lloyd on Twitter @LATimesTVLloyd
---
Get our L.A. Goes Out newsletter, with the week's best events, to help you explore and experience our city.
You may occasionally receive promotional content from the Los Angeles Times.