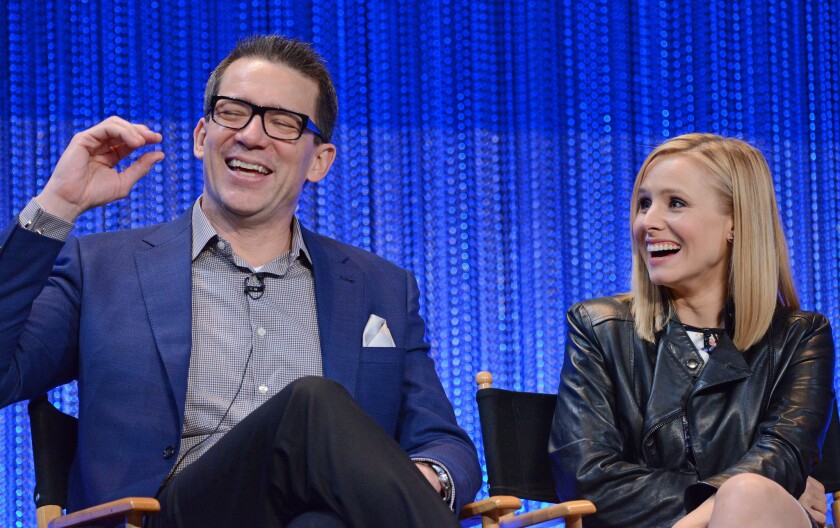 The day is here.
Practically seven years in the making, the "Veronica Mars" movie is finally out for Marshmallows to consume. The PG-13 flick released Friday in select cities and through OnDemand. And while the series made an impression, albeit a small one, on the small screen, creator Rob Thomas hopes fans will head out to their cineplexes to see the movie.
"I absolutely hope fans will go to theaters to experience this," Thomas told The Times ahead of Thursday night's "Veronica Mars" PaleyFest panel at the Dolby Theatre in Hollywood. "All the 'Veronica Mars' fans have gotten to see it on television before. They know what that's like. But going to see it on the big screen with other 'Veronica Mars' fans, there's nothing like it. I know from experience. It's so fun."
REVIEW: 'Veronica Mars' welcomes the old gang back for familiar fun
And he's not done!
"I'm going to sneak into some [Friday] night," Thomas sad. "We're planning on renting a car [Friday] night and dropping in on theaters and see how fans are reacting to it." It's good to keep financiers happy, after all.
Fans of the cult-favorite TV show helped bankroll the movie via a Kickstarter fundraising campaign.
And they were not playing. More than 30,000 fans pledged $2 million (the campaign's goal) in just 10 hours. It would ultimately raise over $5 million.
"I'm less nervous today than I was a week ago because I've gotten to see it with fans," Thomas said. "No one has asked for a refund. I have many goals for this movie. But the biggest, most important for me, was to make the fans happy. They financed the movie. I've seen it with three different audiences of Kickstarter backers and they've been so gung-ho and so happy with the product that I suddenly feel like the weight of the world is off my shoulders."
ON LOCATION: Where the cameras roll
He added: "Sitting in there and looking at it for four months in the editing room, I became blind to it. I didn't know if the jokes worked. I didn't know if the emotional moments worked. Now I have a degree of confidence that the fans will like it."
So is he ready for a sequel if the fans really like it?
"I think Kristen and I are happy to make one. If we do well enough, we would love to do another one."
ALSO:
Louis C.K.'s 'Louie' set to return to FX in May
Netflix announces three new animated series, sets 'Turbo' return
Stephen Colbert channels pundit outrage over Obama's viral video
---