Hillary Clinton commands spotlight at CFDA Fashion Awards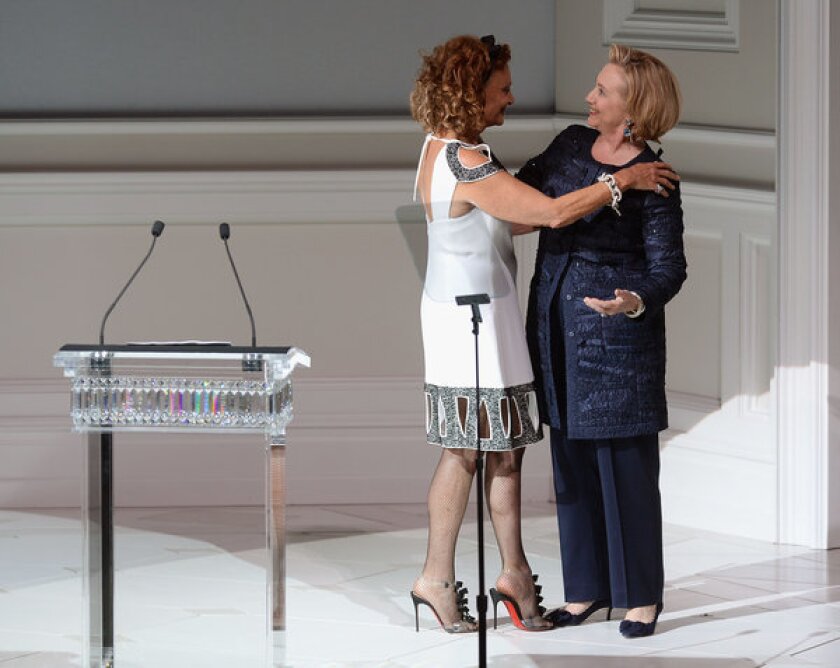 The fashion world famously embraced President Obama during his run for a second term. So much so that speculation reached a fever pitch that Vogue's Anna Wintour was to be rewarded with an ambassadorship.
Well, Obama won -- Wintour hasn't been named an ambassador yet (instead she was promoted to Conde Nast artistic director); and now the fashion world looks like it has started eyeing presidential politics 2016.
Former Secretary of State Hillary Rodham Clinton -- a presumptive front-runner for the 2016 race, should she choose to enter it -- presented one of the major awards Monday night at the 2013 Council of Fashion Designers of America Fashion Awards.
"OMG, CFDA, Secretary Clinton is in the house," Bravo executive and host Andy Cohen gushed as he opened the ceremony.
CFDA President Diane von Furstenberg greeted Clinton with a warm hug.
Clinton gave a speech extolling designer Oscar de la Renta, on whom she bestowed the Eleanor Lamber Founders Award -- and joked that now, with time on her hands, she plans to pitch Bravo a new show called "Project Pantsuit" in honor of her famously maligned favorite attire.
And as he accepted, de la Renta laid out what many in the audience full of fashion designers and movie stars were probably thinking: Clinton should run for office, he said. And the crowd cheered.
She demurred. And then had to leave early to juggle social obligations. After presenting de la Renta with his prize, she scooted over from Alice Tully Hall -- or limoed, as the case may be -- to Henry Kissinger's 90th birthday bash at the St. Regis hotel.
She wasn't alone; Annette de la Renta, Oscar's wife, also left early to go to Kissinger's party, where she was seen on the arm of Von Furstenberg's husband, Barry Diller.
Oh, and if you were wondering who took the other prizes, here's the rundown:
Womenswear designer of the year: Jack McCullough and Lazaro Hernandez for Proenza Schouler. (Award presented by Kerry Washington.)
Menswear designer of the year: Thom Browne. (Presented by Dan Stevens.)
Accessories designer of the year: Phillip Lim for 3.1 Phillip Lim. (Presented by Rose Byrne.)
Geoffrey Beene Award for Lifetime Achievement: Vera Wang. (Presented by Ralph Lauren.)
Media award for excellence in journalism: Tim Blanks. (Presented by Linda Evangelista.)
International award: Riccardo Tisci. (Presented by Jessica Chastain.)
Board of Directors tribute: Colleen Atwood, the first costume designer to be recognized by the CFDA. (Presented by Ethan Hawke.)
Swarovski was a major underwriter of the event, and Hallee Steinfeld and Douglas Booth, stars of Swarovski Entertainment's upcoming film version of "Romeo and Juliet," presented the three Swarovski Awards for emerging talent. The winners were:
Womenswear: Erin Beatty and Max Osterweis for Suno.
Menswear: Dao-Yi Chow and Maxwell Osbourne for Public School.
Accessories: Pamela Love.
ALSO:
Colleen Atwood wins costume design Oscar
---