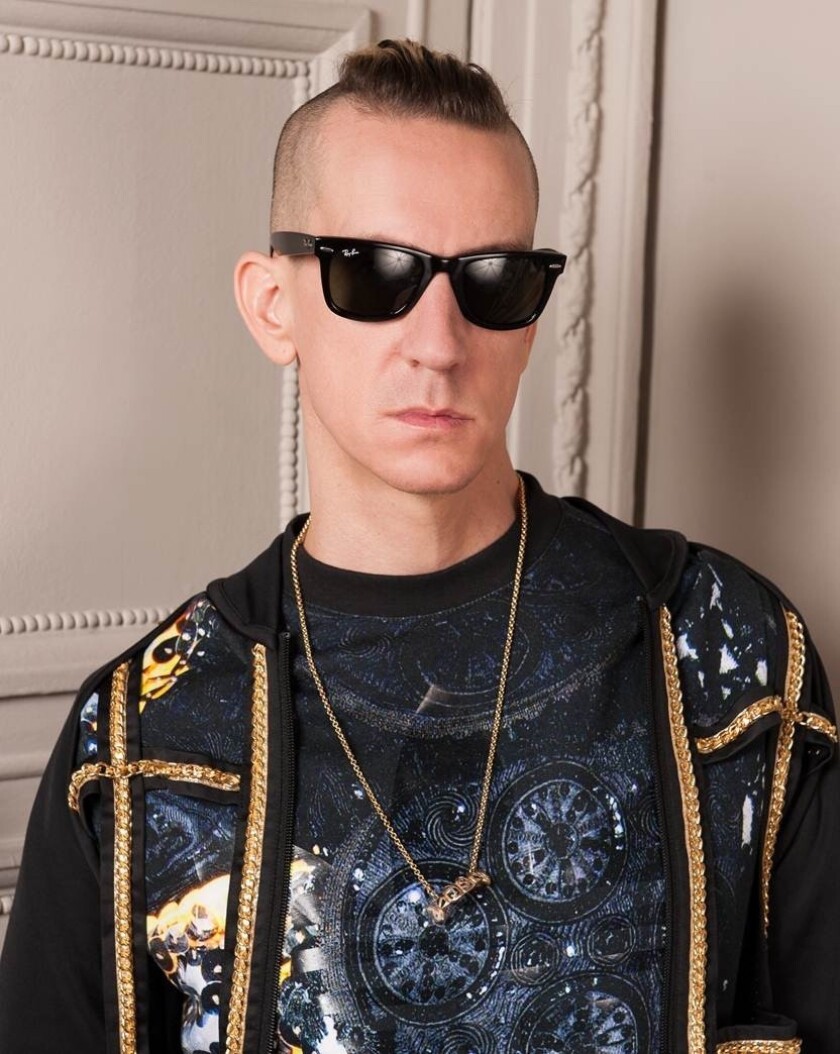 Los Angeles Times Fashion Critic
L.A.-based designer Jeremy Scott has been appointed creative director of Italian fashion brand Moschino, it was announced Monday.
He will make his debut with the fall/winter 2014-15 collection during Milan Fashion Week in February.
It's a great marriage of two rabble-rousers that should bring a new, young, hip audience to the Moschino brand.
Franco Moschino founded his label in 1983, gaining fame for his irreverent, at times anti-fashion fashion statements (a matador jacket emblazoned with the phrase "Bull Chic," for example). Since Moschino's death in 1994, his protege Rosella Jardini has been designing the collection, winning over fans like Miley Cyrus and Kourtney Kardashian with her clothing, which has been on-trend, though lacking the bite of Franco's originals.
The Kansas City–born Scott moved to Los Angeles in 2002 after attending Pratt Institute in New York and living in Paris for six years. He was a fixture on the L.A. runways until he started showing his runway collection in New York.
His work, including a past collection that featured dresses designed to look like Coca-Cola bottles with the slogan, "Enjoy God," is provocative like Franco's, as well as having deep roots in street wear and the pop music scene. His work regularly appears in music videos and on stage, worn by such artists as Madonna, Katy Perry, Lady Gaga and Rihanna. The Jonas Brothers and Nicki Minaj attended his most recent runway show in New York in September.
In addition to his own namesake runway label, he has the Jeremy Scott for Adidas Originals collection, which runs the gamut from high-top sneakers bedecked with plush teddy-bear heads to velour track suits with beaded matador jackets. Sold at Adidas stores and specialty boutiques, the line counts Kanye West, M.I.A., and recent Adidas sneaker collaborator A$AP Rocky among its cultish following. (Scott has also done brand collaborations with Swatch, Longchamp and Smart Car.)
"This appointment respects the DNA of the brand as Jeremy Scott represents not only an eclectic and contemporary communicator but most of all a designer capable of re-interpreting the identity and the essence of Moschino," according to a statement on the Moschino website.
ALSO:
Jeremy Scott: From sly to sublime
New York Fashion Week spring 2014: Jeremy Scott review
Reed Krakoff on life after Coach, Lena Dunham and more
---