'Man From U.N.C.L.E.' costume inspirations include Steve McQueen and Cruella de Vil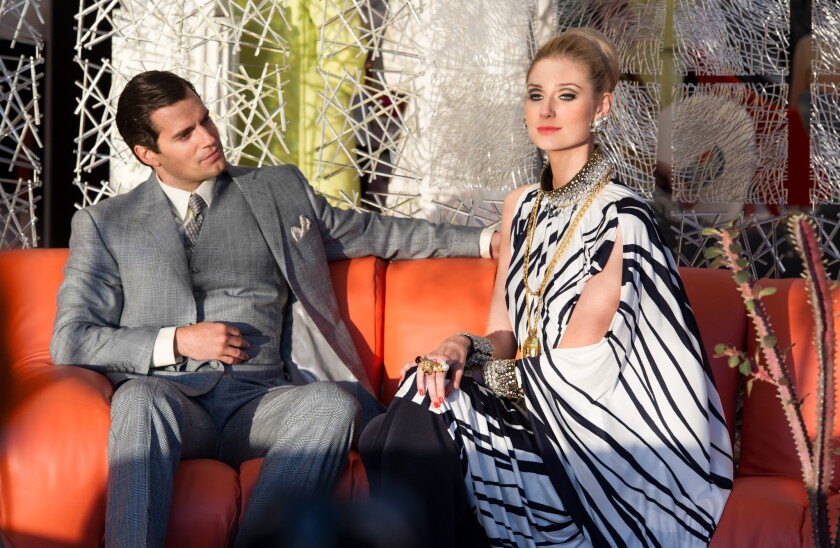 Hitting theaters over the weekend, Guy Ritchie's big-screen reboot of the '60s television series "The Man From UNCLE," may just be the most stylish movie to hit the multiplex so far this year. We hopped on the phone Monday morning with the person most responsible for the film's fashion -- Academy Award-nominated costume designer Joanna Johnston (for 2012's "Lincoln") -- who shared how Cruella de Vil, Steve McQueen and a turtleneck sweater from the original TV series helped her shape the movie's distinctive and super-stylish costumes.
What kind of specific direction did you get from director Guy Ritchie about the fashion element of the film?
It was a very loose direction. He just wanted it to look great and he wanted it to be good for its day. That gave me the ability to not be so academic about [where in] the '60s it was.... The film says 1963 at the beginning but I asked Guy early on if I could go a little bit later in the '60s because it was more interesting post-1966 or 1967. That was a great time for style.
What was about that period you found so interesting?
I find it really beautiful and elegant in today's eye -- particularly the continental look. I took myself out of trend[y] London … and looked at what the Italian and the French designers were doing. The style of photography was just magnificent back then. Some of the [magazine] spreads I found would just take your breath away. There was sort of this free quality in that part of the '60s -- in all the arts -- where people were experimenting in fantastic new areas.
Was there a specific inspiration for the look of Henry Cavill's meticulously put-together Napoleon Solo character? Obviously the three-piece suit made us think of James Bond.
There was a bit of Bond, a bit of elegant gentleman out of London. There was a tailor by the name of Tommy Nutter who had a bit of an influence on me; [fashion designer] Michael Fish was another. And one of the suits was inspired by one Steve McQueen wore in "The Thomas Crown Affair." British tailor Timothy Everest made all of Henry's suits. Hugh Grant's were made by Richard James, and Armie [Hammer's] suits were made by a costume company I work with called Costume Workshop.
Speaking of Armie Hammer, was the turtleneck sweater his Illya Kuryakin character wears through much of the movie a nod to the one the TV series' Kuryakin -- played by David McCallum -- wore?
Yes, it is. Everybody in England kept saying: "Oh, Illya Kuryakin -- he always wears a turtleneck!" So that was my real nod to the TV series. I thought the turtleneck and the Baracuta Harrington jacket were a good look for Armie.
There's a brown suede jacket Hammer's character also wears through much of the movie. It's not over-the-top stylish but it fits his character -- and his frame perfectly. Does it have a particular back story?
That's a Ralph Lauren jacket that I actually found in Los Angeles when I was there for a costume fitting for Henry. I found it in the Beverly Hills Ralph Lauren and they were wonderful because I had to have millions of [duplicates] and they kept on feeding them through to me once I was back in London. It was the perfect jacket, the perfect size and the perfect color.
What inspired the look of the super-stylish villainess Victoria Vinciguerra? This might be too simplistic but her black-and-white color palette reminds us of "101 Dalmatians" villainess Cruella de Vil.
You're the first person who has picked that up. My old boss is the great designer Anthony Powell and he did [the costumes for] Glenn Close [in the 1996 film], so that was a little bit of my homage to Anthony.
I also wanted Victoria to have this real layer of sophistication so I layered on lots of jewelry -- rings and necklaces. And I put palazzo pants on her -- which [actress] Elizabeth Debicki can wear very well; she's got this incredible stature and I wanted her to be very languid but with loads of jewelry and very sculpted hair. The hair and makeup of her look was very inspired by a model from the time period, Marisa Berenson, and how she was styled for photo shoots.
There was one particularly memorable outfit worn by Alicia Vikander's character, Gaby Teller. It looks like an above-the-knee dress -- in an orange floral pattern, but it's not really a dress is it?
It's what they called a "play dress" in the '60s – which means you can skip and do somersaults [in it] and you're actually decent because it goes into little pleated culottes.... The outfit itself is a real mix because I'd found something with the weird orange kind of camouflage print and then I'd found a play dress but I wanted something with low back so the end result was sort of a mishmash of different ideas. But the idea was to have this sort of short little thing that looked like she was wearing a dress but she's also modest all the way through.
Vikander's character also wears some eye-catching eyewear in the film -- were those distinctive sunglasses a vintage find?
Actually no. They're from Thierry Lasry -- you can buy them today. They worked incredibly well on Alicia [Vikander] and we also had some on Napoleon Solo in some of the opening shots as well.
For the latest in fashion and style news, follow me @ARTschorn
ALSO:
Review: As a spy thriller, 'Man From U.N.C.L.E' is stylish but shallow
'Glee' costumes headed to online auction Sept. 17 and 18
Upcoming Madonna tour to include costumes by Gucci, Jeremy Scott
---