New York Fashion Week fall 2013: Kate Spade review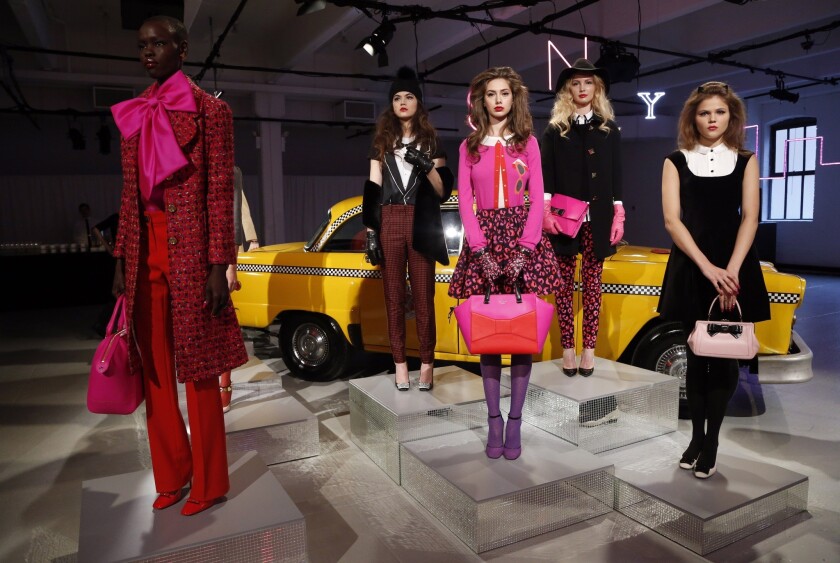 Kate Spade — fall 2013
(Allison Joyce / Getty Images)
Kate Spade — fall 2013
(Allison Joyce / Getty Images)
Kate Spade — fall 2013
(Allison Joyce / Getty Images)
Kate Spade — fall 2013
(Allison Joyce / Getty Images)
Kate Spade — fall 2013
(Allison Joyce / Getty Images)
Kate Spade — fall 2013
(Allison Joyce / Getty Images)
Kate Spade — fall 2013
(Allison Joyce / Getty Images)
Kate Spade — fall 2013
(Allison Joyce / Getty Images)
Kate Spade — fall 2013
(Allison Joyce / Getty Images)
Kate Spade — fall 2013
(Allison Joyce / Getty Images)
Kate Spade — fall 2013
(Allison Joyce / Getty Images)
Kate Spade — fall 2013
(Allison Joyce / Getty Images)
Kate Spade — fall 2013
(Allison Joyce / Getty Images)
NEW YORK -- Celebrating its 20th anniversary this year, the Kate Spade brand went back to the source with its fall-winter 2013 collection, paying homage to New York City, down to the yellow checker cabs brought in as props.
The look: Happy chic. Bow-tied blouses and tweed miniskirts in taxi cab yellow and black tweed for the office. And for nighttime, tux pants with a gold stripe, worn with a ruffle front blouse and a black cape. Adorable clutch bag with "Taxi" written on one side, and "Off Duty" on the other. Pumps with kiltie details. Graphic knits created with artist Craig Redman featuring a cartoonish, one-eyed character. Deborah Lippman's studded nail art added a fun touch.
The inspiration: Creative director Deborah Lloyd looked to the sights and sounds of New York City, including such urban icons as the Empire State Building, hot dogs, street signs and the like, which were part of a colorful, confetti-like print splashed on a short dress.
The verdict: Quirky cute.
ALSO:
New York Fashion Week fall 2013: Jason Wu
New York Fashion Week fall 2013: Kimberly Ovitz
New York Fashion Week fall 2013: Holmes & Yang
---