Paris Fashion Week fall 2013: Alexander McQueen review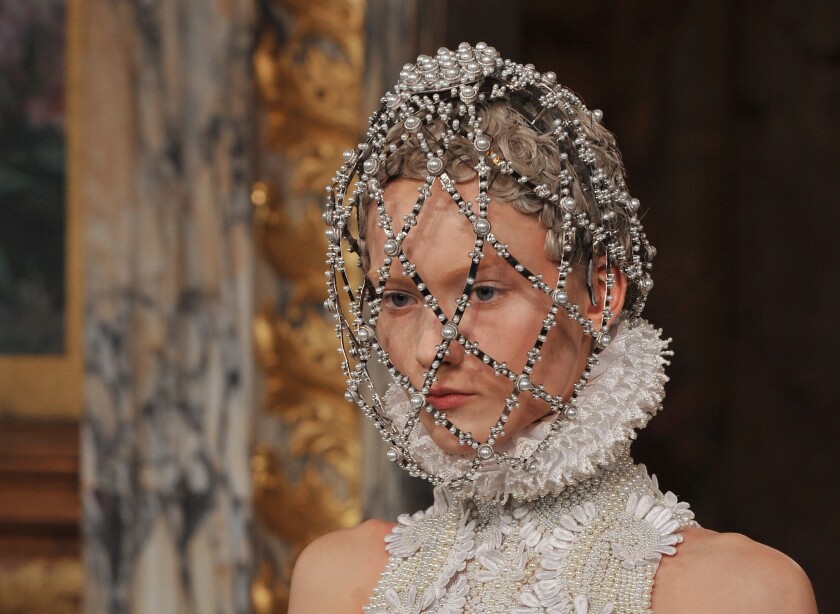 Alexander McQueen - fall 2013
(Zacharie Scheurer / Associated Press )
Alexander McQueen - fall 2013
(Francois Guillot / AFP/Getty Images )
Alexander McQueen - fall 2013
(Francois Guillot / AFP/Getty Images )
Alexander McQueen - fall 2013
(Francois Guillot / AFP/Getty Images )
Alexander McQueen - fall 2013
(Francois Guillot / AFP/Getty Images )
Alexander McQueen - fall 2013
(Francois Guillot / AFP/Getty Images )
PARIS -- Having just given birth to twins, designer Sarah Burton skipped the Alexander McQueen fall 2013 collection presentation Tuesday afternoon during Paris Fashion Week. But the show must go on and go on it did, against the backdrop of the gilded interiors of the Opera Comique.
The inspiration: The high church, ecclesiastical wardrobe, from communion gowns to cardinals' robes. Nuns, popes, angels, the Ballets Russes and the Virgin Queen.
2013 Fashion Week coverageThe look: Clothes fit for a royal. Ruff collars, pearls, feathers and other divine details. Ten looks only, beginning with Elizabethan-looking, all-white gowns in silhouettes that cinched waists and exaggerated hips. Hyper-embellished with multiple painstaking folds, pleats and all-over soutage embroidery. Cocooning ostrich feather cape over a skirt dripping with pearls. Darker looks included black gowns with crystal grids. Caged crystal veils covered the face.
The verdict: A transporting display of Burton's creativity and the McQueen atelier's incredible craft. Once the ideas trickle down to knits and accessories, we'll see how this divine inspiration translates to the rest of us.
ALSO:
Paris Fashion Week fall 2013: Chanel review
Paris Fashion Week fall 2013: Celine review
Paris Fashion Week Fall 2013: Viktor and Rolf review
---