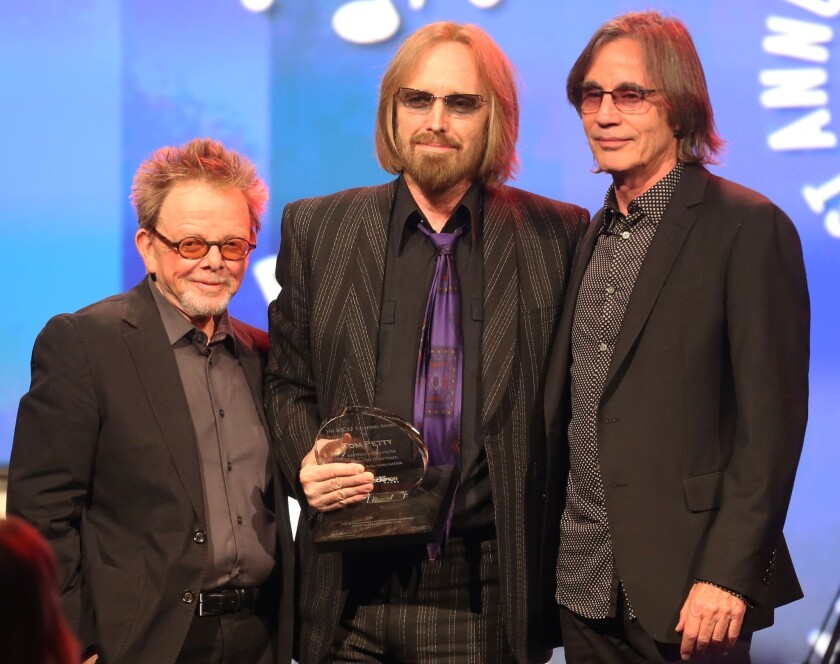 The event: The American Society of Composers, Authors and Publishers – better known as ASCAP – honored the lowercase-with-a-period band fun. with its Vanguard Award and the legendary Tom Petty with its Founders Award at the ASCAP Pop Music Awards on Wednesday. Songwriter of the Year honors went to Max Martin, who wrote seven of the year's most played songs for Taylor Swift, Katy Perry and Maroon 5. Robin Thicke's "Blurred Lines" was named Song of the Year, with the singer accepting via video.
The crowd: Ne-Yo, Lukasz "Dr. Luke" Gottwaldz, Amy Grant, Matthew Koma, Brenda Russell, Lucinda Williams, Miguel, Jean-Baptiste Kouame II, James Fauntleroy, Kid Harpoon and Zedd were among the recording industry's top writers, publishers and industry executives gathered for dinner on the rooftop of the Loew's Hotel in Hollywood. Many guests had medallions slung around the necks, denoting their having created one of the year's 50 best-performing songs.
The program: "Your music puts smiles on our faces and songs in our hearts," ASCAP President Paul Williams said to the audience. Aloe Blacc, Michael Einziger, Glen Holden, Mary Lambert and Williams performed between the presentations and when it came time for Petty's introduction, Jackson Browne delivered the salute.
The remarks: Having been given an award for their impact on the musical landscape, Nate Ruess, Andrew Dost and Jack Antonoff of fun. took turns at the podium. "I don't know if it's something we necessarily aimed to do," said Ruess, "It's always just been about the music … and making the best music that we can make as artists." He added, "So, hopefully, any of the other artists out there, don't look at the charts. Just be yourselves."
Browne called Petty's songs an inspiration to songwriters for generations, for lovers and rebels "everywhere for all time."
"I don't know how he does what he does," Browne said. "Somewhere along the way I started trying to write a song as simple and as true as my favorite Tom Petty songs, and I'm still trying."
For his part, Petty talked about the magic in songwriting. "You know magic. Magic is always a trick, but with a song it's really magic," he said. "You can sit there and suddenly some cosmic line is opened and boom, in minutes it's appeared … and it's a real magic because it makes people happy, it makes them feel good, it brings people out of comas. It does so many great things."
Ellen Olivier is founder of Society News L.A.
ALSO:
Eileen Fisher expands clothing recycling for Earth Month
Spring Break fundraiser for City Year Los Angeles breaks record
Mischa Barton to be face of BritWeek 2014 Robertson shopping stroll
---