Style Q&A with 'Revenge' star Emily VanCamp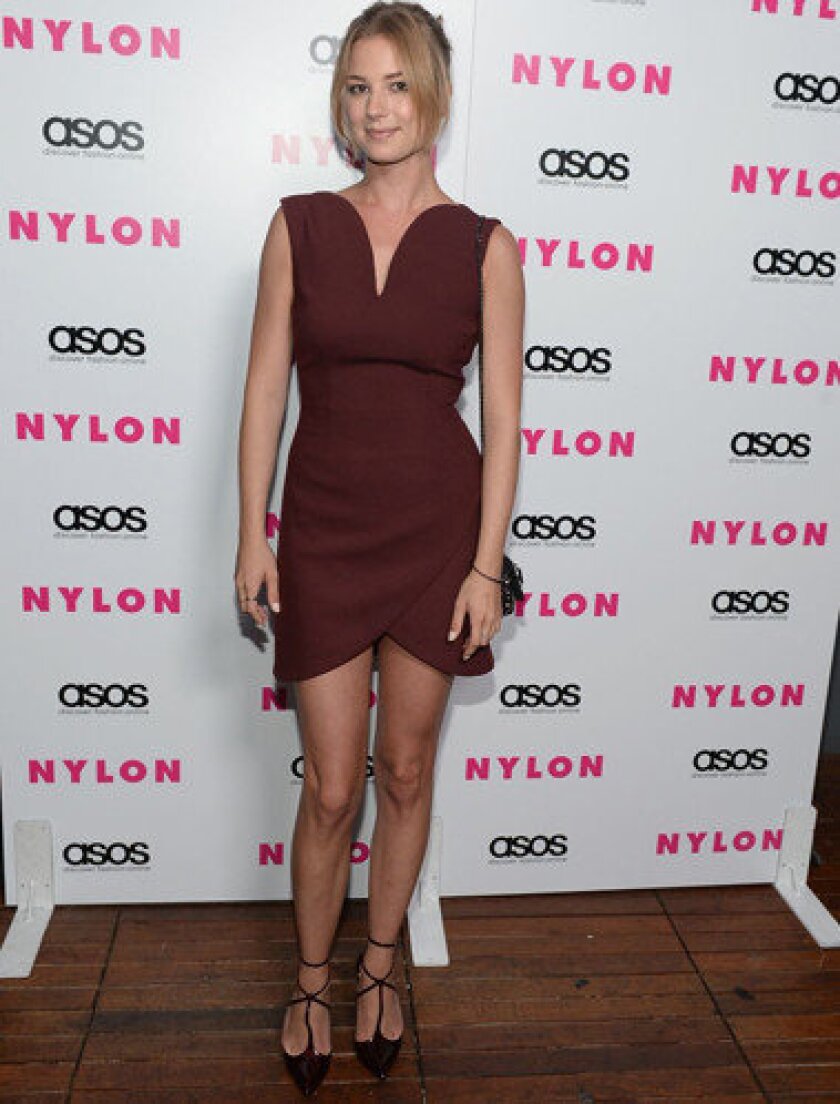 Emily VanCamp likes to keep things simple. Sitting in a form-fitting burgundy Versus by Versace dress on a terrace at the Redbury Hotel in Hollywood on Saturday night, she looks to be wearing not a speck of makeup.
Her hair is pulled back into a bun and thick strands fall loose, framing her face. Her accessories are minimal, with small studded and pointy earnings by EF Collection and a couple rings and small bangle by Graziela Gems.
The star of ABC's "Revenge," which premieres its third season Sept. 29, is in L.A. to celebrate her cover issue of Nylon magazine at an Asos party at the Redbury. The Canadian actress may be featured in the September issue in a closet full of punk-rock outfits, but she prefers a classic look for her everyday life.
She took some time out from the soiree to talk fashion and beauty.
How would you describe your personal style?
I think it depends. I tend to go very casual on my days off. Jeans and a T-shirt is usually what you'll find me in, but I've definitely become more adventurous in what I wear out. I wear a lot of J. Mendel personally, it fits the best. I just adore those beautiful dresses. I like to wear just generally things that look good on my body. I love classic elegance. I try to mix things up with a bit of edge because you don't want to be too sort of put together.
What about your character Emily Thorne's style on "Revenge"?
On "Revenge" it's fashion all the time, so I've become much more familiar with the different labels. I wear a lot of J. Mendel. It's very sort of high-end fashion on the show, so I'm constantly wearing labels and very expensive dresses. At first I think I was a little uncomfortable with it ... just tight dresses constantly in a 12-hour day. I don't think any dress is made to wear for 12 hours. But I've really learned to appreciate it a lot more.
Favorite designers?
We wear a lot of Michael Kors on the show. I wear everything, including Gucci. This is Versace, which I love.
What are some of the can't-live-without items in your bag?
My new favorite thing is Papaw from Australia. It's this ointment that they use on everything and anything, and I'm obsessed with it. I even use it to mix makeup with or mix lipsticks with. It's the best stuff and super natural, and you're not putting weird chemicals all over yourself. I also always carry around my Ray-Ban glasses.
Coveting anything for fall?
The one thing I'm on the search for right now is I really want a gold emerald ring. I've been desperate to find the perfect one, so I've been researching that quite a bit lately. I might actually find a stone and have one made, but I love emerald so much. It's one of my favorite stones. Actually, it is my favorite stone!
Catch VanCamp on "Revenge" on ABC, airing Sundays at 9 p.m. beginning Sept. 29.
ALSO:
3 VMAs fashion statements that weren't awful
Taylor Swift goes glam at MTV Video Music Awards
---