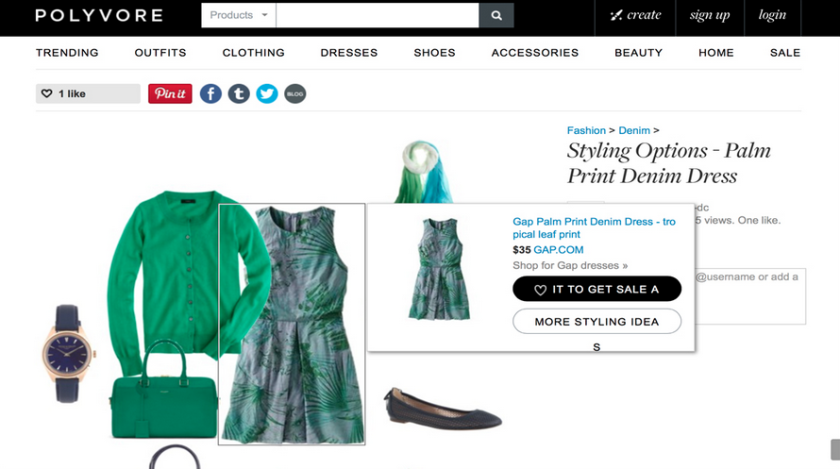 Sometime in the last two months, I walked into a Gap store and spotted one of the ugliest dresses I'd ever seen.
It was a sleeveless style in a washed-out gray-green palm print with a full skirt hemmed toddler-length above the knee, but made for an adult woman, with the kind of inverted pleating that flatters no one. I audibly gasped. The Tencel denim (read, shiny and cheap-looking) jogger pants next to it weren't much better, nor was the stripey V-neck tunic that had all the flair of a medical scrubs top. (We couldn't find the dress on Gap.com, but we found it on Polyvore.com, seen above.)
So the news that Gap will close 175 of its stores, and cut 250 corporate jobs was not surprising.
------------
For the Record
1:35 p.m. June 16, 2015: A previous version of this article said that Gap plans to close 275 stores. It will close 175 stores.
--------------
Photos: Actress Kate Mara talks about her 'tomboyish' style
Sales at existing Gap stores fell 10% in the three months ending May 2. But Gap has been on a collision course with fashion irrelevancy for a while now. For close to three years, Gap's design was under the helm of Rebekka Bay, hired after she helped launch Swedish fast fashion giant H&M's much-ballyhooed minimalist brand Cos.
Bay couldn't have been a worse fit. Bringing Cos' avant-garde and often oversized shapes and complicated drapes to the quintessentially American sportswear brand was a mistake. No one goes to Gap looking for a swing sweater or high-low hem dress, and much of America has no business wearing those figure-challenging styles.
Gap's troubles continued to deepen and Bay's position was eliminated in January. Shortly afterward, the company hired Wendi Goldman from the peppy-preppy brand C Wonder and Victoria's Secret. But here we are in June, and there's not much evidence that her hand has steadied the ship. Gap stores are still full of unflattering paper bag waist skirts, shapeless elastic waist dresses and T-shirts in off-putting brushstroke prints.
Photos: Jumpsuits are the red-hot trend on the red carpet
One of the things Gap is suffering from is a lack of focus. I know we are living in the age of fashion individualism, when trends don't much matter anymore. But that doesn't mean a retailer shouldn't have some direction for shoppers.
Gap's much-publicized 2014 brand repositioning with the tagline "Dress Normal," as zeitgeisty as it was by tapping into the whole normcore thought scoop, was a major misstep. Advertising "normal" clothes is akin to selling flavorless coffee. Why bother, even when you have David Fincher and Sofia Coppola directing your commercials?
In an apparent reversal of course, for spring 2015 Gap launched a campaign starring Paul Dano and Jenny Slate in a micro series of Web episodes with the tagline "Spring Is Weird." So what is it? Is Gap normal or weird or both?
Lindsay Lohan's new fashion collaboration: Expect lots of fringe
The assortment in stores is no less confusing.
This spring, the retailer has missed opportunities to jump on several straight-off-the-runway fashion trends that would have been a perfect fit for an elevated American sportswear brand, including the boho 1970s (where are Gap's flared jeans, fringed bags and crochet tops?) and gingham checks and overalls. Instead, Gap is still selling last year's skinny jeans and short-shorts.
Why wouldn't shoppers head to Forever 21, H&M and Zara, where on-trend styles are abundant — and cost much less than anything at Gap, for the same, near-disposable quality?
Gap's news comes on the heels of J. Crew's announcement that it is replacing its top women's designer and cutting 175 jobs after a decline in sales of its women's collection. J. Crew is installing Somsack Sikhounmuong, head of design from sister brand Madewell, in its top spot, and hoping some of that brand's magic will rub off.
And Gap and J. Crew aren't the only ones suffering. With disappointing first-quarter financial results at Michael Kors, Urban Outfitters, Aeropostale and Abercrombie & Fitch, it's clear we're just scratching the surface of the great American retail shakeout, and come next year at this time, the local mall could look a whole lot different.
ALSO:
Gap closing 175 namesake stores in U.S.
Michelle Obama wears bold paisley for tea with Prince Harry
---